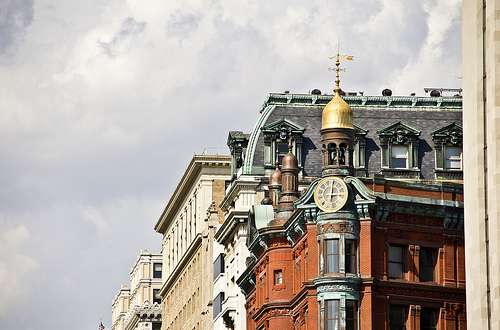 Top Think Tanks and Social Science Research Institutes in the U.S. 2013
Following up on last week's list of Top Think Tanks and Social Science Research Institutes in Europe, this post is dedicated to top institutions in the United States. Although the U.S. is home to hundreds of research institutes, focusing on a vast array of disciplines and issues, there is a certain degree of consensus regarding which are the most respected. In the list below, we chose to highlight top think tanks working in the broad areas of politics, economics and international relations.
This list is not exhaustive, but rather selective in its representation of think tanks from both sides of the political aisle, as well as many in the middle. The fifteen institutes listed below offer valuable job and internship opportunities and produce work that can be instrumental for students, professionals, politicians and the general public. Each of these institutes, listed in alphabetical order, is located in Washington, D.C., except for the Council on Foreign Relations, Human Rights Watch and the World Policy Institute, which are located in New York City, the Foreign Policy Research Institute, which is located in Philadelphia, Pennsylvania and the East-West Center, which is located in Honolulu, Hawaii.
Keep an eye out for tomorrow's post on Top Think Tanks and Social Science Research Institutes in Spain and Latin America!
To take a look at the many other institutions with jobs, conferences and other listings on offer, head to the INOMICS website here. Additionally, please share your experiences with others by leaving a review on the INOMICS website for any institute where you have worked, studied or interned!
Photo credit: thisisbossi
Also Interesting

8 Qualities Which Will Get You Through Tough Times In Your PhD

1. Creative Thinking When things go wrong during your PhD program – which they surely will! – then you need to find creative solutions. If your initial analysis found no meaningful results for your primary question, did it reveal other interesting insights? If your pilot experiment didn't work out, can you salvage the data or design a better experiment? Perhaps you couldn't find the data you were hoping for – would finding a suitable instrumental variable help fill the gap?

A Post-PhD Career in Research: Jack of all Trades, Master of Some

The importance of writing as communication It is indeed true that researchers like us (post-docs, research fellows, senior researchers, and so on) working in academia or in public/private/non-profit institutes spend a lot of time at their desks: writing articles, among other things. We maybe Doctors of Philosophy, but in reality, we are Masters in Writing and a few other things. This is because the demands of a researcher's role requires us to be jacks of a lot of trades and masters in some.

Should you prolong your predoc life?

If you go through curricula vitae of recent PhD graduates, you may find it's not uncommon to see that a PhD owns two master's degrees. As lots of MA/MSc in Economics programs are one-year programs, some students will pursue an MRes or MPhil in Economics afterwards. Others may opt for a degree in applied mathematics, statistics or another field with an intention to strengthen their quantitative and/or coding skills (summer school programs are another option to do this).