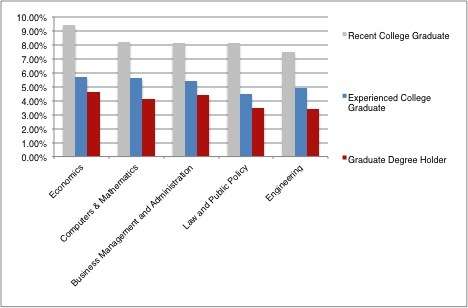 Unemployment & Salaries: Your Major Matters
Read a summary or generate practice questions based on this article with the new INOMICS AI toolhere.
Unemployment For College Majors
Earnings For College Majors
Source: "Hard Times, College Majors, Unemployment and Earnings: Not All College Degrees Are Created Equal",The Georgetown University Center on Education and the Workforce
Earlier this year, the Georgetown University Center on Education and the Workforce published a study on unemployment rates and salaries for various college majors. Saying that unemployment among recent graduates with new Bachelor's degrees is on average 8.9%, it states that " … as the recovery proceeds and recent college graduates gain access to work, especially in their major fields, their unemployment rates will 
drop substantially …" and " … staying on campus to earn a graduate degree provides safe shelter from the immediate economic storm, and will pay off with greater employability and earnings …"
According to the study, unemployment among recent college graduates in Economics reaches 9.4%, 5.7% for college graduates with work experience and 4.6% for graduate degree holders. Average salaries of graduates in Economics stand at $48,000 for Bachelor's degrees, $76,000 for college graduates with experience and $101,000 for graduate degrees.
Also Interesting

The GRE is changing: ETS to streamline the test in September 2023

The Graduate Record Examinations, more commonly known as the GRE, is one of the most important standardized tests in the world for admission to post-Baccalaureate programs. It's very often required by universities when considering admission into their Master's or even PhD programs.

How To Find The Right Exchange Program

Exchange programs allow students to study at a different institution as part of their degree. Typically, students will use this opportunity to study abroad at a foreign partner of their home institution, though exchange programs can sometimes take place in the same country. Regardless, these programs are a fantastic way for students to broaden their horizons, take specific courses at another institution, and study abroad without committing to living multiple years in another country.

Which Concentration Should You Choose For Your Master's Degree in Economics?

If you're planning to study economics at a Master's level, then you may have the opportunity to pursue a concentration, sometimes also referred to as a major. While rarer, some PhD programs may also offer concentrations, though many are already specialized degrees (or require you to have your own research agenda).