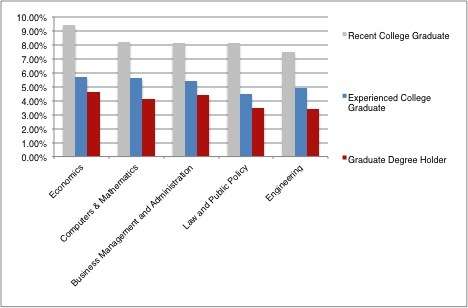 Unemployment & Salaries: Your Major Matters
Unemployment For College Majors
Earnings For College Majors
Source: "Hard Times, College Majors, Unemployment and Earnings: Not All College Degrees Are Created Equal",The Georgetown University Center on Education and the Workforce
Earlier this year, the Georgetown University Center on Education and the Workforce published a study on unemployment rates and salaries for various college majors. Saying that unemployment among recent graduates with new Bachelor's degrees is on average 8.9%, it states that " … as the recovery proceeds and recent college graduates gain access to work, especially in their major fields, their unemployment rates will 
drop substantially …" and " … staying on campus to earn a graduate degree provides safe shelter from the immediate economic storm, and will pay off with greater employability and earnings …"
According to the study, unemployment among recent college graduates in Economics reaches 9.4%, 5.7% for college graduates with work experience and 4.6% for graduate degree holders. Average salaries of graduates in Economics stand at $48,000 for Bachelor's degrees, $76,000 for college graduates with experience and $101,000 for graduate degrees.
Also Interesting

10 Most Affordable Countries in Europe to Do Your Economics PhD

Fortunately, the UK and the US aren't the only two places in the world with universities great for studying economics, and particularly in Europe, higher education hasn't yet been turned into corporate business, meaning not only are degrees cheap, some are completely free. And paying less (or even nothing) doesn't translate into a lesser experience. To the contrary, many of countries on this list can make legitimate claims to housing some of the most prestigious higher learning institutions in the world.

Recognising What Matters Most

The UK COVID-19 Recovery and the Case for Community Wealth Building

'The greatest science policy failure for a generation' is how the editor of The Lancet, Richard Horton, described the UK's COVID response last June. It was a widely shared sentiment – made credible by the UK having one of the highest death rates in the western world. Fast forward to the present, and the government has finally claimed a 'much needed win' – a big one, too.

Sample Motivation Letter For Your Economics PhD Application

When you apply for a PhD, you will need to write not just a research proposal but also a letter of motivation. This letter describes why you wish to undertake a PhD and why you would be well-suited to researching your proposed topic. But what needs to go in this letter, and what tone is appropriate for it?