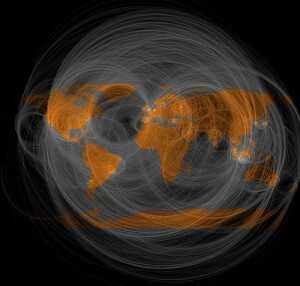 30 Top Twitter Feeds in Political Science
Following our highly discussed list of 30 Top Twitter Feeds in Economics and Finance, we wanted to keep the conversation going by sharing our selection of top Twitter feeds in political science. This list includes academics, researchers, journalists and many others who focus on political science, politics, international relations, public policy and related fields.
Some of these are big names, others are less well known, but all of them are worth following. We know that there are many other worthy Twitter feeds out there, so please feel free to share your additions in the comments section or on Facebook! Moreover, this list is in alphabetical order based on Twitter handle and in no way prioritizes one Twitter user over another.
If you are interested in finding jobs, programs, conferences and other opportunities in the area of political science, head to INOMICS and browse our extensive listings!
Photo credit: Eric Fischer
Also Interesting

Will China Become the World's Largest Economic Superpower Because of Coronavirus?

The ascension of the Chinese economy to global preeminence is not without precedent. China was, after all, one of the largest economies in the world from the Song Dynasty (c.900 CE) until the 19th century's 'Great Divergence', when European industrialisation facilitated the long period of Western economic dominance that generations alive today know all too well.

Into the economist's mind

The INOMICS Questionnaire:

Esteemed economist, Stanford Professor, and friend of INOMICS, Matthew O. Jackson, generously took time out of his busy schedule to take part in the third INOMICS Handbook Questionnaire. Opposite him, in his customary role of quizmaster, was Professor Marcel Fratzscher, president of the DIW Berlin, and one of Germany's leading voices in macroeconomics. Observing tradition, and as a nod to those involved, the encounter has been dubbed 'Fratzscher v Jackson'.

Balancing Work While Starting a Family

You are educated, qualified and consider yourself reasonably intelligent. You have handed in countless papers, proposals, and at least one thesis. You probably have some experience under your belt, maybe already landed a pretty good job with good prospects. You are confident of your ability, ready to work evenings and weekends, and keen to impress. You may also have a steady partner, or are thinking about settling down in the next few years, which opens the possibility of starting a family, if you haven't already. The game is about to change.