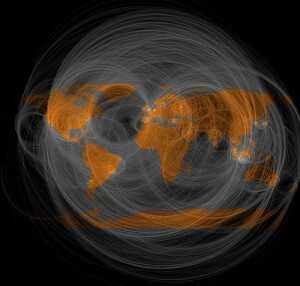 30 Top Twitter Feeds in Political Science
Following our highly discussed list of 30 Top Twitter Feeds in Economics and Finance, we wanted to keep the conversation going by sharing our selection of top Twitter feeds in political science. This list includes academics, researchers, journalists and many others who focus on political science, politics, international relations, public policy and related fields.
Some of these are big names, others are less well known, but all of them are worth following. We know that there are many other worthy Twitter feeds out there, so please feel free to share your additions in the comments section or on Facebook! Moreover, this list is in alphabetical order based on Twitter handle and in no way prioritizes one Twitter user over another.
If you are interested in finding jobs, programs, conferences and other opportunities in the area of political science, head to INOMICS and browse our extensive listings!
Photo credit: Eric Fischer
Also Interesting

Gender Differences in Economics

Publication behavior in economics – Reputation, visibility, and the gender gap

In recent times, debates on gender inequality among researchers at universities have emerged, in particular in economics. Even though leading academic societies have addressed these issues already for many years – for example, the American Economic Association has run the "Committee on the Status of Women in the Economics Profession" (CSWEP) since 1971, and the European Economic Association established its "Standing Committee on Women in Economics" (WinE) in 2003 – they appear to be persistent.

Into the Economist's Mind

The INOMICS Questionnaire: Fratzscher vs. Ditzen

In the INOMICS interview series, Prof. Dr. Marcel Fratzscher asks economists questions about their field, their opinions on economics, some of their favorite things, and more. Today we took the chance to interview Dr. Jan Ditzen, an econometrician with a robust research presence. The interview, named Fratzscher vs. Ditzen (as is tradition), enlightens us on the contributions of Hashem Pesaran, the beauty of mountain scenery, details about econometrics and why its rigor is important for economics, and more.

How will the development of AI affect the labor market?

Artificial intelligence appears to be the next truly disruptive technology poised to rock our global economy. In December 2022, ChatGPT-3 made headlines. It represented a leap forward in the capabilities of generative AI technology, pushing conversations about this new tool into the mainstream as people began to question how ChatGPT will affect the economy.
You need to login to comment