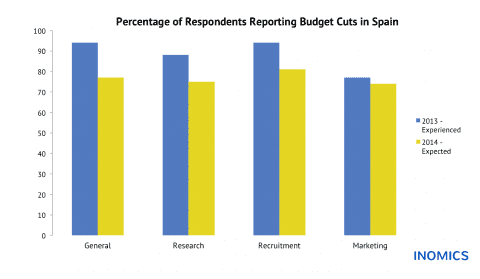 Budget Cuts in Spain: Experienced and Expected Changes in Academic Institutions
Last year, we conducted a global survey of nearly 800 academics, asking questions about budget cuts at their respective institutions for fiscal year 2013, and their expectations for 2014. We wanted to get a sense of the climate around the world in terms of who is still being affected by the economic downturn, and to what extent, in order to better grasp the daily reality for both employers and job seekers.
This post will be the first in a series examining the responses we received from professionals in various countries. Of those who responded to our survey from Spain, 89% indicated that they work for a university, 6% for a private company, 3% for a bank, and 3% for the government.
The responses from Spain resonated with a reality with which we've become familiar – not only was it one of the hardest hit countries in Europe (94% of respondents reported cuts to their general budgets for 2013), but the prospects for speedy recovery are also minimal (77% of respondents forecasted general budget cuts for fiscal year 2014).
These numbers do reflect a shift in a positive direction, however, as the percentage of people who claim to have budgets that were "not affected" in 2013 (6%) grew larger for 2014 (17%). Looking at the graph above, you can see that responses for recruitment, marketing and research budgets follow a similar trajectory.
As you can see, marketing budgets were reported to have had the fewest cuts in 2013 and maintained this position for 2014. These data were consistent across nearly all countries that took part in the survey, which is good news for marketing departments from across the education industry.
Also Interesting

A Discriminatory Pandemic

The Racial Inequalities of COVID-19

Dubbed 'the great equalizer' at its outset, COVID-19 has often been described as picking its victims at random. Blind to race, ethnicity, and gender, it sees just a human body, a host that enables it to do what all pathogens are programmed to do: spread. While this, from a biological perspective, may be true, the disease's sweep of the globe has been anything but equalising. Data from both the US and UK - who along with Brazil compete for the honour of worst pandemic response - show that in terms of cases and deaths, minorities are hugely overrepresented.

Survey: Is "To Whom It May Concern" Acceptable on a Cover Letter?

If you've ever researched how to write a cover letter, you probably know that career experts from all over the internet agree you should never address your cover letter with a generic introduction like "To Whom It May Concern."

The Lives and Livelihoods Fund

Four years ago, the world adopted an ambitious set of Sustainable Development Goals (SDGs) designed 'to end poverty, protect the planet and ensure that all people enjoy peace and prosperity by 2030'. Despite rising life expectancy and the eradication of many endemic diseases, more than 400 million people in the member states of the Islamic Development Bank (IsDB) still live in absolute poverty, subsisting on less than US$1.90 per day. It is, perhaps, these countries that face the greatest challenges in fulfilling the SDGs.