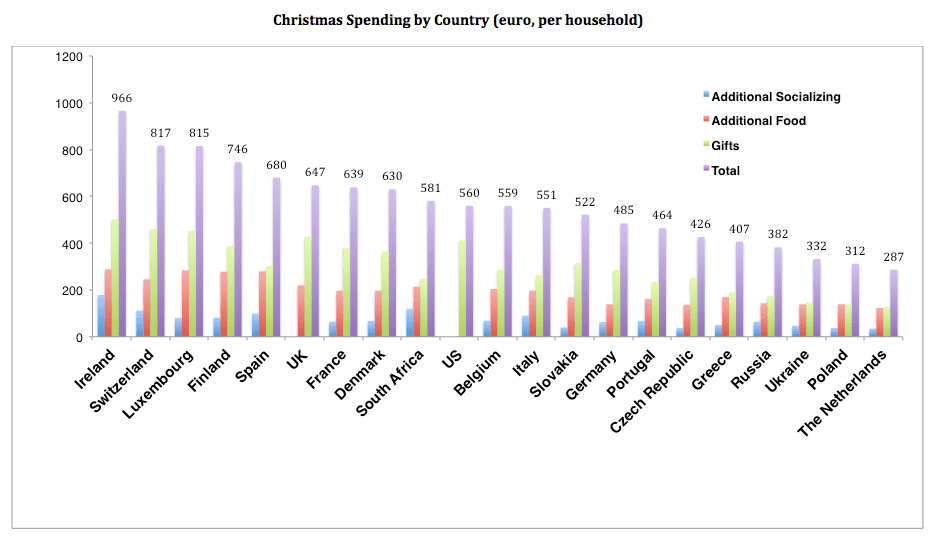 Christmas Economics: Which Countries Spend the Most and on What?
Sources: Christmas Spending Survey 2012, Deloitte; NRF's Holiday Survival Kit (US only); HSBC Christmas Spending Survey 2012 (UK only)
The Christmas Season is probably the heaviest burden for family budgets among all the annual holidays, and the best business opportunity for retailers. In the US alone estimations of spending on Christmas-related items hit $586.1 billion in 2012.
European consumers are not conservative when it comes to spending on Christmas celebrations either. But in which country are consumers most ready to spend their money on, and on what exactly?
According to the survey conducted by Deloitte in 2012, the absolute leader in total Christmas spending in Europe is Ireland, where consumers are ready to spend an average of 966 euros per household, followed by Switzerland (817 euros per household) and Luxembourg (815 euros per household). In the Netherlands consumers are eager to spend the least among the countries surveyed, 287 euros per household, which is almost 4 times lower than in Ireland and even slightly less than spending in Poland (312 euros per household) and Ukraine (332 euros per household).
Typically the largest part of the Christmas budget in all countries is allocated to gifts (about 50% of the budget). Additional food is the second major spending, with additional socializing being only the third most important. Consumers in the Netherlands, Poland and Ukraine tend to spend the least on gifts, whereas consumers in the UK, US, Finland and France are among the most ready to pay for gifts.* The amount spent on food is the highest in Spain (279 euros), Finland (278 euros) and South Africa (214 euros).*
If you want to compare this with spending during other holidays, have a look at our post about Halloween Economics.
*(excluding the top spenders: Ireland, Luxembourg and Switzerland).
Also Interesting

The Value of Nature's Services to Modern Economies

These factors of production from nature hold the core of all economies' potential output, which therefore makes our economy dependent on the life-support systems of our planet. Even businesses seemingly removed from raw materials - like software-as-a-service companies - depend on power generated from natural sources.

How the Crisis is Opening Opportunities for the Profession

COVID-19 and the Economists' Redemption

In summary, your majesty, the failure to foresee the timing, extent and severity of the crisis and to head it off, while it had many causes, was principally a failure of the collective imagination of many bright people, both in this country and internationally, to understand the risks to the system as a whole.

The INOMICS Awards 2022

Based on aggregating the total interest in offers publicized on INOMICS during the previous year (see methodology) winners were chosen across 7 different categories. In each category, we identify the Top 3 institutions as well as those in the Top 20, listed in no particular order.