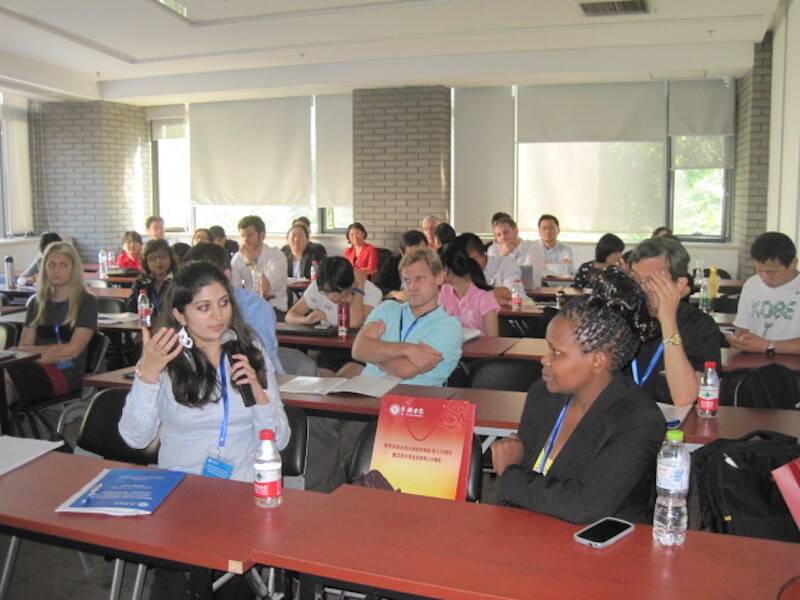 Conference Testimonials - Naila Tasneem from Pakistan
INOMICS supports young students and researchers in attending conferences with a €500 grant
Hear their perspectives on attending conferences and what advice they have to give other academics
---
Every year INOMICS runs a contest which offers a €500 grant to students and researchers who want to participate in the academic conference of their choice. Attending conferences is a key way for young researchers to grow their careers, learn from others in the field and present their own work to an academic audience, so that the community can benefit from hearing their perspectives. INOMICS wants to support students and researchers by making available this grant to cover registration, travel or accommodation costs of attending their dream conference.
---

---
The participants last year included a large number of exceptional students and researchers who have attending conferences in a variety of different fields. The contest was very positively received and we are therefore running it again for the year 2017. To take part in the contest, click here.
Now we'd like to introduce you to some of last year's contest participants and hear from them about their conference experience.
---
Naila Tasneem, from Pakistan
How has INOMICS contributed to your career development?
INOMICS has made a favourable impact on my career development. I have learned about various opportunities and events that have helped me evolve as a professional. I make it a point to keep myself updated with opportunities that are listed by INOMICS such as conferences, workshops, and PhD programmes. In fact it was through INOMICS that I learned about a conference on "Institutional reform in China" at Peking University in 2015. I attended the event and it was truly an inspiring and informative experience. INOMICS updates have certainly helped me in acquiring new skills and attending career enhancing events.
Tell us about your ideal conference experience.
Last year I attended a Conference on "Institutions, Institutional reform and economic growth" in Beijing China at Peking University. I can call it an ideal experience because they took care of everything like accommodation, meal preferences, and information on getting around Beijing, and all the sessions were extremely interesting with diversity of participants. The attention to detail in terms of relevance of topics, global perspective, and quality of research was truly erudite and awe inspiring. Hence it was an excellent opportunity to learn and also to connect with researchers from various parts of the world. Participants not only presented their own research but also served as discussants on other researchers' work.
What one piece of advice would you give to your peers to advance their academic careers?
I would certainly recommend that my peers participate in and present their research at academic conferences. This is extremely important as we not only learn about our work but also get exposed to the ideas of other fellow researchers. Travelling to new places and learning about new opportunities and advancements in a field are an essential part of professional development.
---
Thanks to Naila for sharing these insights with us! Don't forget to check out our page for more information on the 2017 conference grant competition.
Also Interesting

The Life of Rational Economic Man

However, despite pillaging the planet and endangering our existence, we still find time for solidarity and charity, betraying a nature seemingly as generous as it is destructive. Recent events draw attention to this paradox, coronavirus triggering swells of heart-warming community spirit as well as the hoarding of toilet paper. Which leads to the question: given such a paradox, what, if anything, does it mean to be human?

Into the Economist's Mind

The INOMICS Questionnaire: Fratzscher vs Miguel

Marcel Fratzscher: What is your favorite place on earth? Edward Miguel: It may be a little cliche, but my favorite physical location is the Big Island of Hawaii, on the Kona side. It's where my family (my wife and two kids) and I have traveled regularly over the past decade or so for our family holidays, so it's a place that holds many of our favorite memories and warm feelings. It is also a stunning landscape -- with mountains, lava and black volcanic rock all set against the Pacific. I dream about it often!

The 'Recipe With No Ingredients' in Macroeconomics Textbooks

Almost fifty years ago William Nordhaus and James Tobin, both professors at Yale University and later Nobel Prize laureates in economics, wrote an article with which they intervened in the debate aroused by the well known Report to the Club of Rome, The Limits to Growth (Meadows et al, 1972)1. Among other things, they wrote: "The prevailing standard model of growth […] is basically a two-factor model in which production depends only on labor and reproducible capital.