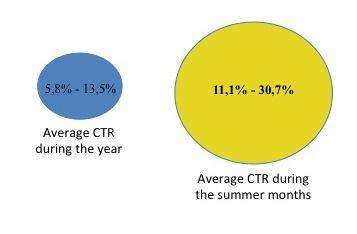 Jobs Posted Over the Summer Get 3x More Applicants
Based on our experience here at INOMICS, as well as by examining site usage statistics, we can confirm that the click through rate (CTR) on Standard jobs advertised in summer is significantly higher than throughout the rest of the year.
There are several reasons for this phenomenon. First of all, the competition to get our users' attention is lower. Many institutions promote their new open positions in peak seasons like spring or autumn, so potential applicants are not exposed to that many announcements during summer. This allows them to stay particularly focused on announcements listed on INOMICS. Additionally, summer is the best time to attract the attention of qualified yet "passive" candidates who are driven to the platform to look for other content, such as conferences.
The CTR is calculated by taking the ratio of users who click the "Apply now" button to users viewing the announcement page. This ratio indicates how much interest potential candidates have in the announcement, and the probability of such a user submitting an application can be inferred from this data.
To share your new positions with INOMICS users, take a look at our advertising options here.
Also Interesting

A Critique of Centrism

The current moment is one defined by crisis. It can be found everywhere: in the climate, economy, mental health, even in democracy. It's so ubiquitous as to have almost become the new norm. Amid the chaos, politics has struggled to keep up, its landscape is in permanent shift, its rulebook long thrown away. New formations have emerged, metastasized, sometimes died, and occasionally taken over - developments often surprising and hard to make sense of. What's clear, though, is that polarisation has set in.

The Effects of Inequality on Society

Inequality is rampant, we hardly need telling. Rarely does the print media pass up an opportunity to remind us. We stand inundated by an endless stream of statistics – on scales barely fathomable – each one more depressing than the last. For instance, it's widely known that: '8% of humanity takes home 50% of global income'; that 'the top 1% own 45% of the world's wealth'; and how could we forget that 'the 26 richest people on earth had the same net worth as the poorest half'.

INOMICS Salary Report 2020

COVID-19 and the Effect on Female Employment and the Gender Pay Gap

Less than a year on from COVID's genome sequencing, vaccination programs are being rolled out around the world. And while the pandemic is far from over, it would appear we're approaching its endgame, arriving there faster than anyone dared hope. The previous fastest ever vaccine to be developed was for Mumps - and that took four years.