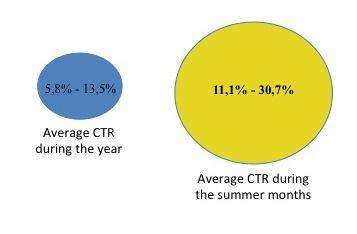 Jobs Posted Over the Summer Get 3x More Applicants
Based on our experience here at INOMICS, as well as by examining site usage statistics, we can confirm that the click through rate (CTR) on Standard jobs advertised in summer is significantly higher than throughout the rest of the year.
There are several reasons for this phenomenon. First of all, the competition to get our users' attention is lower. Many institutions promote their new open positions in peak seasons like spring or autumn, so potential applicants are not exposed to that many announcements during summer. This allows them to stay particularly focused on announcements listed on INOMICS. Additionally, summer is the best time to attract the attention of qualified yet "passive" candidates who are driven to the platform to look for other content, such as conferences.
The CTR is calculated by taking the ratio of users who click the "Apply now" button to users viewing the announcement page. This ratio indicates how much interest potential candidates have in the announcement, and the probability of such a user submitting an application can be inferred from this data.
To share your new positions with INOMICS users, take a look at our advertising options here.