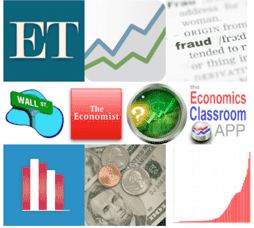 Top Apps for Economists
Apps (already "Word of the Year" in 2010), have become an integral part of our everyday lives, bringing to our phones not only entertainment, but also helpful tools to be used for educational and professional purposes. Downloadable for free or for a price, there are a number of handy apps created especially for economists, which come in the form of data sets, quizzes, educational videos, podcasts or simply mobile versions of media.
As Android devices are dominating in the global market, we decided to start drafting a list of economics apps available for the Android operating system. We will cover apps for economists available for Apple devices in a later blog post.
The main distribution platforms for apps are App store, Google Play, Windows Phone Store, and BlackBerry App World. It is interesting to have a look at Google Play to see which apps for economists are currently available on the market.
1) Best Opencourse Video collects videos from the top universities around the world and allows you to access classes in a variety of subjects, including Economics, on your phone for free.
2) If you like to follow international news, you might like The Economist's app and The Economic Times. They give free access to the editor's highlights and allow you to stay updated with unrivalled coverage of markets, business and economy news as it happens. More than half a million people use these apps.
3) In a previous blog post we already talked about podcasts for economists available online. The NPR Money Economy Podcaster app collects together the best of NPR podcasts dedicated to business, the economy, and all kinds of money matters. Bloomberg Radio gives you access to in-depth interviews and insightful analysis from the most influential names in Finance, Business, Economics and Investment.

​4) FRED Economic Data is the perfect app for students, financial market professionals, academics and anyone else interested in economic data. It offers full access to over 40,000 economic data series from 37 regional, national and international sources. To have access to business, economic, and financial indicators use Indicators Online, while if you are interested in key economic indicators for the U.S., try America's Economy for Phone, the app created by the U.S. Census Bureau.
5) Economics Study Aid and Quiz reinforces key economic concepts and improves your memory through interactive multiple-choice quizzes, flashcards, and glossaries. There are 4 units and the first one is free. If you are studying for the Advanced Placement (AP) Economics Exam, the 400 Economic Flashcards & Quiz can help you.
6) The Economics Classroom App is designed for students who want to have access to a variety of resources for learning economics, such as video lectures, practice activities, and an economics dictionary.
7) For trivia games lovers, Economics Quiz by MaksimApps has four different game modes: 10 Questions, 25 Questions, 50 Questions and 5 Errors – Out. If you want to test your knowledge of Wall Street, the Federal Reserve, monetary policy, and the history of economics in the United States try Economics Quiz by Brett Plummer.
8) Economic Growth gives you broken-down information regarding how economies grow, including some real case scenarios.
9) If you want to impress your friends, colleagues or students, use the Economist Quotes app to have access to quotes by the most famous international economists.
10) Economic Dictionary is a newbie app that is growing fast. It is the place to find information on general economic terms as well as information on specialized fields.
If you know a great App for Android devices that we haven't featured in this article, please let us know in the comments and we will be happy to add it.
You need to login to comment