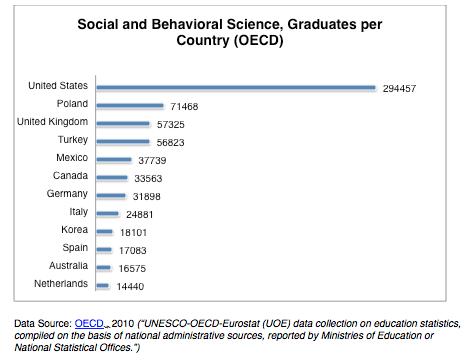 Where Are The Economists Coming From?
Data published on OECD.Stats Extracts gives an overview of the absolute numbers of graduates from tertiary type-A and advanced research programs for all standard fields of education. According to the International Standard Classification of Education (ISCED), economics and economic history fall under the category of Social and Behavioral Science (business and related disciplines are not included). The graph presented above includes aggregated data for countries with the largest number of graduates in social and behavioral science* for the year 2010. The number of graduates from the US significantly out numbers graduates from other OECD countries, leading in every other discipline as well. Unfortunately, there is no information available on the exact percentage of economists among the graduates.
*Social and Behavioral Science include: Economics, economic history, political science, sociology, demography, anthropology (except physical anthropology), ethnology, futurology, psychology, geography (except physical geography), peace and conflict studies, human rights.
Also Interesting

How the Coronavirus is Affecting Economics

15:00 8 June 2020 As some countries begin to loosen their lockdowns to varying degrees of success, many universities are still playing it on the safe side. The University of Surey, for example, has moved its CIMS summer school course online. This will be from the 7th to 12th of September 2020.

Making Money With Your Degree

High-Salary Career Options for Economists

Before you start considering what crazy lucrative job you are going to get with your economics degree, consider this fact: a lot of rich people don't like their money. Many complain about not knowing what to do with it all, yet simultaneously having huge anxiety they'll lose it. They moan about their friends treating them like walking bank accounts, being judged for not looking the part, and no longer being able to visit - how to put it delicately? - less refined establishments.

For student recruiters and admission officers

Tips for recruiting students during Covid-19

Among the most common challenges faced by Universities we find the need to deliver course curriculum adaptable for e-learning experiences; the need to provide a solution to the current dilemma of international students, start their studies online, delay the start of their studies or turn to local institutions to start their studies; the demand for hosting virtual campus tours, virtual Q&A sessions, among others.