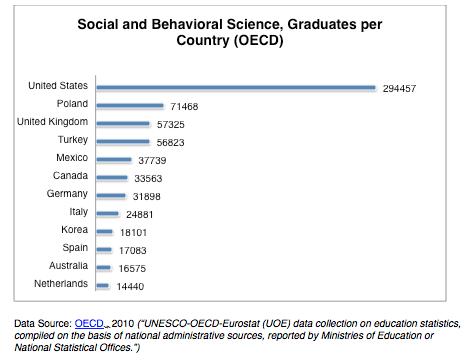 Where Are The Economists Coming From?
Data published on OECD.Stats Extracts gives an overview of the absolute numbers of graduates from tertiary type-A and advanced research programs for all standard fields of education. According to the International Standard Classification of Education (ISCED), economics and economic history fall under the category of Social and Behavioral Science (business and related disciplines are not included). The graph presented above includes aggregated data for countries with the largest number of graduates in social and behavioral science* for the year 2010. The number of graduates from the US significantly out numbers graduates from other OECD countries, leading in every other discipline as well. Unfortunately, there is no information available on the exact percentage of economists among the graduates.
*Social and Behavioral Science include: Economics, economic history, political science, sociology, demography, anthropology (except physical anthropology), ethnology, futurology, psychology, geography (except physical geography), peace and conflict studies, human rights.
Also Interesting

Working From Home and the Future of Remote Work

The remote work revolution The number of employees working from home in many countries was increasing even before the coronavirus forced our hand.

What is Supply-side Economics?

Its defining feature lies in the assumption that production, rather than demand, is the primary factor in creating and sustaining economic growth. To that end, its proponents advocate the lowering of taxes and removal of regulation. Less taxation, they claim, means more profits for businesses, who, freed of red-tape and compelled by self interest, can reinvest their increased earnings, generating a larger supply of goods and jobs. It's thus that the economy grows - tax cuts pay for themselves.

The Anxiety Epidemic

On a more encouraging note, Alston observed an opening up of the conversation on mental health, a much overdue de-stigmatisation, which has facilitated the gradual emergence of initiatives aimed to mitigate the problem, found in places as far-flung as New York and Mangalore. Although a welcome sign, it's clear much more needs to be done – too many young people are falling through the cracks.