PhD in Economics
Certifications & Titles
PhD
Funding Options
No tuition fees. Stipends available.
The PhD in Economics is a western-style program designed for outstanding students who are interested in economic research and desire a rigorous graduate education in Economics at a prestigious international institution. Similar to top western institutions, the program consists of two years of MA-level coursework and two or more years of dissertation research. After two years, students receive a US MA in Economics degree. Graduates receive both US and Czech doctoral degrees. The majority of students receive a tuition waiver and a living stipend.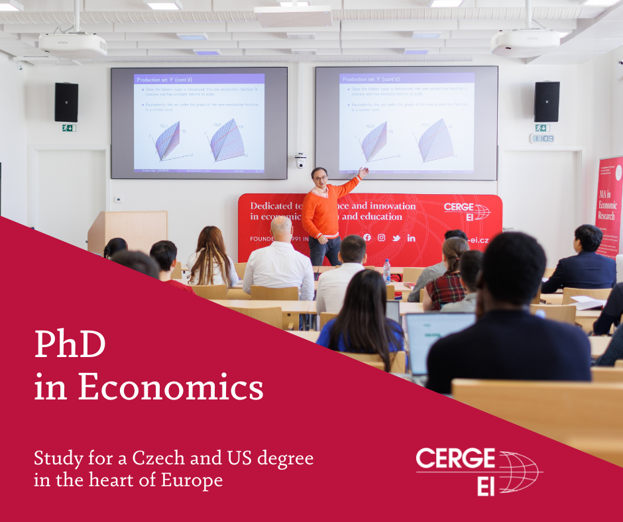 Why should you consider CERGE-EI for your postgraduate degree?
Rankings and International Recognition
● CERGE-EI is ranked in the top 5% of economic departments/research institutions worldwide according to Social Science Research Network (SSRN) and Research Papers in Economics (RePEc).
● CERGE-EI operates under Charles University, the oldest university in Central Europe, ranked #288 in QS World Rankings 2023 and among the top 150 universities in Economics and Econometrics in the 2022 QS World University Ranking by Subjects, Global Ranking of Academic Subjects 2022 (Shanghai Ranking), and World University Rankings 2022 by Subject (Times Higher Education Ranking).
● CERGE-EI has been recognized as a Center of Excellence by both the European Union and the US government.
Faculty and Researchers
● CERGE-EI faculty members are outstanding researchers who publish widely across a broad range of fields in theoretical and applied economics. They hold PhDs from many of the worlds' top graduate programs including Princeton University, the University of Chicago, the London School of Economics, and University College London.
● CERGE-EI faculty members work in governmental advisory boards and contribute to public policy debate. Many participate in the activities of IDEA, a CERGE-EI think-tank focusing on policy-relevant research and recommendations.
● CERGE-EI researchers have been awarded 3 grants by the European Research Council (ERC) - the most prestigious sponsor of excellent research in Europe.
● CERGE-EI hosts various public lectures, external presentations from IMF, OECD and more. Its faculty and researchers serve as discussants at these events.
Individual Approach
● Thanks to the small size of the institution, students are able to discuss their research interests and ideas in depth with faculty members.
● The Academic Skills Centre helps students develop their professional written and oral communication skills, and formulate the results of their economic research projects in the form of high-quality MA Thesis and high-impact presentations to specialized researchers and to the public.
● The Study Affairs Team provides students with complete personalized support, ranging from admissions support, visa and accommodation assistance, to adapting to life in Prague.
Career Prospects
● CERGE-EI graduates are employed in 40+ countries worldwide. They hold high-level positions in international organizations, including World Bank, IMF, EBRD, OECD, government ministries and central banks, think-tanks, and private sector organizations, including major banks and consulting firms. Others pursue academic careers in prestigious university departments around the world.
Individual Approach
Unique Location
CERGE-EI is located in the center of Prague, a 5-minute walk from Wenceslas Square, and offers a beautiful study environment in the historical Schebek Palace with excellent facilities (Jan Kmenta Library, Digital Media Center, study areas)
Admissions
Deadline: 31 March
Entry requirements:
● Completed BA or MA degree or equivalent
● Proficiency in spoken and written English
● Strong background in mathematics - Previous education in economics highly recommended
Online Application must include:
● Curriculum vitae
● Statement of motivation
● Copies of BA/MA diplomas and complete transcripts
● Proof of English proficiency level
● Contact details for 2-3 referees
The Admissions Committee evaluates whether the applicant's background, qualifications and professional interests sufficiently meet the requirements of the program and are in accordance with the research focus of CERGE-EI. Exceptionally strong candidates are admitted directly, other less strong but still sufficiently qualified candidates are invited to the Preparatory 'semester'. Applicants are notified of the admission decision in the first half of April. The academic year 2023/2024 will begin in September 2023.
CERGE-EI organizes various events for applicants (Open Day, Webinars, Coffee Breaks with Alumni, etc.). You can find the current offer in the calendar on our website.
Certifications & Titles
PhD
Funding Options
No tuition fees. Stipends available.