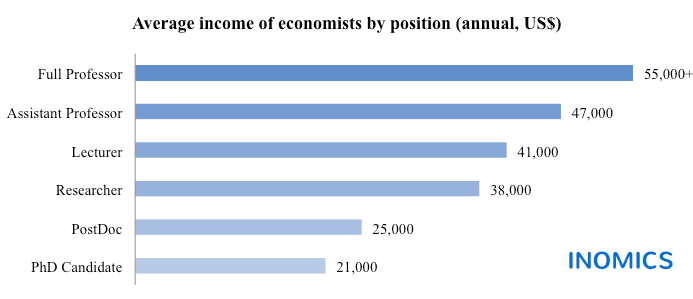 Academic Jobs and Salaries in Italy
Many believe that once one decides to follow an academic career path there is no way out. Working at a university is not only said to bring you respect and stability, but also a gradually increasing income. How high the latter might get obviously depends on many factors, such as your qualifications and the institution you graduated from, as well as the country where you are teaching.
Looking at the findings of the INOMICS Job Market Report (which is available for free download here) we clearly see difference in wage levels across academics in different part of the world. This post is dedicated to Italy, the country with one of the lowest reported salaries in Europe (followed only by Spain).
As can be seen from the graph, the salaries are not very high in the beginning of the path and although they increase with advancements (22% increase between positions on average), Full Professors earn 55,000 US$ per year on average.
According to the INOMICS Job Market Report – Italy, the first significant increase in salary happens after working for 3 years (+70% on average), and then another 72% on average is added when you reach the level of 5 years of experience.
Such relatively low reported salaries can be explained by different factors, including, among others, the young age of the respondents (65% are below 34 years old). In order to get more information about the Job Market in Italy and also see the methodology, you can download the full report here.
INOMICS has just launched the Job Market Survey 2014! Please participate and feel free to share the link below!
Also Interesting

Job Market Report 2014

Whether you decide to follow an academic career path or join a private company or think tank, it is always of great interest to learn about your future prospects. That is why INOMICS is gathering information about potential employment environments – including salaries! Moreover, we will be sharing what we find with the global community!

Academic Salaries in the UK and Ireland

On Wednesday, January 29, INOMICS released the Economics Job Market Report 2013 (UK and Ireland). This report, based on the findings of the Economics Job Market Survey conducted in 2013, introduces the reader to various aspects of the job market in economics, business and finance, concentrating primarily on the academic field.

Professors Think That Academic Publications Are Much More Relevant For Their Employability Than Their Teaching Skills

The world of academia is constantly changing, so much so that the importance to Professors, of different academic and career achievements, is shifting in ways that may be somewhat unexpected.