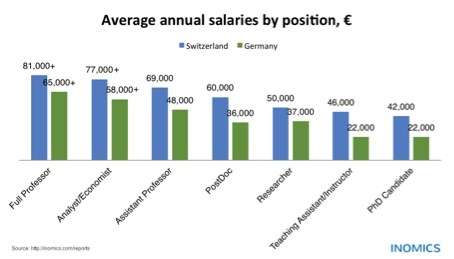 Germany vs. Switzerland: Salaries of Economists & Professors in Comparison
There are many factors affecting one's decision when choosing a job, and as the INOMICS Economics Job Market Report showed last year, a friendly working environment, flexible working hours and time to conduct one's own research seem to be the top three priorities worldwide. Salaries are rated fifth, but as we all know, expected remuneration can easily affect one's career choice.
This week we decided to look at salaries for Economists in Germany and Switzerland, and see if there is a significant difference between the two nations.
As can be clearly observed in the graph, average salaries in Switzerland are higher than those in Germany for every position, both in academia and in the private sector (Analyst/Economist). The trend becomes less extreme with experience gained and at higher seniority levels: the wage differential between Full Professors in the two countries is about 20%, while salaries for a Teaching Assistant in Switzerland are more than double that of identical positions in Germany. Naturally, one has to account for different cost of living, but the gap is quite significant.
It can also be observed that the wage increase in Germany is steeper than that in Switzerland: salary in the beginning of an economist's career path is relatively low, but it triples over time. It shall be noted here that the greatest proportion of economists earning more than €73,000 (the higher salary bracket in the Survey) are employed as Full Professors or Analysts/Economists, which is why the average number contains a plus sign.
The data for these findings was collected in the Economics Job Market Survey 2013, conducted by INOMICS. Other findings and the methodology of the survey can be found in the full version of each report, which are available for free download on the INOMICS site.
Also Interesting

Academic Salaries in the UK and Ireland

On Wednesday, January 29, INOMICS released the Economics Job Market Report 2013 (UK and Ireland). This report, based on the findings of the Economics Job Market Survey conducted in 2013, introduces the reader to various aspects of the job market in economics, business and finance, concentrating primarily on the academic field.

Job Market for Economists in the US

A big part of ASSA Annual Meeting (check out our post on 2012 ASSA Annual Meeting held in Chicago) is the role that it plays in the life of a PhD economist searching for their first job. Although some graduates choose less conventional ways of approaching the Job Market, for most graduating PhDs, the meeting is where they meet with potential employers, strut their stuff, present their Job Market Papers (JMP) and hope to the high heavens for a fly-out, and, after that, an offer – preferably at their number one choice.

Jobs for Economists in the Government: The Right Career to Consider?

When discussing jobs in the government, the type of work that comes to mind is most likely influenced by your particular background. In countries in which large segments of the economy are nationalized, it's possible to become a civil servant in nearly any field. In other places, your options might be more limited. Regardless of where you're from, or where you'd like to work, however, every government employs economists, and it's easy to argue that they're needed now more than ever.