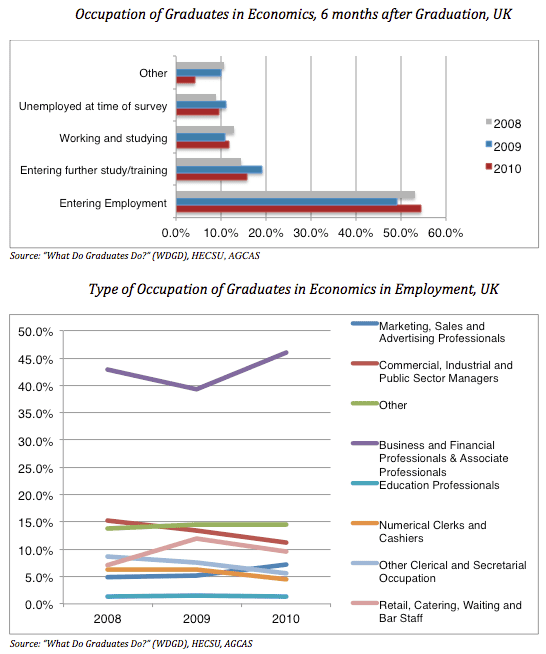 Graduates in Economics: Statistics (UK example)
What happens to economics students once they complete their first degree? Here is a snapshot of economics graduates' activities detailing their occupation six months after graduation.
According to the survey, which is published annually by the Higher Education Career Services Unit (HECSU) and the Association of Graduate Careers Advisory Services (AGCAS), in 2010 54.4% of Graduates in Economics in UK were entering employment, 15.4% went for further education or training, 11.7 % were working and studying and 9.5% were unemployed.
Among graduates in economics who were employed at the time of the survey, 42.9% were working as business and financial professionals, 15.2% as commercial, industrial and public sector managers, 6.2% as numerical clerks and cashiers and 8.6% had other clerical occupation. 7.1% of respondents were employed as retail, catering, waiting and bar staff.
You can download the complete survey, which also includes other disciplines here.
Also Interesting

What to Do With Your Economics Degree: Career Paths for An Economist

What kind of jobs can you get with an economics degree? Today we're considering five possible careers for economics graduates and the pros and cons of each. Researcher

Economics Apps for iPhone and iPad

Last year we published a list of "The Best Economics Android Apps", with the intention to follow it up with a post about economics apps for iOS devices later. As promised, here is the list of the apps for economists, who prefer to use Apple products, and which could be useful for both students and professionals in economics. If you know and use other apps, which we haven't featured here, please let us know in the comments and we will be happy to add them!

Jobs for Economists in the Government: The Right Career to Consider?

When discussing jobs in the government, the type of work that comes to mind is most likely influenced by your particular background. In countries in which large segments of the economy are nationalized, it's possible to become a civil servant in nearly any field. In other places, your options might be more limited. Regardless of where you're from, or where you'd like to work, however, every government employs economists, and it's easy to argue that they're needed now more than ever.