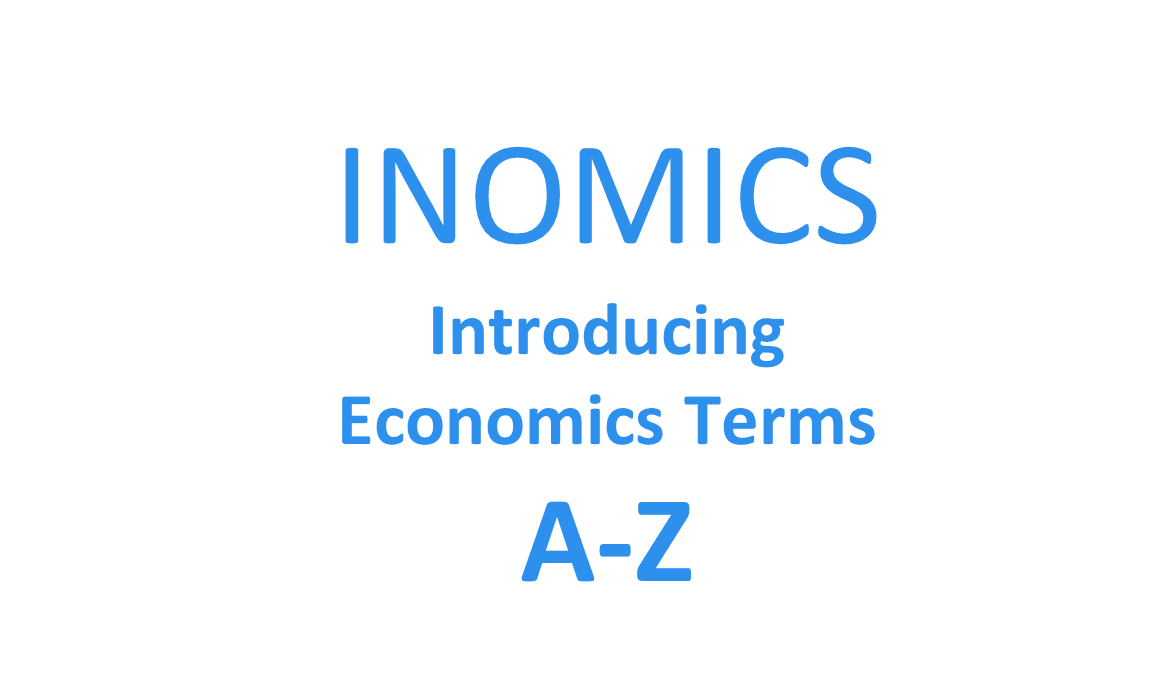 The new economics definitions
INOMICS unveils its A-Z of economics terms
Here at INOMICS, we've always been dedicated to trying to help you, the economist (fledgling or otherwise) get the most out of your education and career. Whether that be offering you the best new courses and conferences, nudging you towards the perfect university degree, or helping you apply to jobs once you're done studying, we're there to give advice and present opportunities you may not have otherwise found.
But there's always more we can do, and we felt the time was ripe to expand our help section to try and give even more value to young economists who are just starting out in the game. So without further ado, we're proud to unveil our new A-Z of economics terms.
Our A-Z is simple - we have professional economists write accessible but in-depth overviews of some of the most important economic terms that you will need for your studies. Starting out, we are focusing on microeconomics terms, but soon we will be expanding to macroeconomics, environmental economics, and every other type of economics you can think of. They aim to offer an insight into exactly what the term means, put it into context to make it easy to understand, and give a brief insight into where the term has been used and where you can find more academic information on the concept.
First, head to inomics.com and take a glance at our header navigation. Hover your mouse of the section 'Insights' and you'll see a drop down menu with the option listed 'Economics Terms A-Z'.
---
---
Give that a click and you'll be taken to our list of all economic terms, handily listed by the first letter of the term, making it easier to find exactly what it is you're looking for.
---
---
And if you go further and click on an actual term, you'll be able to see all the information about that term, including links through to any related definitions which we think help explain certain concepts which have been referred to. Let's have a look at one example, adverse selection (long picture incoming):
---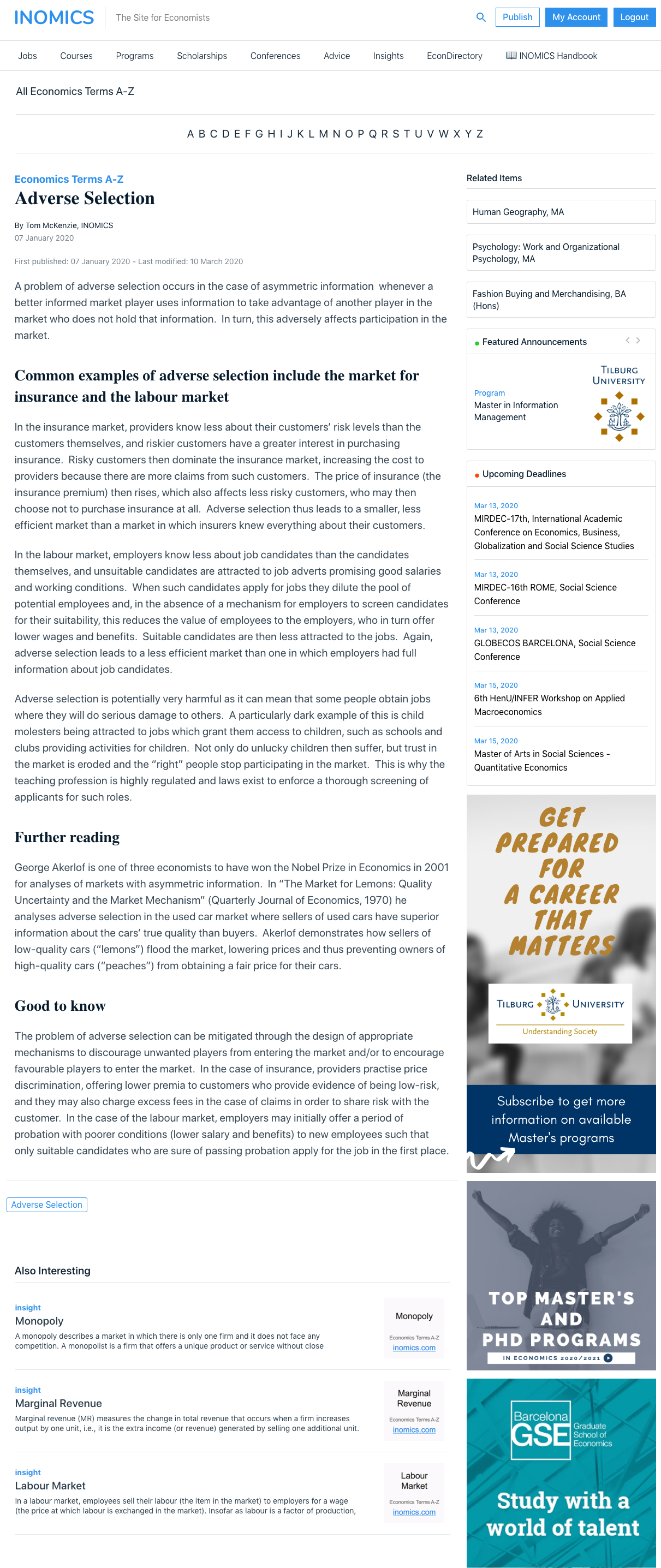 ---
As you can see, this definition of adverse selection includes a brief, one or two sentence definition at the top, followed by a longer, more in depth definition with examples. Then some further reading is recommended which can help to expand your knowledge even more, and finally, a 'Good to Know' section which offers tips on how to avoid common potholes when using a term and explains some of the more tricky aspects a definition may have. Right at the bottom of the page we recommend some related terms which may be useful knowing. Watch out, too, for some of INOMICS' very own video explanations which will be appearing with some of the definitions in the coming weeks!
So there you have it! INOMICS' new Economic Terms A-Z is a godsend for anyone currently studying their economics degree and needs an accessible but thorough overview of tricky economics terms. Written by professional economists with experience at doing stuff like that, it's a great addition to our Advice section, which offers economists tips in their studies and jobs. Confusing term getting you down? Head to INOMICS for an explanation!
Also Interesting

The Top Economics Blogs

There are many excellent economics blogs out there. Whether you want to read commentaries on economic policy, find out what people are currently researching, or simply keep up to date with the latest economic happenings across the world, there are blogs for all tastes. Economics bloggers vary widely from individual students and professors sharing their thoughts on the state of the profession to blogging superstars like Greg Mankiw, Paul Krugman and Tyler Cowen, whose analyses are backed by years of experience and a deep knowledge of the field.

Is it time to bin GDP?

Gross Domestic Product, or GDP, is the sum of all goods and services that a country produces in a given year, adjusted - to make it comparable to previous years - for inflation. In many ways, though, it has become much more than that. It has become the barometer of a country's progress, an indicator of a land's prosperity, and the ultimate yardstick for assessing living standards. Some have even gone as far as describing it as 'the statistic to end all statistics'. When growing (at expected rates), politicians refer to it as proof of the success of their policies.

The soft skills you need to succeed

Everyone knows about the hard skills you need to be able to succeed in economics or in academia in general: excellent writing and proofreading skills, the ability to extract information from what are often dense scientific texts, and being able to evaluate and analyse data effectively, among other things. But they aren't the only skills you need to have. There are, of course, the dreaded soft skills – a slippery term that can mean anything from being able to clearly communicate your ideas to another human being to more abstract concepts like emotional intelligence.