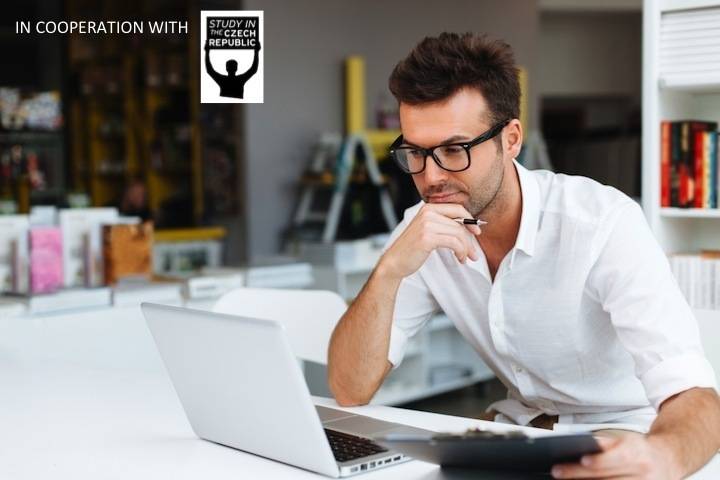 Step-by-step Guide on Applying to Universities in the Czech Republic
Are you thinking about completing your degree abroad? Have you considered studying in a centrally located European country, with a rich history, beautiful architecture and nature, low cost of living and a long tradition of quality education? The Czech Republic offers all of this!
Although Czech is the main language of tuition at universities, over 1000 study programmes in English are offered at all degree levels and across all fields. Below you can find a step-by-step guide that will help you in getting started with your application!
1. Find your study programme
Start by choosing the degree programme that fits your interests and ideas. You can study in the Czech language, in English and selected programmes even in other foreign languages. Use the interactive finder of study programmes at www.studyin.cz with various search functions to get started.
Studies in foreign languages are subject to tuition fees, although these are generally much lower than in Western Europe. Maybe you can even take advantage of some of the scholarship opportunities offered to foreign students, so have a look at this page.
Studies in the Czech language at public universities are free of charge. Many universities offer one-year long language courses that can prepare you for studies in the Czech language as well as for entrance examinations. Find out more here.
2. Prepare basic documents
The basic condition for entering studies is the successful completion of the previous level of study (certificate of graduation from a secondary school for Bachelor´s (3 years) and long-cycle Master´s degree programmes (5-6 years); Bachelor's degree for a follow-up Master´s; Master's degree for a Doctoral study programme).
If you have degrees issued abroad and wish to enroll at the university in the Czech Republic, you will be required to obtain an official document confirming that your degree is recognised in the Czech Republic. For details see this page.
Besides certified copies of your educational qualifications, the minimum entry requirements usually include a completed and submitted application, proof of the admission procedure fee payment and compliance with the conditions for the specific study programme (e.g. letter of motivation, letter of recommendation, portfolio, English proficiency test).
3. Check specific entry requirements
Once you have decided where you want to apply to, you can search for detailed information on entry requirements and deadlines. In the Czech Republic, each university is responsible for its own admission procedure and the conditions vary from programme to programme.
You should therefore always check the specific requirements on the university websites and if you need some advice, you can contact the study department or the international office of the relevant university. The application deadline is mostly between February and April. Students may apply for several study programmes at various universities and faculties.
4. Submit your application
The application forms are available on university websites. Universities use the system of electronic applications forms, which simply guide the students and allow them to track their application status throughout the entire process. After filling in the application, it is necessary to print it out, sign it and send it by post to the relevant university or faculty together with the required documents. You might be asked to pay the application fee and attach a receipt of payment to your application, if required by the university. The next steps will be communicated to you through the online application system and by a letter or email from the university.
5. Sit the entrance exams
If you are an eligible applicant, you may be required to sit an entrance exam. It can include a written test and oral interview. The entrance exams are usually held in the Czech Republic, but some options also exist for taking the exam abroad (e.g. via Skype).
6. Wait for the notification of acceptance
When the application period and the possible entrance exams are over, the university will make the final admission decisions. Results are usually announced by the end of June. After receiving the decision, you will be asked to pay the tuition fee for the first semester, if applicable. The university will then send you an official letter of admission, admission confirmation for the visa and accommodation purposes, and the study contract.
7. Apply for visa
Depending on your nationality you may need to apply for a visa or residence permit to enter the Czech Republic. You should start your visa application process as soon as you have received the official letter of admission, especially if you are a non-EU citizen, as the whole procedure requires some paperwork and can take up to 60 days. Find out more here.
8. Arrange practical aspects of your arrival to the Czech Republic
You should keep in touch with the study department of the university or with the study programme coordinator. Your host university can advise you best on the arrangement of all the practical details of your arrival to the Czech Republic, including local student accommodation options and available student services.
9. Arrive and enjoy your stay!
Make sure to save some free time next to your studies for the many attractions Czech Republic offers!
Find out more about studying in the Czech Republic at www.studyin.cz.
Also Interesting

5 Reasons to Study in Turkey: "Crossing the Bridge"

In the last five years, Turkey has become an increasingly popular destination for students. Every year, hundreds of expats relocate to Turkey, to work or study in old and new Turkish universities that teach in English. The majority of the most prestigious universities of the country, for instance the Bogazici University, Galatasaray University and Koç University, are located in Istanbul, a city that connects the two continents of Asia and Europe.

Why Study in Spain? Top 5 Reasons to Head to the Iberian Peninsula

Spain is the first country we will be highlighting in a new series exploring top destinations for students from around the world. Spain is one of the most popular countries in Europe for students interested in either short-term or longer exchange programs, as well as for those looking to earn a full degree in a foreign country.

Tips on Studying Abroad in Spain at the Master's Level

Even if you are not interested in earning a full graduate degree in Spain, there are many alternatives for spending time there as a student. Spain is one of the most popular destination countries for students spending a summer, semester or full year abroad. At the Master's level, you have a number of different options available to you, which we will outline in this article.