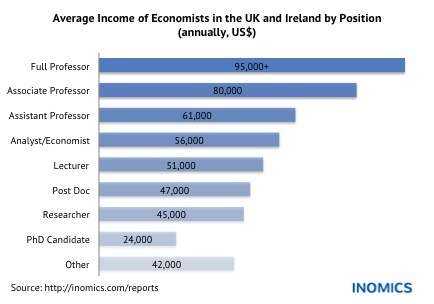 Academic Salaries in the UK and Ireland
On Wednesday, January 29, INOMICS released the Economics Job Market Report 2013 (UK and Ireland). This report, based on the findings of the Economics Job Market Survey conducted in 2013, introduces the reader to various aspects of the job market in economics, business and finance, concentrating primarily on the academic field.
As shown earlier in our post "How Much Econ Professors Earn? Salaries in Academia by Country", the UK is on the list of countries that remunerate their economists quite well. As can be seen in the graph above, entry-level academic positions, such as PhD Candidate, Researcher or Post Doc, tend to pay less than 50,000 US$ per year, though this number is still significantly higher than in many other countries and regions. Salaries for Professors start, on average, with 61,000 US$ per year for Assistant positions, and go above 95,000 US$ per year for Full Professorship positions.
However, there are of course many factors influencing the salary an economist might earn, including years of experience, the highest degree obtained and so on. Our findings show that salaries are strongly correlated with one's highest degree, and having a PhD determines a stable increase in the average pay.
More details on the findings and methodology of the survey can be found in the full version of the report, which is available for free download on the INOMICS site.
Also Interesting

For student recruiters and admission officers

Tips for recruiting students during Covid-19

Among the most common challenges faced by Universities we find the need to deliver course curriculum adaptable for e-learning experiences; the need to provide a solution to the current dilemma of international students, start their studies online, delay the start of their studies or turn to local institutions to start their studies; the demand for hosting virtual campus tours, virtual Q&A sessions, among others.

The Best Online Microeconomics Courses for Beginners

Microeconomics is the study of what economic actors - be they people, firms, or whole industries - do when confronted with choice, and how this affects the distribution of resources. It's fascinatingly revealing but can be frustratingly complex. And regardless of which direction your economics career takes, it's likely that, at some point, it will have to be mastered. But that's fine, INOMICS is here.

A Discriminatory Pandemic

The Racial Inequalities of COVID-19

Dubbed 'the great equalizer' at its outset, COVID-19 has often been described as picking its victims at random. Blind to race, ethnicity, and gender, it sees just a human body, a host that enables it to do what all pathogens are programmed to do: spread. While this, from a biological perspective, may be true, the disease's sweep of the globe has been anything but equalising. Data from both the US and UK - who along with Brazil compete for the honour of worst pandemic response - show that in terms of cases and deaths, minorities are hugely overrepresented.