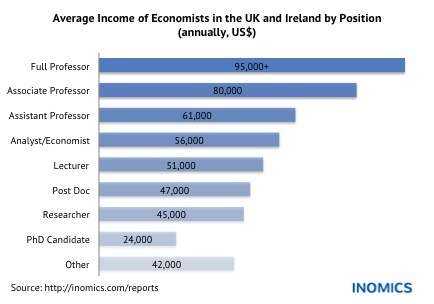 Academic Salaries in the UK and Ireland
On Wednesday, January 29, INOMICS released the Economics Job Market Report 2013 (UK and Ireland). This report, based on the findings of the Economics Job Market Survey conducted in 2013, introduces the reader to various aspects of the job market in economics, business and finance, concentrating primarily on the academic field.
As shown earlier in our post "How Much Econ Professors Earn? Salaries in Academia by Country", the UK is on the list of countries that remunerate their economists quite well. As can be seen in the graph above, entry-level academic positions, such as PhD Candidate, Researcher or Post Doc, tend to pay less than 50,000 US$ per year, though this number is still significantly higher than in many other countries and regions. Salaries for Professors start, on average, with 61,000 US$ per year for Assistant positions, and go above 95,000 US$ per year for Full Professorship positions.
However, there are of course many factors influencing the salary an economist might earn, including years of experience, the highest degree obtained and so on. Our findings show that salaries are strongly correlated with one's highest degree, and having a PhD determines a stable increase in the average pay.
More details on the findings and methodology of the survey can be found in the full version of the report, which is available for free download on the INOMICS site.
Also Interesting

Decisions, Decisions, Decisions

Pros and Cons of Being A College Professor

If you're thinking about which direction to take your research career, one possibility is the professor route, teaching and researching in a university context. This is one of the most desirable jobs among young academics, and something that people often strive for. But what are the pros and cons of working as a college professor?

A Critique of Neoliberalism

Few would contest it has been the ideology of our political age. Ever since the 1980s, it has dominated western politics, underpinning governance, influencing culture, and leaving its indelible mark across society. During this time its core tenets were rarely challenged and only its peripheral aspects tweaked. The 2008 financial crash, however, changed this, shaking confidence in an ideology whose name, up until that point, was rarely ever spoken.

Ranking, Study Advice, Career Advice, Blog Post

The Top Economics Blogs

Reading economics blogs can be an easy way to get your fill of knowledge and, in many cases, they're more palatable compared with academic journals, which can be dense and gruelling. The blogs we've listed - in no particular order - are the ones we here at INOMICS turn to when we're looking for interesting, informative, and occasionally offbeat articles on a wide range of economic topics. With much of the outside world still off-limits, they also provide an excellent and productive means of passing the time. So go on, dive in.