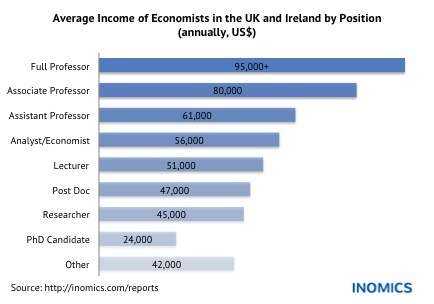 Academic Salaries in the UK and Ireland
Read a summary or generate practice questions based on this article with the new INOMICS AI toolhere.
On Wednesday, January 29, INOMICS released the Economics Job Market Report 2013 (UK and Ireland). This report, based on the findings of the Economics Job Market Survey conducted in 2013, introduces the reader to various aspects of the job market in economics, business and finance, concentrating primarily on the academic field.
As shown earlier in our post "How Much Econ Professors Earn? Salaries in Academia by Country", the UK is on the list of countries that remunerate their economists quite well. As can be seen in the graph above, entry-level academic positions, such as PhD Candidate, Researcher or Post Doc, tend to pay less than 50,000 US$ per year, though this number is still significantly higher than in many other countries and regions. Salaries for Professors start, on average, with 61,000 US$ per year for Assistant positions, and go above 95,000 US$ per year for Full Professorship positions.
However, there are of course many factors influencing the salary an economist might earn, including years of experience, the highest degree obtained and so on. Our findings show that salaries are strongly correlated with one's highest degree, and having a PhD determines a stable increase in the average pay.
More details on the findings and methodology of the survey can be found in the full version of the report, which is available for free download on the INOMICS site.
Also Interesting

Insights into Central Banking Careers with Dr. Gómez-Pineda

Dr. Javier G. Gómez-Pineda, our interview guest for the 2023 INOMICS Handbook, graciously agreed to return for a second interview. This time, the INOMICS team prepared some career-related questions for the central banker. With his answers, Dr. Gómez-Pineda shares his wisdom about central banking and economist careers in general with you, our readers.

A gentle introduction to LaTeX for economists

Economists often run into situations where they need to type out mathematical formulae or draw up a graph, especially for research papers. But, anyone who's attempted to do so knows that math symbols and complicated graphs are very difficult to produce using typical word processor options. So, what's a humble econometrician to do?

Studying in the USA: How to apply for a student visa

So you want to study abroad in the United States of America, the largest economy in the world. In keeping with its "melting pot" reputation, the US has been an education destination for many over the years, and is filled with many high-quality, internationally competitive universities. Of course, if you're an international student, you'll probably need to get a visa before you can go.