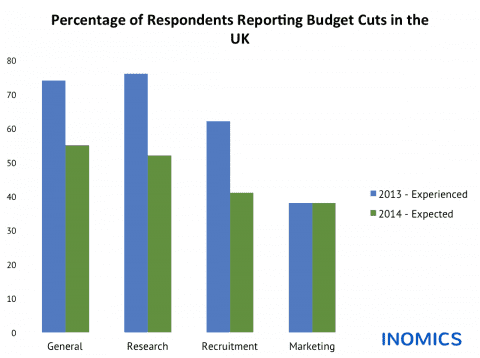 Budget Cuts in the UK: Experienced and Expected Changes in Academic Institutions
Last year, we conducted a global survey of nearly 800 academics, asking questions about budget cuts at their respective institutions for fiscal year 2013, and their expectations for 2014. We wanted to get a sense of the climate around the world in terms of who is still being affected by the economic downturn, and to what extent, in order to better grasp the daily reality for both employers and job seekers.
In this post we're examining the responses gathered from researchers and other academic professionals working in the UK. Of those who responded to our survey, 70% said they work in universities, 9% in think tanks, 9% in a private company or consultancy, 9% in the government and the remaining 3% in a bank.
The data from the UK are quite interesting, as they generally follow the general European trend, except in the case of marketing budgets. Yet, when examined more closely, the lack of change in anticipated budget cuts in marketing for 2014 can be countered by an increased percentage of UK respondents expecting budget increases. For 2013, 5% of UK respondents claimed their marketing budgets were increased, while 10% said they anticipated marketing budget increases for 2014. These expected increases for the 2014 fiscal year are certainly good news for UK marketing departments!
Across each of the other budgets, the sharp decrease in anticipated budget cuts for 2014 also offers a promising outlook for the UK market. 14% of respondents said they anticipated general budget increases for 2014, which also shows a distinct increase from the 9% who reported general budget increases for 2013.
Also Interesting

5 key differences between American- and European-style PhD programs

This piece primarily focuses on the differences and similarities between economics PhD programs on the two sides of the Atlantic. I later discuss how an economics PhD is organized in other parts of the world, as many other countries have modeled their PhD programs on one of these two styles. Program duration The most striking difference between an American and European economics PhD is the expected duration of the program.

Should you prolong your predoc life?

If you go through curricula vitae of recent PhD graduates, you may find it's not uncommon to see that a PhD owns two master's degrees. As lots of MA/MSc in Economics programs are one-year programs, some students will pursue an MRes or MPhil in Economics afterwards. Others may opt for a degree in applied mathematics, statistics or another field with an intention to strengthen their quantitative and/or coding skills (summer school programs are another option to do this).

A Post-PhD Career in Research: Jack of all Trades, Master of Some

The importance of writing as communication It is indeed true that researchers like us (post-docs, research fellows, senior researchers, and so on) working in academia or in public/private/non-profit institutes spend a lot of time at their desks: writing articles, among other things. We maybe Doctors of Philosophy, but in reality, we are Masters in Writing and a few other things. This is because the demands of a researcher's role requires us to be jacks of a lot of trades and masters in some.