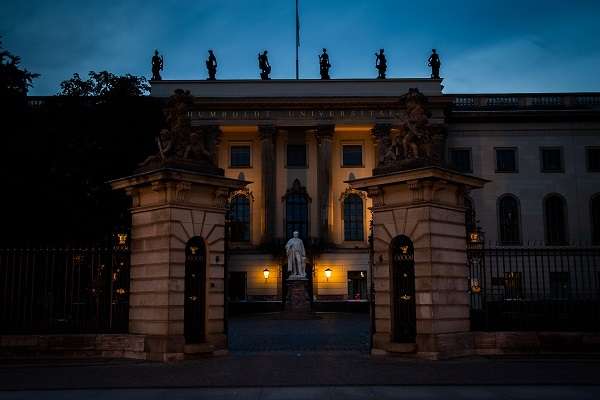 Campus Reviews
Hiding 'Unter den Linden' - Humboldt University Berlin, Germany
Read a summary or generate practice questions based on this article with the new INOMICS AI toolhere.
Humboldt University in Berlin, Germany is home to more than 37,000 students across 190 degree courses, as well as being a renowned research institution. Famous alumni of the university include Karl Marx, Heinrich Hertz, and Alexander von Humboldt, as well as 29 Nobel Laureates, and Albert Einstein was once a Physics professor.
Today, Humboldt University offers teaching and research opportunities for a broad range of subjects including economics.
Courses and fees at Humboldt University
In the Faculty of Economics and Business Administration you'll find bachelors, masters, and PhD programs on offer. Bachelors programs include business administration and economics, and there are also options to combine the study of economics with another subject. At the masters level, programs include MSc in Business Administration, MSc in Economics, MSc in Economics and Management Science, MSc in Statistics, and an MSc in Information Systems jointly taught with the computer science faculty.
➲ Subscribe to find your ideal Master's program in Europe
There are structured doctoral programs such as the Berlin Doctoral Program in Economics and Management Science, as well as the option for doctoral students to work with specific professors to develop their own thesis concept.
➲ Subscribe to find your ideal PhD program in Europe
The good news is that universities in Germany are very affordable. There are no tuition fees for either EU or international students, but you do have to pay around 300 euros a semester in university registration fees. However, this payment includes a transport ticket for the city for the semester that allows travel all around Berlin.
Research specialities at Humboldt University
Some of the economics specialities at Humboldt University include applied microeconomics, with the faculty hosting its own special microeconomics research group, as well as public economics and other social-focused topics like the analysis of climate, weather, and energy systems. There's also a strong strain of econometrics and statistics in the school, as well as an interest in macroeconomics topics.
Teaching methods at Humboldt University
Humboldt encourages an independent approach to learning and to managing your studies. One thing international students might notice is that they'll have a lot more freedom in their studies to choose subjects and balance their workload.
Most programs are taught in German but there is also some teaching in English, so some courses require a language certificate during admission. But there are plenty of language learning opportunities in Berlin to get prepared, and the university's language centre offers German and foreign language classes for a reasonable price. The Deutsche Welle newspaper's online course is also a good place to start. These can help get yourself up to the required level of German for a course – this level is generally B2 on the CEFR, the Common European Framework of Reference for Languages.
The history Humboldt University
The university's main building is located on the historic Unter den Linden street in central Berlin. The university was established in 1810, by the education reformer and linguist Wilhelm von Humboldt. He believed in the coexistence between research and teaching in the pursuit of academic success. His innovative methods of education proved so successful, that many universities followed his example nowadays.
Such an impressive reputation can only be achieved with an extensive research base. The main library of the HU contains more than 4.2 million books and a little less than 30,000 online subscriptions. HU was among the eleven "Universities of Excellence" chosen by the German government in 2012.
Campuses and student life
The Humboldt University has three campuses across Berlin. Campus Mitte is the oldest of the three and hosts the humanities, as well as the administrative offices of the university. Campus Nord, on the other hand, has a lovely park nearby, and contains many of the unviersity's science labs. Last but not least, Campus Adlershof, the house of Chemistry, Computer science, Maths and Physics, has an amazing student dormitory.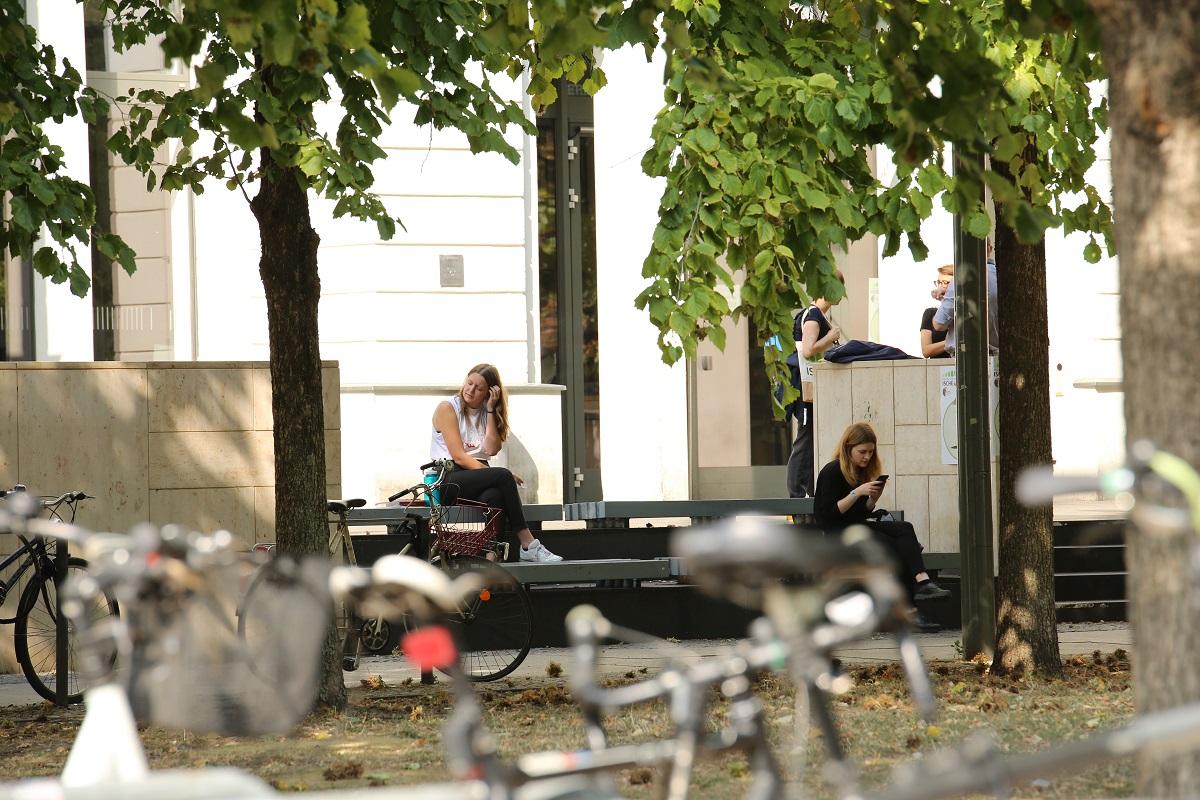 The student union also takes care of numerous events on campus. The Humboldt-Forum Wirtschaft (HUFW) is a non-governmental organization that organizes an annual symposium, and is open to all students interested in event management. For international students, there are programs like the Buddy Program, as well as the Orbis Humboldtianus. You can take part in discussions, field trips, concerts, all while getting to know the locals. Another cool way to know more about Berlin is the student Podcampus, where students prepare numerous podcasts for politics, culture, events and so on.
The city is a lively and affordable place to live. Eating in restaurants or shopping for antiques doesn't have to cost you a fortune in Berlin. With such a large international population, there's all kinds of world cuisine and at the hidden flea markets you might find all kinds of secret gems. Every Sunday, perhaps the most famous flea market runs all day in Mauerpark, up near a touching memorial to the Berlin Wall.
The city of Berlin
The famous boulevard where Humboldt University is located, Unter den Linden, stretches from East to West and you can find the Brandenburg Gate on one side and the Berlin City Palace on the other. The Lustgarten, which has been used over the years as a paradae ground and a place for mass rallies,the Berlin State Opera, Hedwig's Cathedral, where Bernard Lichtenberg famously prayed for the Jews during the Holocaust, and Bebelplatz, where the Nazis famously burned thousands of books, are all situation along this street boulevard. Johann Strauss III was so captivated by its beauty that he wrote a waltz named after it.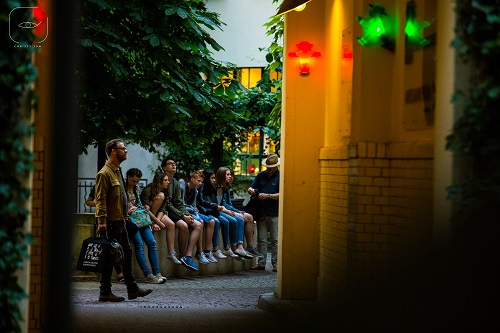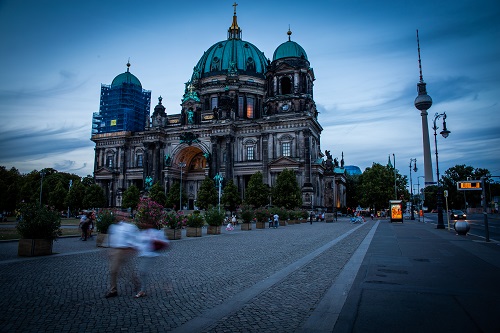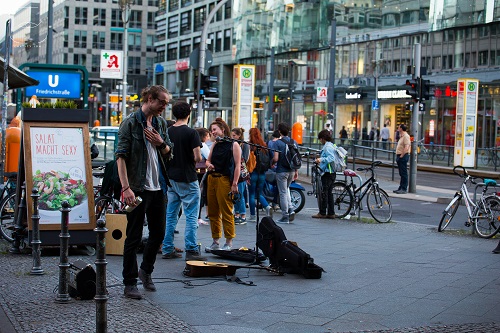 Although Berlin doesn't have a concrete center like most large cities, most of the touristic attractions take place around Berlin Mitte. On Friedreichstraße lies the iconic Checkpoint Charlie (though this isn't really worth seeing – it's just an actor standing to attention at a makeshift booth). Museum Island, so named because the majority of Berlin's most famous museums inhabit its banks, is a must-see: the Alter Galerie has new exhibitions every few months, and the permanent installations in all the museums, but specifically the Pergamon, are breathtaking.
Finally, Berlin contains many landmarks to commemorate Germany's sordid past. The Holocaust Memorial, designed by Peter Eisenman and Buro Happold, lies just around the corner from the Brandenberg Gate. It consists of 2,711 concrete slabs lined up in a grid. You can walk through the slabs, and a 'Place of Information' sits relatively well-hidden on one of the edges, containing the names of around 3 million Jewish Holocaust victims. The memorial is extremely eerie, and when walking through the slabs one has a sense of desolation and somberness.
Living in Berlin
Accommodation in Berlin has historically been very cheap, but in the last decade has become considerably harder to obtain. You can expect to pay up to €900 for your own apartment in the city center, but you can also find much more affordable options like a room in a shared house for around €400 per month.
Berlin has a laid-back, arty vibe, offering authentic restaurants, the cozy little cafés and the never-ending galleries. Many artists moved to Berlin, meaning there is a vibrant artistic culture, especially in the former East.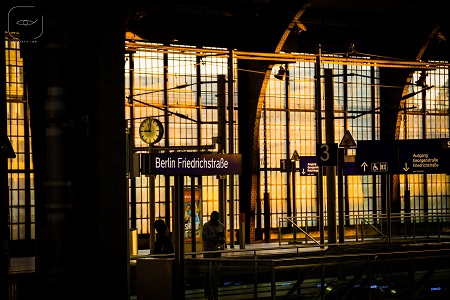 There's something out there for all artists, whether your medium is film, music, graffiti or fine art. There's a free graffiti wall that runs along the border of the aforementioned Mauerpark; the smell of spray paint drifts through the air as you wander through the flea market on Sundays. The Berlin School of Indie Film Producer, for instance, could be something you got involved with if you were a budding filmmaker. Berlin has an exciting music scene of all genres, from punks to techno lovers to classical and jazz. The music scene is quite extravagant and it's perfect for all night owls out there. Someone once told me that true Berliners don't go out before 1 am, because they stay up until the sun comes out. And why would they go home? There's plenty of underground techno clubs, small pubs and there's almost always some live band to listen to.
➲ Discover all study programs in Germany