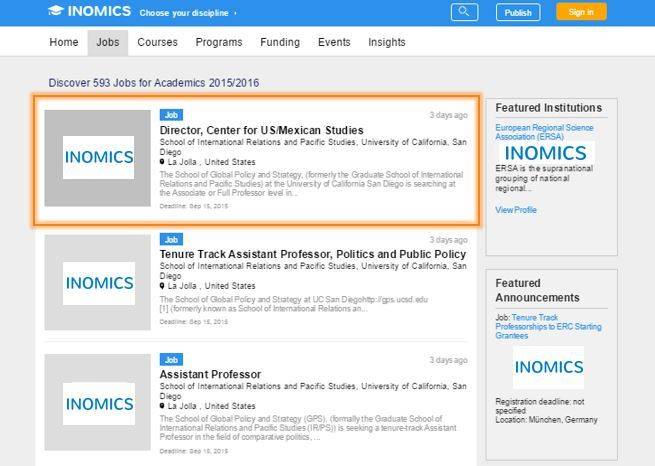 Inside INOMICS - How do we decide what to show on the INOMICS website?
One of the most common questions we receive from customers here at INOMICS is how to make sure their Announcement appears at the top of the page. In our never ending quest to please, this month we bring you some insight into how our listing pages (All Jobs, for example), are structured1.
The first point to understand is which pages on INOMICS jobseekers typically visit. For most, the first port of call is https://inomics.com/top/jobs. This page is often indexed highly in Google, and a large percentage of jobseekers on INOMICS navigate through this page. The general principle is that jobseekers will see the newest Announcements first, with one important exception – Standard, Featured and Premium Announcements benefit from increasing levels of "boost" to appear for longer, and more often, near the top of this page.
There are two important factors here. The first is called "stickiness", which means that the higher-level Announcements are sticky at the top of such pages. While they will eventually drop down as new Announcements come in, they will do so more slowly than lower level, cheaper Announcements. As such, if a new Premium Announcement is booked, then it is guaranteed to be among the top one or two on any relevant page for a couple of days, at least until other Premium or Featured Announcements are booked in the days following! It will then drop gradually down the list, but less rapidly than a Basic Announcement, for example.
The second factor in determining the time spent at the top is the frequency of "Reposts". A Repost is when an Announcement is made to look new, which means the date of appearance is reset to today's date. This sends it back up near the top of relevant listing pages, as well as sending it around our Email Alerts again. Premium Announcements include two Reposts by default, spread out over the weeks it is online, and Featured Announcements include one Repost. Extra Reposts can be booked for €75, also for Standard and Basic Announcements within the online duration.
If you have any questions about where, when and how your Announcements will be displayed on the INOMICS website or in our Email Alert, do not hesitate to contact the INOMICS team at info@inomics.com and we will be happy to discuss options with you in person2.
1 - Please note: all details are correct at time of publication (21st August, 2015). We reserve the right to adjust the mechanics of the INOMICS website without notice, in order to give the best service to both customers and website visitors.
2 – Our office hours are Monday-Friday, 09:00-18:00 (Central European Time), excluding public holidays in Germany, where we are based.
Also Interesting

The Top Macroeconomics Books

If you're currently in the throes of an undergrad degree in economics, or even if you're just a layman looking to brush up on your macroeconomic knowledge, it's essential you have the right literature to help you keep up to date. There are plenty of textbooks out there which purport to be the best way to get to grips with the discipline, but some are, naturally, better than others. On top of that, there are plenty of more popular economics books which deal with a specific topic in more detail.

Jobs for Economists in the Government: The Right Career to Consider?

When discussing jobs in the government, the type of work that comes to mind is most likely influenced by your particular background. In countries in which large segments of the economy are nationalized, it's possible to become a civil servant in nearly any field. In other places, your options might be more limited. Regardless of where you're from, or where you'd like to work, however, every government employs economists, and it's easy to argue that they're needed now more than ever - though in the weird times of the pandemic, finding a government job may be more complicated.

Why you should be using a multi-channel marketing approach

Multi-channel marketing campaigns allow institutions to increase conversion rates by interacting with potential candidates (students, professors and researchers) at different stages of their decision process, using the best channel for that stage. For example, a candidate who has already visited your institution website is more likely to respond positively to a direct email campaign, while a young candidate who has not yet heard of your university/centre/company is more responsive to meeting representatives at a recruitment fair.