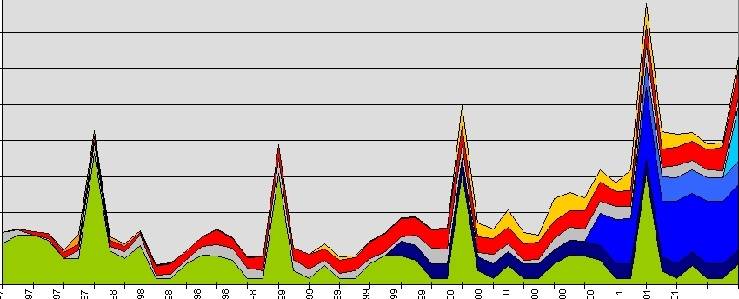 Introduction to Econometrics
Econometrics is something towards which many people have mixed feelings: both fear and respect. If you want to get a degree in economics, however, there is no way you can get away without studying econometrics on some level; and if you want to become a great economist you will have to master it: to build models, run regressions and (hopefully) predict the future. The economics profession has been blamed for failing to predict the global financial crisis, but as econometrics is considered to be one of the core disciplines to help prevent a recurrence in the future, we have collected a number of useful links for online learning and self-improvement in this field.
1) Learn the basics of Econometrics with Mark Thoma, Professor of Economics at the University of Oregon. You can find his recorded lectures on YouTube.
2) A selection of the best articles about a widely spread software R and its application to your research you can read at "R-bloggers".
3) Econometrics by Simulation is dedicated to simulations in both Stata and R and maintained by a PhD student of the Michigan State University.
4) The blog "Coffee and Econometrics in the Morning" with its basic commands explanations and video tutorials about R might be very helpful for the beginners.
5) Check out "Econometrics Beat" – the blog of Dave Giles, professor in Econometrics. Here you can find recommendations on which current papers in econometrics to read, as well as some useful information on how to cope with EViews and hints regarding Regression Models.
6) A less scientific but very creative approach to econometrics can be found in "Guy's Econometrics Blog".
7) If you are looking for ways to understand applied econometrics and quantitative methods better, have a look at the materials in Econometric Sense.
8 ) Timberlake Consultants, has organized two Econometrics Summer Schools, one in Oxford (UK) and another in Cambridge (UK) this July. This is a good opportunity to expand your econometrics skills and learn from the leading professors in the field.
9) If you consider yourself a profound Econometrician already and want to share your knowledge with the world as well as to discuss the present achievements and the future challenges of the discipline, you can participate in the "Spatial Econometrics Association VII World Conference" taking place in Washington DC on July 10-12, 2013.
Image Credit: Robert Shaw
Also Interesting

The Most Useful Apps for Economics Students

INOMICS takes part in the Apple affiliate program. This article contains affiliate links, which means we may earn money through any qualifying purchases made after you click through. However, this is not a sponsored post.

How to Plan Your Career Path

Building Your Career in Economics: From Study Choices to the Economics Job Market

Economists work in a variety of industries including business, health, government, and education, and their role mostly involves research and providing reports and recommendations based on data collection, analysis, and interpretation. In the United States, local and federal government agencies are the largest employers of economics graduates. It is essential that students plan their education based on where they are interested in entering the workforce.

Top YouTube Channels to Learn Econometrics and Economics

So, are you looking for resources to learn economics online? INOMICS has got you covered, whatever your reason. We've published various articles that aim to help our readers make the most of online resources already out there.