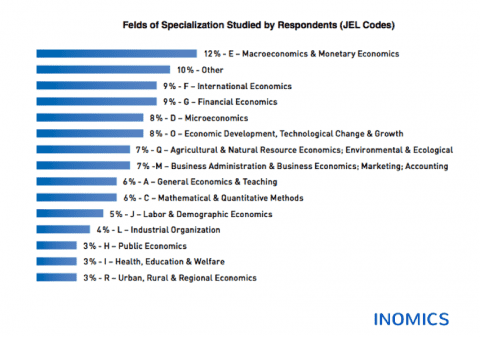 Popular Fields in Economics – Which Conference Topics are Most Relevant?
With the release of the Spanish report this week in the worldwide series of INOMICS Job Market Reports, more information has been added to the wealth of data regarding the interests and experiences of economists across the globe.

Many interesting comparisons can be drawn with this data, particularly regarding which fields of specialization are most popular in each country, and what percentage of survey respondents continue to work in their areas of study. In the above chart it can be seen that Macroeconomics & Monetary Economics are at the top overall, with 12% of respondents having specialized in this field during their studies. While 10% of all respondents chose Other, International Economics and Financial Economics were each chosen by 9% of respondents across the globe. In Spain, Microeconomics was the top field of specialization (13%), while Germany, Switzerland & Austria reflected the global trend, with 12% of respondents citing Macroeconomics & Monetary Economics as their field. Interestingly, Latin America showed an even higher percentage, where 16% of respondents chose this popular field, while in North America Agricultural and Natural Resource Economics, Environmental and Ecological Economics and Financial Economics were each most chosen.
When examining the percentage of respondents who remained within their field of specialization when moving on to a job or a higher degree, quite a range can once again be seen across countries, though overall more than a third (35%) of respondents changed specializations. This level of flexibility reflects a high degree of adaptation amongst academics today, indicating a willingness to gain new expertise while also putting old skills to use. Such data could be of great use when planning conferences in various countries, potentially targeting both those areas where certain specializations are strongest and also those most diverse.
For specific information about fields of specialization in countries such as Spain, Germany, Switzerland & Austria or the United States & Canada, download full reports here. You can also download the Worldwide Overview, which contains more details on this and many other subjects.