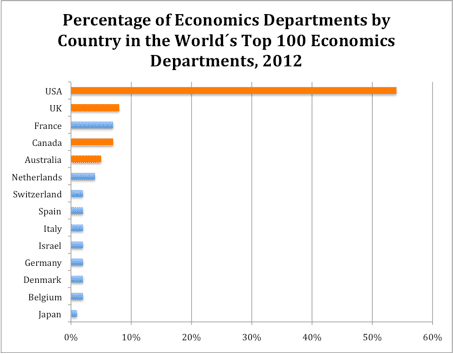 Ranking Economics Departments: Number of Top Institutions by Country
Read a summary or generate practice questions based on this article with the new INOMICS AI toolhere.
Data Source: RePEc
Are you still wondering where the best universities to study economics are located? A quick look at the graph above can provide you with the answer. The graph breaks down the location of the Top Economics Departments ranking computed using RePEc data released in September 2012.
Quite prominent is that more than half of the institutions featured on the top 100 are located in the USA (54%). The other half is made up of main players in the UK (8%), France (7%), Canada (7%), and Australia (5%). Countries like Belgium, Denmark, Germany, Israel, Italy, Spain, and Switzerland, appear at the bottom of the chart, each having only two institutions mentioned in the top 100. Two other ways to look at the break down are, firstly that more than 70% of the Top 100 Economics Departments are located in English-speaking countries (marked in orange on the graph). Secondly, if we narrow our attention to the first 20 departments, the gap between the US and the rest of the world gets even bigger: 80% of the top 20 being located there. The exceptions are four universities in Europe: one in the UK (5th position), two in France (9th and 12th position), and one in Spain (10th position). For those who think that a global ranking might be too generic, RePEc also provides information about Departments of Economics on each continent. These particular rankings, in addition to others, can be a useful source of information for economists seeking their next academic or professional position.
When looking at different rankings, source reliability and the methodology used are always two main concerns when assessing accuracy. The material above is derived from RePec data "based on a limited sample of the research output in Economics and Finance", taking into consideration only the material catalogued on the RePec website. This ranking is "based on data about authors who have registered with the RePEc Author Service, institutions listed on EDIRC, bibliographic data collected by RePEc, citation analysis performed by CitEc and popularity data compiled by LogEc". This being said, only the 1822 institutions listed in EDIRC have been taken into consideration in the mentioned ranking.