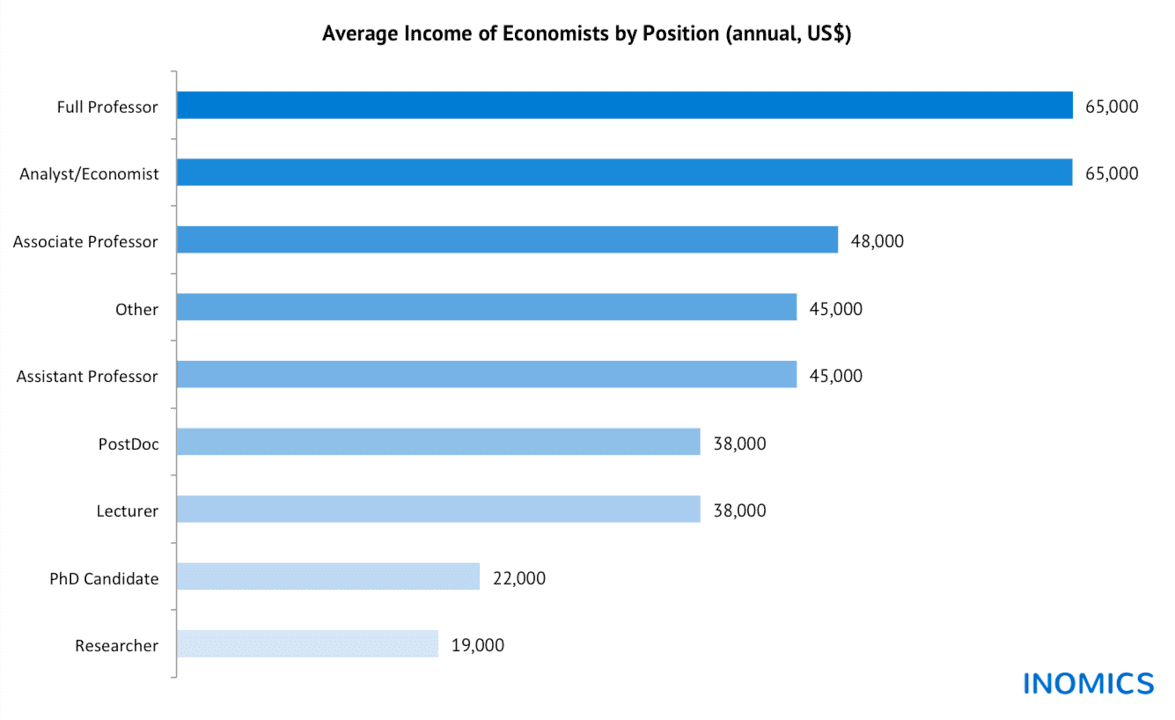 Salaries of Spanish Economists in the Crisis
Despite the uncertain outlook for the labour market in the Iberian region, the percentage of foreigners working or studying in Spanish institutions is higher than in other countries like Germany or United Kingdom (for more information access reports from other regions here). Many of these economists study or work at one of the numerous highly ranked institutions found in Spain, such as the Barcelona Graduate School of Economics or the University of Barcelona.
In fact, around 78% of economists in Spain are foreigners. The top reasons they cite for seeking employment in the Iberian country flexible working hours, balance between work and personal life and opportunities for development of their own research studies. Despite being highly relevant factors, their qualitative nature leaves out points of a more quantitative nature, such as salary.
Seemingly, despite the economic crisis, Spain continues to attract foreign economists. Given the importance of wages in making choices about professional life, we decided to present the average income of economists in Spain, according to their positions.
Compared with other European countries, the level of wages of Spanish economists is low. Around 80% of the employed economist population earns less than $55,000 a year; however this data is based on studies with a sample of mostly young economists with limited advanced studies and work experience. Moreover, as is clear from the graph, positions of full professor and analyst/economist are well paid in the Iberian country, while researchers and PhD candidates do not receive high salaries (more information available in the full Spanish report here)
In Spain, work experience and professional education have a strong impact on salary. Citing an example, the income of highly skilled and experienced analysts/economists reflect those of their colleagues in countries like Germany and UK. Based on this observation, and according to other information sources, the situation in the Eurozone particularly affects young professionals in the region, while senior economists find in Mediterranean climates more pleasant working conditions with similar incomes to their countries of origin.
Also Interesting

A Critique of Neoliberalism

Few would contest it has been the ideology of our political age. Ever since the 1980s, it has dominated western politics, underpinning governance, influencing culture, and leaving its indelible mark across society. During this time its core tenets were rarely challenged and only its peripheral aspects tweaked. The 2008 financial crash, however, changed this, shaking confidence in an ideology whose name, up until that point, was rarely ever spoken.

Decisions, Decisions, Decisions

Pros and Cons of Being A College Professor

If you're thinking about which direction to take your research career, one possibility is the professor route, teaching and researching in a university context. This is one of the most desirable jobs among young academics, and something that people often strive for. But what are the pros and cons of working as a college professor?

A Critique of Centrism

The current moment is one defined by crisis. It can be found everywhere: in the climate, economy, mental health, even in democracy. It's so ubiquitous as to have almost become the new norm. Amid the chaos, politics has struggled to keep up, its landscape is in permanent shift, its rulebook long thrown away. New formations have emerged, metastasized, sometimes died, and occasionally taken over - developments often surprising and hard to make sense of. What's clear, though, is that polarisation has set in.