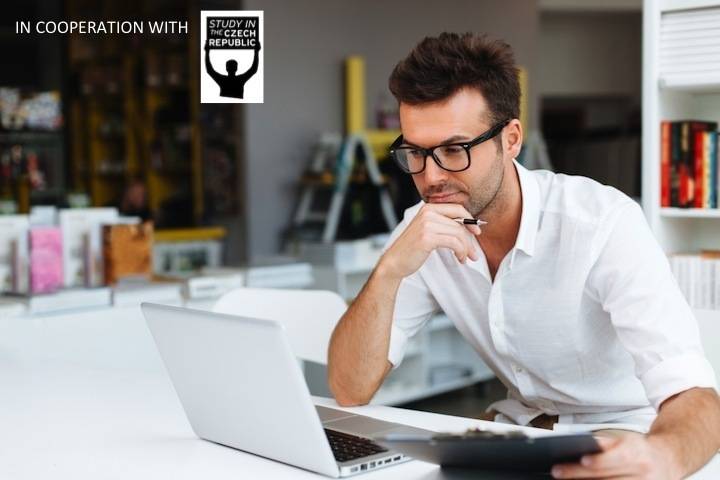 Step-by-step Guide on Applying to Universities in the Czech Republic
Are you thinking about completing your degree abroad? Have you considered studying in a centrally located European country, with a rich history, beautiful architecture and nature, low cost of living and a long tradition of quality education? The Czech Republic offers all of this!
Although Czech is the main language of tuition at universities, over 1000 study programmes in English are offered at all degree levels and across all fields. Below you can find a step-by-step guide that will help you in getting started with your application!
1. Find your study programme
Start by choosing the degree programme that fits your interests and ideas. You can study in the Czech language, in English and selected programmes even in other foreign languages. Use the interactive finder of study programmes at www.studyin.cz with various search functions to get started.
Studies in foreign languages are subject to tuition fees, although these are generally much lower than in Western Europe. Maybe you can even take advantage of some of the scholarship opportunities offered to foreign students, so have a look at this page.
Studies in the Czech language at public universities are free of charge. Many universities offer one-year long language courses that can prepare you for studies in the Czech language as well as for entrance examinations. Find out more here.
2. Prepare basic documents
The basic condition for entering studies is the successful completion of the previous level of study (certificate of graduation from a secondary school for Bachelor´s (3 years) and long-cycle Master´s degree programmes (5-6 years); Bachelor's degree for a follow-up Master´s; Master's degree for a Doctoral study programme).
If you have degrees issued abroad and wish to enroll at the university in the Czech Republic, you will be required to obtain an official document confirming that your degree is recognised in the Czech Republic. For details see this page.
Besides certified copies of your educational qualifications, the minimum entry requirements usually include a completed and submitted application, proof of the admission procedure fee payment and compliance with the conditions for the specific study programme (e.g. letter of motivation, letter of recommendation, portfolio, English proficiency test).
3. Check specific entry requirements
Once you have decided where you want to apply to, you can search for detailed information on entry requirements and deadlines. In the Czech Republic, each university is responsible for its own admission procedure and the conditions vary from programme to programme.
You should therefore always check the specific requirements on the university websites and if you need some advice, you can contact the study department or the international office of the relevant university. The application deadline is mostly between February and April. Students may apply for several study programmes at various universities and faculties.
4. Submit your application
The application forms are available on university websites. Universities use the system of electronic applications forms, which simply guide the students and allow them to track their application status throughout the entire process. After filling in the application, it is necessary to print it out, sign it and send it by post to the relevant university or faculty together with the required documents. You might be asked to pay the application fee and attach a receipt of payment to your application, if required by the university. The next steps will be communicated to you through the online application system and by a letter or email from the university.
5. Sit the entrance exams
If you are an eligible applicant, you may be required to sit an entrance exam. It can include a written test and oral interview. The entrance exams are usually held in the Czech Republic, but some options also exist for taking the exam abroad (e.g. via Skype).
6. Wait for the notification of acceptance
When the application period and the possible entrance exams are over, the university will make the final admission decisions. Results are usually announced by the end of June. After receiving the decision, you will be asked to pay the tuition fee for the first semester, if applicable. The university will then send you an official letter of admission, admission confirmation for the visa and accommodation purposes, and the study contract.
7. Apply for visa
Depending on your nationality you may need to apply for a visa or residence permit to enter the Czech Republic. You should start your visa application process as soon as you have received the official letter of admission, especially if you are a non-EU citizen, as the whole procedure requires some paperwork and can take up to 60 days. Find out more here.
8. Arrange practical aspects of your arrival to the Czech Republic
You should keep in touch with the study department of the university or with the study programme coordinator. Your host university can advise you best on the arrangement of all the practical details of your arrival to the Czech Republic, including local student accommodation options and available student services.
9. Arrive and enjoy your stay!
Make sure to save some free time next to your studies for the many attractions Czech Republic offers!
Find out more about studying in the Czech Republic at www.studyin.cz.
Also Interesting

A Discriminatory Pandemic

The Racial Inequalities of COVID-19

Dubbed 'the great equalizer' at its outset, COVID-19 has often been described as picking its victims at random. Blind to race, ethnicity, and gender, it sees just a human body, a host that enables it to do what all pathogens are programmed to do: spread. While this, from a biological perspective, may be true, the disease's sweep of the globe has been anything but equalising. Data from both the US and UK - who along with Brazil compete for the honour of worst pandemic response - show that in terms of cases and deaths, minorities are hugely overrepresented.

Learning During the Pandemic

Mathematics Free Online Courses

Given the excellent feedback we received from our audience on an earlier blog post that compiled a list of free econometrics courses online, we have now prepared for you a list of free online courses (MOOC format) that you can take in the discipline of mathematics. Like econometrics, proficiency in math is a prerequisite for performing well in economics courses at all reputable universities around the world.

How the Coronavirus is Affecting Economics

15:00 8 June 2020 As some countries begin to loosen their lockdowns to varying degrees of success, many universities are still playing it on the safe side. The University of Surey, for example, has moved its CIMS summer school course online. This will be from the 7th to 12th of September 2020.