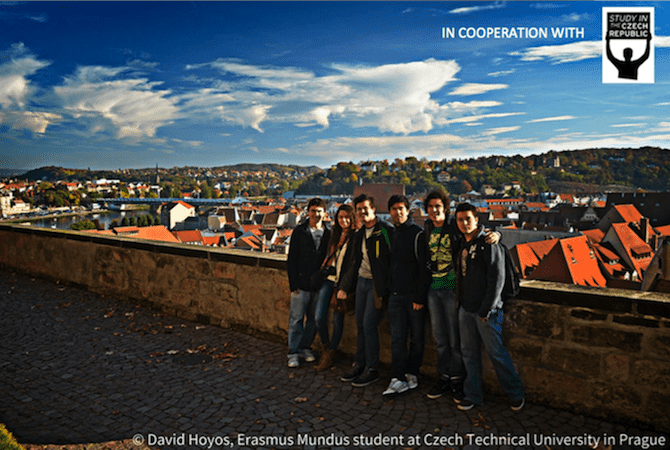 Study Scholarships in Czech Republic: Types and Application Procedures
Interested in studying in the Czech Republic but worried about the costs? We've selected the most important scholarship opportunities for international students in the Czech Republic, that you should check out.
Government scholarships
The Government of the Czech Republic annually offers scholarships within its Foreign Development Assistance Programme. These so called government scholarships support students from developing countries who would like to study at public universities in the Czech Republic. This initiative has a long tradition since the late 1950s.
Czech Republic provides scholarships for studies pursued both in the Czech language (in Bachelor's and Master´s study programmes) and in the English language (in follow-up Master's and Doctoral study programmes). Scholarships for studies in the Czech language are granted with a view to a list of recommended fields of study, updated according to the needs of specific countries, and also with regard to ongoing development cooperation projects. Applicants can also receive funding for a one-year long language and preparatory course. Scholarships for study programmes in the English language are granted only in the selected study programmes.
Scholarship applications can only be filed on-line at http://registr.dzs.cz/registr.nsf. The 2018/2019 application system will open on 20 July 2017 and the deadline to fill in an electronic application form will be 30 September. Prospective applicants should address all inquiries to the Czech Embassies in their countries.
More information here.
Scholarship awards under bilateral international agreements
The Ministry of Education, Youth and Sport of the Czech Republic annually offers scholarships to foreign nationals within the framework of intergovernmental exchange programmes arranged with a number of countries. These scholarships can only be granted to candidates officially recommended by the appropriate authorities in the eligible countries, which collect the applications, set the closing date for applications and organize the selection procedure. These can be Czech embassies abroad, ministries of education or other organizations active in the field of education.
Scholarships of this type are designed for university students, graduates and PhD candidates who wish to undertake study or research visits to one of the Czech public universities. The period of scholarship usually ranges from 2 to 10 months.
More information here.
Visegrad Fund scholarships
The International Visegrad Fund is an international organization founded by the governments of the Visegrad Group countries (Czech Republic, Hungary, Poland and Slovakia). The fund operates several grant programs, and also awards individual scholarships, fellowships and artist residencies.
Visegrad scholarships support Master´s and PhD studies or research stays at universities in the Visegrad region, including the Czech Republic. Applicants must come from Albania, Armenia, Azerbaijan, Belarus, Bosnia and Herzegovina, Georgia, Kosovo, Macedonia, Moldova, Montenegro, Russia, Serbia, or Ukraine, and they can apply for study periods up to 4 semesters. Interested applicants should submit their applications by January 31 each year.
More information here.
Scholarships of the South Moravian Center for International Mobility
South Moravian Centre for International Mobility is a specialized nonprofit organization which provides support to talented students and researchers based in the South Moravian Region of the Czech Republic. This scholarship scheme supports foreign students from countries out of the EU who are interested in Master or Doctoral studies at universities in Brno. Study programmes in technical and natural science are preferred and it is also expected that applicants will have a good knowledge of Czech language as they must be able to the pass entrance exam at university and start studying in Czech. Scholarship applications are accepted until the end of January.
More information here.
Erasmus+
Erasmus+ is the EU's programme to support education, training, youth and sport. It brings funding opportunities to students from all over the world. Besides grants for study abroad periods and traineeships abroad, students can receive a full degree scholarship for studying special Master´s study programmes in Europe. These so called Erasmus Mundus Joint Master Degrees are excellent study programmes run by international consortia of universities.
Czech universities are involved in several Erasmus Mundus Joint Master Degrees and the list is available at www.studyin.cz/programmes. The scholarship application deadlines for programmes starting in the academic year 2017/18 are different for each programme, but applicants should have their applications prepared usually by the end of January 2017.
University scholarships
Some Czech universities grant scholarships in cases of outstanding study results or difficult personal situation of a student. These scholarships are usually awarded to existing students only. Check the website of the university of your choice to find out more about available scholarships and how to apply. The list of universities in the Czech Republic including their websites and relevant contacts is available at www.studyin.cz/universities.
Find out more about studying in the Czech Republic at www.studyin.cz.