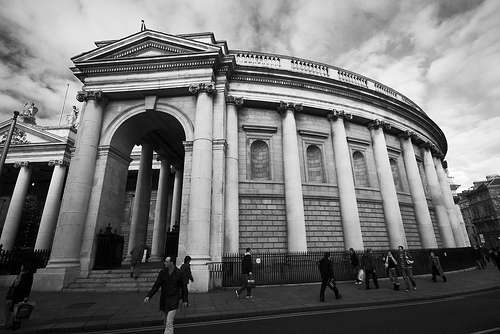 Summer Internships in Economics and Finance 2013
Last year, we posted an article titled "Internships in Economics – Lessons from an Economist," which offered useful advice about the importance of internships and how to find what you're looking for. Now, as spring is flying by and summer is just around the corner, we know that many of you are in the process of finding a summer internship. In this post, we'll highlight a few specific internships and delve into the many great places to intern for anyone interested in economics and finance.
Internships differ greatly according to discipline as well as type. For Bachelor's students or those with little to no work experience, they can be a great first step into the working world. For anyone with a little more experience under their belt, internships are a good way to directly engage in a field of future employment, or to fill a gap between jobs.
For many econ and finance students, interning in a bank is a terrific way to gain experience and test out a potential career path. Numerous central banks offer high-level internships for graduate students, for instance the Central Bank of Ireland, the Bank of Canada or Deutsche Bundesbank. If you are interested in development work, banks such as the Asian Development Bank and the Development Bank of Latin America also offer structured internships for graduate students hoping to gain relevant work experience.
If you are an economics or finance student but not interested in working in a bank, there are still plenty of other options for top-notch internships. For instance, think tanks post open positions on a regular basis and are perfect places to gain experience in economic policy analysis and other areas. In Europe, institutions such as Bruegel, the Rimini Centre for Economics Analysis, TESEV or the European Policy Centre are all great options. For lists of other top think tanks in Europe, the U.S. and Latin America, take a look at our series of blog posts dedicated to that subject.
Beyond banks and think tanks, many large firms in the private sector also offer internships. Companies such as PwC, Deloitte, KPMG and Ernst & Young all have offices in cities across the world, creating diverse opportunities for students and young professionals.
If you've interned in the past, please leave a review of the institution where you worked on the INOMICS website and share your experience with future interns!
Photo credit: Paul Watson
Also Interesting

Make Your Research A Success

5 Industry Skills I Never Thought I Would Use in my PhD

Approaching an economics PhD similarly to a job helps students complete the journey in good shape. In business, people think in terms of products, projects, and stakeholders. To create a product, one needs an idea and a team. To implement the idea, one needs to arrange the process and set the deadlines. To get the product to consumers, one should market it properly.

Into the Economist's Mind

The INOMICS Questionnaire: Fratzscher vs Miguel

Marcel Fratzscher: What is your favorite place on earth? Edward Miguel: It may be a little cliche, but my favorite physical location is the Big Island of Hawaii, on the Kona side. It's where my family (my wife and two kids) and I have traveled regularly over the past decade or so for our family holidays, so it's a place that holds many of our favorite memories and warm feelings. It is also a stunning landscape -- with mountains, lava and black volcanic rock all set against the Pacific. I dream about it often!

Top Master's Programs in Economics

This article focuses on master's in economics. For students with interest and aptitude in both social sciences and mathematics, economics can be the ideal subject to combine these skills. A master's in economics can be preparation for further academic research, or can be a route into a job either in private industry or in the government.