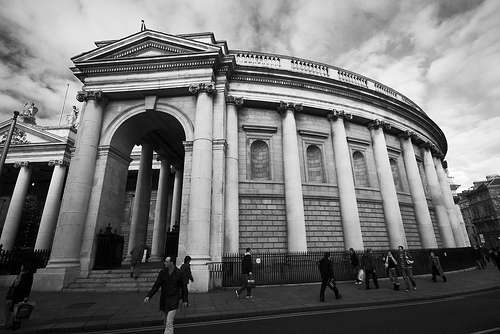 Summer Internships in Economics and Finance 2013
Last year, we posted an article titled "Internships in Economics – Lessons from an Economist," which offered useful advice about the importance of internships and how to find what you're looking for. Now, as spring is flying by and summer is just around the corner, we know that many of you are in the process of finding a summer internship. In this post, we'll highlight a few specific internships and delve into the many great places to intern for anyone interested in economics and finance.
Internships differ greatly according to discipline as well as type. For Bachelor's students or those with little to no work experience, they can be a great first step into the working world. For anyone with a little more experience under their belt, internships are a good way to directly engage in a field of future employment, or to fill a gap between jobs.
For many econ and finance students, interning in a bank is a terrific way to gain experience and test out a potential career path. Numerous central banks offer high-level internships for graduate students, for instance the Central Bank of Ireland, the Bank of Canada or Deutsche Bundesbank. If you are interested in development work, banks such as the Asian Development Bank and the Development Bank of Latin America also offer structured internships for graduate students hoping to gain relevant work experience.
If you are an economics or finance student but not interested in working in a bank, there are still plenty of other options for top-notch internships. For instance, think tanks post open positions on a regular basis and are perfect places to gain experience in economic policy analysis and other areas. In Europe, institutions such as Bruegel, the Rimini Centre for Economics Analysis, TESEV or the European Policy Centre are all great options. For lists of other top think tanks in Europe, the U.S. and Latin America, take a look at our series of blog posts dedicated to that subject.
Beyond banks and think tanks, many large firms in the private sector also offer internships. Companies such as PwC, Deloitte, KPMG and Ernst & Young all have offices in cities across the world, creating diverse opportunities for students and young professionals.
If you've interned in the past, please leave a review of the institution where you worked on the INOMICS website and share your experience with future interns!
Photo credit: Paul Watson
Also Interesting

Optimise your Recruitment Strategy for Economics PhD Positions

Candidates can find more information in our guide on how to successfully apply to a PhD in Economics. For institutions aiming to find the best international talent for their PhD positions, the most important question is how to reach the right audience, primarily current master's students. You don't want to waste all your budget chasing after the wrong candidates.

A Post-PhD Career in Research: Jack of all Trades, Master of Some

The importance of writing as communication It is indeed true that researchers like us (post-docs, research fellows, senior researchers, and so on) working in academia or in public/private/non-profit institutes spend a lot of time at their desks: writing articles, among other things. We maybe Doctors of Philosophy, but in reality, we are Masters in Writing and a few other things. This is because the demands of a researcher's role requires us to be jacks of a lot of trades and masters in some.

Study Advice Article, Career Advice Article

How to balance your PhD and your social life

Treat your PhD like a regular job One of the challenges of adjusting to life as a PhD student is the lack of a firm schedule or a definite structure. Although there are options for structured PhD programs, especially in the US, many PhD programs do not have required coursework or set work times. This can make it hard to know when you should be working, and conversely, when you are allowed to take time off.