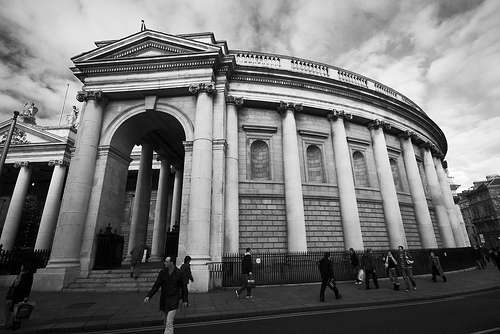 Summer Internships in Economics and Finance 2013
Last year, we posted an article titled "Internships in Economics – Lessons from an Economist," which offered useful advice about the importance of internships and how to find what you're looking for. Now, as spring is flying by and summer is just around the corner, we know that many of you are in the process of finding a summer internship. In this post, we'll highlight a few specific internships and delve into the many great places to intern for anyone interested in economics and finance.
Internships differ greatly according to discipline as well as type. For Bachelor's students or those with little to no work experience, they can be a great first step into the working world. For anyone with a little more experience under their belt, internships are a good way to directly engage in a field of future employment, or to fill a gap between jobs.
For many econ and finance students, interning in a bank is a terrific way to gain experience and test out a potential career path. Numerous central banks offer high-level internships for graduate students, for instance the Central Bank of Ireland, the Bank of Canada or Deutsche Bundesbank. If you are interested in development work, banks such as the Asian Development Bank and the Development Bank of Latin America also offer structured internships for graduate students hoping to gain relevant work experience.
If you are an economics or finance student but not interested in working in a bank, there are still plenty of other options for top-notch internships. For instance, think tanks post open positions on a regular basis and are perfect places to gain experience in economic policy analysis and other areas. In Europe, institutions such as Bruegel, the Rimini Centre for Economics Analysis, TESEV or the European Policy Centre are all great options. For lists of other top think tanks in Europe, the U.S. and Latin America, take a look at our series of blog posts dedicated to that subject.
Beyond banks and think tanks, many large firms in the private sector also offer internships. Companies such as PwC, Deloitte, KPMG and Ernst & Young all have offices in cities across the world, creating diverse opportunities for students and young professionals.
If you've interned in the past, please leave a review of the institution where you worked on the INOMICS website and share your experience with future interns!
Photo credit: Paul Watson
Also Interesting

Recognising What Matters Most

The UK COVID-19 Recovery and the Case for Community Wealth Building

'The greatest science policy failure for a generation' is how the editor of The Lancet, Richard Horton, described the UK's COVID response last June. It was a widely shared sentiment – made credible by the UK having one of the highest death rates in the western world. Fast forward to the present, and the government has finally claimed a 'much needed win' – a big one, too.

The Top Apps for Economists

In spite of all its distracting qualities, your phone is one of the most useful tools you've got, whether you're studying or working in the field. It's simply a question of how you use it. With this in mind, we have compiled a list of the apps that – we at INOMICS believe – are best placed to support both your studies and research. To make the most of them, maybe think about uninstalling messenger, too.

The Problems With Development Aid

​Development aid: what is it good for? Well, according to much research the answer may well be absolutely nothing. In fact, it may well be worse than nothing. When judged against its aim of 'instigating economic development and alleviating poverty', its record is so dismal it looks as though aid actually hinders the achievement of its own stated goals. And the curious thing is this seems to be something of an open secret. Even to an untrained eye the big numbers pertaining to development aid don't look right. Take Africa, for example.