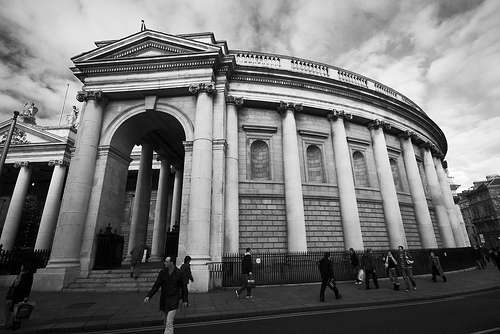 Summer Internships in Economics and Finance 2013
Last year, we posted an article titled "Internships in Economics – Lessons from an Economist," which offered useful advice about the importance of internships and how to find what you're looking for. Now, as spring is flying by and summer is just around the corner, we know that many of you are in the process of finding a summer internship. In this post, we'll highlight a few specific internships and delve into the many great places to intern for anyone interested in economics and finance.
Internships differ greatly according to discipline as well as type. For Bachelor's students or those with little to no work experience, they can be a great first step into the working world. For anyone with a little more experience under their belt, internships are a good way to directly engage in a field of future employment, or to fill a gap between jobs.
For many econ and finance students, interning in a bank is a terrific way to gain experience and test out a potential career path. Numerous central banks offer high-level internships for graduate students, for instance the Central Bank of Ireland, the Bank of Canada or Deutsche Bundesbank. If you are interested in development work, banks such as the Asian Development Bank and the Development Bank of Latin America also offer structured internships for graduate students hoping to gain relevant work experience.
If you are an economics or finance student but not interested in working in a bank, there are still plenty of other options for top-notch internships. For instance, think tanks post open positions on a regular basis and are perfect places to gain experience in economic policy analysis and other areas. In Europe, institutions such as Bruegel, the Rimini Centre for Economics Analysis, TESEV or the European Policy Centre are all great options. For lists of other top think tanks in Europe, the U.S. and Latin America, take a look at our series of blog posts dedicated to that subject.
Beyond banks and think tanks, many large firms in the private sector also offer internships. Companies such as PwC, Deloitte, KPMG and Ernst & Young all have offices in cities across the world, creating diverse opportunities for students and young professionals.
If you've interned in the past, please leave a review of the institution where you worked on the INOMICS website and share your experience with future interns!
Photo credit: Paul Watson
Also Interesting

Making Money With Your Degree

High-Salary Career Options for Economists

Before you start considering what crazy lucrative job you are going to get with your economics degree, consider this fact: a lot of rich people don't like their money. Many complain about not knowing what to do with it all, yet simultaneously having huge anxiety they'll lose it. They moan about their friends treating them like walking bank accounts, being judged for not looking the part, and no longer being able to visit - how to put it delicately? - less refined establishments.

How the Coronavirus is Affecting Economics

15:00 8 June 2020 As some countries begin to loosen their lockdowns to varying degrees of success, many universities are still playing it on the safe side. The University of Surey, for example, has moved its CIMS summer school course online. This will be from the 7th to 12th of September 2020.

The Lives and Livelihoods Fund

Four years ago, the world adopted an ambitious set of Sustainable Development Goals (SDGs) designed 'to end poverty, protect the planet and ensure that all people enjoy peace and prosperity by 2030'. Despite rising life expectancy and the eradication of many endemic diseases, more than 400 million people in the member states of the Islamic Development Bank (IsDB) still live in absolute poverty, subsisting on less than US$1.90 per day. It is, perhaps, these countries that face the greatest challenges in fulfilling the SDGs.