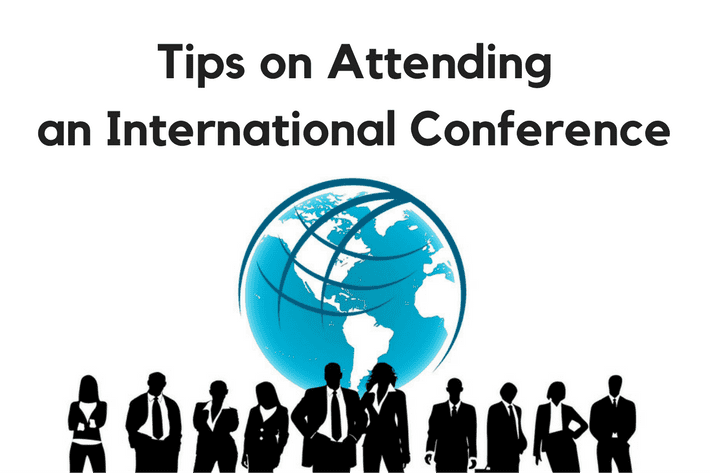 Tips on attending an international conference
Maybe you've been to a few smaller national conferences, and now you're getting ready to head to your first international conference. Or perhaps your first conference will be a large international one. In either case, there are some tips that you should keep in mind when attending an international conference specifically. Here is our advice on preparing for and attending an international conference.
It's likely that English will be the most commonly used language
Unless otherwise specified in the conference advertisements and materials, it's highly likely that an international conference will be held in English. That means that the talks and posters will be in English, discussions will be in English, and administration and supporting materials such as the conference handbook will be in English too. In general, even social conversations will take place in English. If you're a non-native English speaker, don't worry, as no one will expect your English to be perfect. Lots of attendees at the conference will be non-native speakers too, so you just need enough English to be able to converse – it doesn't need to be flawless.
But having a little of the local language is useful too
However, if you're travelling to a non-English speaking country, it can be fun and useful to pick up a few words of the local language before you go. You're not likely to need much, but it's ever so helpful when travelling to have a few basic terms, such as please, thank you, hotel, a few words for food and drink items, and so on. Make yourself small flashcards or keep notes on your phone to study briefly before you leave. If in doubt, you can probably find someone who speaks English in most places in Europe, but it's more respectful to make an effort to speak a little bit of the local language, even if it's only a few words.
Native English speakers, simplify your language use
As an international conference will have attendees from all over the world, many of whom will have English as a non-native language, it's important for English native speakers to be considerate. When you are at the conference, try to speak more slowly than you usually would, and avoid using distinctive idioms or technical jargon terms. This can help non-native speakers to understand you more easily, so you can better engage with them.
Research maps and transport before you leave
If you're travelling to a new country for your conference, you'll want to make sure that you have at least a basic understanding of the layout of the city you'll be staying in and its transportation system before you arrive. It can be tricky to find the information you need when you first arrive somewhere. This is particularly true if you're flying in, as airports are often a way outside of the main city. You'll frequently need to take a bus or train to get from the airport to the main part of the city, and this is much easier if you've looked up transport information before you leave home.
Get the know the city
One of the great pleasure of conferences isn't just the academic knowledge and contacts you gain, but the chance to see and explore a new place. Do make time for visiting cultural spots or tourist attractions, and for eating and drinking round the city. To get a closer look at the place you're staying, see if you can accompany someone from the hosting department one evening. The people who live and work there regularly will know all the best places to go out, and a social evening is a good way to network with other academics in a more informal context. Hosting departments will often arrange social events as part of the conference program, so join up for these and get to see a local's view of the city where you conference is being held!
---

---
Top Blog Posts to Read:
---
Also Interesting

Optimise your Recruitment Strategy for Economics PhD Positions

Candidates can find more information in our guide on how to successfully apply to a PhD in Economics. For institutions aiming to find the best international talent for their PhD positions, the most important question is how to reach the right audience, primarily current master's students. You don't want to waste all your budget chasing after the wrong candidates.

A Post-PhD Career in Research: Jack of all Trades, Master of Some

The importance of writing as communication It is indeed true that researchers like us (post-docs, research fellows, senior researchers, and so on) working in academia or in public/private/non-profit institutes spend a lot of time at their desks: writing articles, among other things. We maybe Doctors of Philosophy, but in reality, we are Masters in Writing and a few other things. This is because the demands of a researcher's role requires us to be jacks of a lot of trades and masters in some.

Study Advice Article, Career Advice Article

How to balance your PhD and your social life

Treat your PhD like a regular job One of the challenges of adjusting to life as a PhD student is the lack of a firm schedule or a definite structure. Although there are options for structured PhD programs, especially in the US, many PhD programs do not have required coursework or set work times. This can make it hard to know when you should be working, and conversely, when you are allowed to take time off.