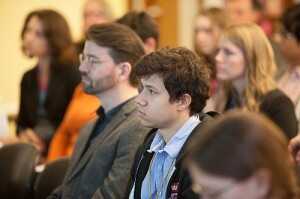 Top Conferences in Banking, Economics and Finance – 2014 End of Year Round Up
As the year slowly draws to a close it can be easy to focus on the work in front of us and forget about the many academic conferences still taking place around the world. Such events are a great place to build your network, boost your CV and gain new insight into your field. This list offers you a brief overview of the many conferences in banking, economics, finance and related fields that will be taking place across the globe during the last months of 2014.

If you are unsure about proper attire for such an event, take a look at our post on what to wear to academic conferences. If you will be presenting, make sure to read through out tips on how to make your presentation a hit with your audience. Although many registration deadlines have already past, it never hurts to get in touch and see if there is still space for a last-minute participant.
The list below is organized by date, with upcoming conferences listed first.
November 10th – 12th, 2014
Instituto Politécnico Nacional (IPN)
Mexico City, Mexico
November 13th and 14th, 2014
University of Nottingham
Nottingham, United Kingdom
November 13th and 14th, 2014
Czech Economic Society
Prague, Czech Republic
November 18th – 20th, 2014
Institute of Problems of Mechanical Engineering
St. Petersburg, Russia
November 28th, 2014
Central Bank of Sri Lanka
Colombo, Sri Lanka
December 2nd – 4th, 2014
World Bank
London, United Kingdom
December 4th and 5th, 2014
Deakin University, School of Accounting, Economics and Finance
Melbourne, Australia
December 5th and 6th, 2014
Monash University
Melbourne, Australia
December 8th, 2014
Organisation for Economics Cooperation and Development (OECD)
Paris, France
December 12th and 13th, 2014
University of Pompeu Fabra
Barcelona, Spain
December 12th and 13th, 2014
Department of Finance, National Sun Yat-sen University
Kaohsiung, Taiwan
December 12th – 14th, 2014
Wang Yanan Institute for Studies in Economics (WISE)
Xiamen, China
December 15th and 16th, 2014
European Central Bank
Frankfurt am Main, Germany
December 15th and 16th, 2014
Department of Economics, University of Sao Paolo
São Paolo, Brazil
December 15th and 16th, 2014
IPAG Business School
Paris, France
December 17th and 18th, 2014
Dutch Central Bank
Amsterdam, Netherlands
December 17th and 18th, 2014
Carlo Alberto College
Torino, Italy
December 18th and 19th, 2014
Center for Economics and Policy Research
London, United Kingdom
December 18th – 20th, 2014
Utrecht University
Utrecht, Netherlands
To browse even more conferences – across disciplines and around the world – head to INOMICS now.
Photo credit: Queen's University
Also Interesting

How to Plan Your Career Path

Building Your Career in Economics: From Study Choices to the Economics Job Market

Economists work in a variety of industries including business, health, government, and education, and their role mostly involves research and providing reports and recommendations based on data collection, analysis, and interpretation. In the United States, local and federal government agencies are the largest employers of economics graduates. It is essential that students plan their education based on where they are interested in entering the workforce.

Top Professional Training Courses in Economics

Professional skills in economics include data analysis skills, developing practical solutions for complex problems, and of course knowledge of subject-specific economics concepts. For professionals working in economics, it's especially important to stay up to date with the latest developments in these rapidly-changing fields. Here is our selection of great professional economics training courses.