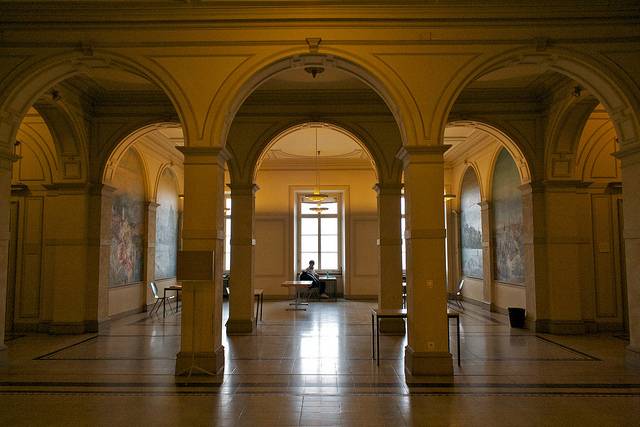 Top Economics Departments in Europe 2015
Economics topics are an inherent part of our lives. Employment, global competition in world markets, agreements for free trade zones, social and monetary policies affect our lives constantly. The social science of economics attempts to analyze and understand many of those problems. To study economics have the potential to bring you a deep understanding of the world apart from opening a wide range of opportunities in the job market.
To study economics in Europe will bring you a deep understanding of one of the top economic areas in the world. In addition, the reputation of all institutions will help you boosting your career and opening door to future jobs in international institutions. The list below is organized alphabetically per university and includes a compilation of institutions ranked by RePEC and QS Rankings.
Department of Economics, Aarhus University
Aarhus, Denmark
Department of Economics, ETH Zurich - Swiss Federal Institute of Technology
Zurich, Switzerland
Department of Economics, KU Leuven
Leuven, Belgium
Faculty of Business and Economics, HEC Lausanne
Lausanne, Switzerland
Department of Economics, London Business School
London, United Kingdom
Department of Economics, London School of Economics and Political Science (LSE)
London, United Kingdom
Department of Economics, Ludwig-Maximilians-Universität München
Munich, Germany
Barcelona Graduate School of Economics
Barcelona, Spain
Department of Economics, Lund University
Lund, Sweden
Department of Economics, Maastricht University
Maastricht, Netherlands
Department of Economics, Rheinische Friedrich-Wilhelms-Universitt Bonn
Bonn, Germany
Rotterdam School of Management, Erasmus University
Rotterdam, Netherlands
Department of Economics, Sciences Po
Paris, France
Stockholm, Sweden
Department of Economics, University of Warwick
Warwick, United Kingdom
Department of Economics, Tilburg University
Tilburg, Netherlands
Department of Economics, UCL (University College London)
London, United Kingdom
Department of Economics, Universidad Carlos III de Madrid
Madrid, Spain
Department of Economics, Bocconi University
Milan, Italy
Department of Economics, Universitat Pompeu Fabra
Barcelona, Spain
Department of Economics, Université Paris 1 Panthéon-Sorbonne
Paris, France
Department of Economics, University of Barcelona
Barcelona, Spain
Department of Economics, University of Bologna
Bologna, Italy
Department of Economics, University of the Basque Country UPV/EHU
Leioa, Spain
Department of Economics, University of Cambridge
Cambridge, United Kingdom
Department of Economics, University of Edinburgh
Edinburgh, United Kingdom
Department of Economics, University of Mannheim
Mannheim, Germany
Department of Economics, University of Namur
Namur, Belgium
Department of Economics, University of Oxford
Oxford, United Kingdom
Department of Economics, University of Southampton
Southampton, United Kingdom
Photo Credit: Alexander Baxevanis