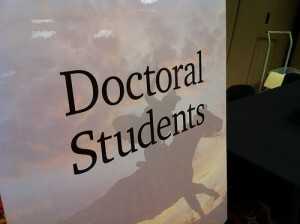 Top Political Science PhD Programs in Europe and the United States
Although summer is just getting underway in many parts of the world, fall application season is waiting just around the corner. Whether you're a recent graduate or a professional looking to step back into academia, finding the right PhD program is not always an easy process. For that reason, it's important to start reviewing your options early. In a post a few months back we highlighted the global Top 20 Political Science Departments, and in this post we'd like to narrow that list to the graduate level while focusing specifically on Europe and the United States.
While there are of course many other great programs around the world, such as those at the University of Tokyoand Australian National University, we feel that the abundance of top schools in Europe and the U.S. necessitate a list of their own. Each of these programs falls within the QS Top 100 list for political science departments. The order listed below, however, reflects geographical location rather than ranking, with the European institutions preceding the American.
Degree TitleUniversityLocation
1) PhD in GovernmentLondon School of Economics and Political Science (LSE)London, United Kingdom
2) DPhil in PoliticsOxford UniversityOxford, United Kingdom
3) PhD in Politics and International StudiesCambridge UniversityCambridge, United Kingdom
4) PhD in Political ScienceTrinity College DublinDublin, Ireland
5) PhD in Political ScienceSciences Po ParisParis, France
6) PhD in International Relations/Political ScienceThe Graduate Institute GenevaGeneva, Switzerland
7) PhD in Political ScienceUniversity of MannheimMannheim, Germany
8) PhD in Political Science and GovernmentAarhus UniversityAarhus, Denmark
9) PhD in Political ScienceUniversity of CopenhagenCopenhagen, Denmark
10) PhD in Political ScienceLund UniversityLund, Sweden
11) PhD in Political Economy and GovernmentHarvard UniversityCambridge, Massachusetts
12) PhD in Political ScienceYale UniversityNew Haven, Connecticut
13) PhD in GovernmentCornell UniversityIthaca, New York
14) PhD in Political ScienceColumbia UniversityNew York, New York
15) PhD in PoliticsNew York University (NYU)New York, New York
16) PhD in PoliticsPrinceton UniversityPrinceton, New Jersey
17) PhD in Political ScienceGeorgetown UniversityWashington, D.C.
18) PhD in Political ScienceUniversity of California, BerkeleyBerkeley, California
19) PhD in Political ScienceStanford UniversityStanford, California
20) PhD in Political ScienceUniversity of California, San DiegoLa Jolla, California
As always, head to INOMICS to browse through these and many other PhD, Master's, MBA and summer school programs.
Photo credit: Wesley Fryer
Also Interesting

COVID-19 and the Transport Sector

How the Coronavirus Pandemic Broke the Commercial Freight Transport Sector

Coronavirus has had a broad impact on the global economy. Particularly affected were the tourism, trade and industrial sectors, including the export and import markets. Demand for and consumption of goods decreased, and so did the international freight transport sector. The COVID-19 crisis continues to severely affect the container transport market and the current economic situation gives no hope for short-term recovery.

A Post-PhD Career in Research: Jack of all Trades, Master of Some

Our favorite caricature of a post-doctoral researcher: a frail man (or woman) with unkempt hair, hunched in front of a computer screen, with a half-filled cup of coffee by his side. As the coffee gets colder and time flies by, he appears oblivious to his surroundings – he is happy spending long hours at his desk conceptualizing arcane theory on obscure topics the real world does not care about. He is in a state of eternal tapasya – meditating on his eternal love-affair with knowledge… because, life is an eternal quest for knowledge!

Chemicals in the Shipping Container Industry

Inventory of hazardous substances in container vessels: another necessary but bureaucratic burden for carriers

The European Union (EU) is working very hard to make ship recycling greener and safer in the future. It is quite clear that the dismantling of ships in many parts of South Asia in its current state is not acceptable, either from an environmental or a social point of view. Ship recycling regulations, adopted seven years ago, are finally gathering pace now.