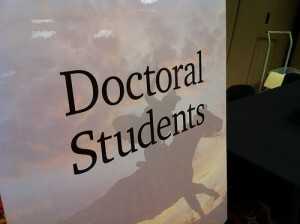 Top Political Science PhD Programs in Europe and the United States
Although summer is just getting underway in many parts of the world, fall application season is waiting just around the corner. Whether you're a recent graduate or a professional looking to step back into academia, finding the right PhD program is not always an easy process. For that reason, it's important to start reviewing your options early. In a post a few months back we highlighted the global Top 20 Political Science Departments, and in this post we'd like to narrow that list to the graduate level while focusing specifically on Europe and the United States.
While there are of course many other great programs around the world, such as those at the University of Tokyoand Australian National University, we feel that the abundance of top schools in Europe and the U.S. necessitate a list of their own. Each of these programs falls within the QS Top 100 list for political science departments. The order listed below, however, reflects geographical location rather than ranking, with the European institutions preceding the American.
Degree TitleUniversityLocation
1) PhD in GovernmentLondon School of Economics and Political Science (LSE)London, United Kingdom
2) DPhil in PoliticsOxford UniversityOxford, United Kingdom
3) PhD in Politics and International StudiesCambridge UniversityCambridge, United Kingdom
4) PhD in Political ScienceTrinity College DublinDublin, Ireland
5) PhD in Political ScienceSciences Po ParisParis, France
6) PhD in International Relations/Political ScienceThe Graduate Institute GenevaGeneva, Switzerland
7) PhD in Political ScienceUniversity of MannheimMannheim, Germany
8) PhD in Political Science and GovernmentAarhus UniversityAarhus, Denmark
9) PhD in Political ScienceUniversity of CopenhagenCopenhagen, Denmark
10) PhD in Political ScienceLund UniversityLund, Sweden
11) PhD in Political Economy and GovernmentHarvard UniversityCambridge, Massachusetts
12) PhD in Political ScienceYale UniversityNew Haven, Connecticut
13) PhD in GovernmentCornell UniversityIthaca, New York
14) PhD in Political ScienceColumbia UniversityNew York, New York
15) PhD in PoliticsNew York University (NYU)New York, New York
16) PhD in PoliticsPrinceton UniversityPrinceton, New Jersey
17) PhD in Political ScienceGeorgetown UniversityWashington, D.C.
18) PhD in Political ScienceUniversity of California, BerkeleyBerkeley, California
19) PhD in Political ScienceStanford UniversityStanford, California
20) PhD in Political ScienceUniversity of California, San DiegoLa Jolla, California
As always, head to INOMICS to browse through these and many other PhD, Master's, MBA and summer school programs.
Photo credit: Wesley Fryer
Also Interesting

Survey: Is "To Whom It May Concern" Acceptable on a Cover Letter?

If you've ever researched how to write a cover letter, you probably know that career experts from all over the internet agree you should never address your cover letter with a generic introduction like "To Whom It May Concern."

What is Supply-side Economics?

​Supply-side economics. Since its conception in the 1970s, debating its merits – or lack thereof – has been at the heart of political discourse, demarcating Republican from Democrat, Tory loyalist from Labour devotee, and informing not just an economic outlook, but a world view.

For student recruiters and admission officers

Tips for recruiting students during Covid-19

Among the most common challenges faced by Universities we find the need to deliver course curriculum adaptable for e-learning experiences; the need to provide a solution to the current dilemma of international students, start their studies online, delay the start of their studies or turn to local institutions to start their studies; the demand for hosting virtual campus tours, virtual Q&A sessions, among others.