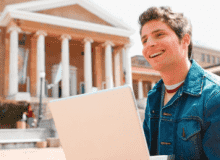 What is Wrong with Study Fairs? Effective Student Recruitment
In the light of global demographic changes, universities increasingly have to look for lead sources from abroad. Traditionally, exhibiting at study fairs has been the most common way to attract students internationally. However, technology is moving fast and in recent years a number of effective marketing channels for universities have developed online. Some course marketers still argue that study fairs are the only way to establish personal contact with the students, but a comparison of the benefits of both channels gives the best illustration of their effectiveness.
Advantages of Online Advertising as a Student Recruitment Channel
- Geo Targeting
- Discipline Niche Targeting
- Cost-Per-Lead Estimation
- Data & Tracking Tools
- Follow-Up Automation
- Overall Costs
- Overall Reach
- Reputation Management
- Segmentation of Target Audience
- Alumni Engagement
- Emperical Channel Evaluation
Without a doubt, online advertisement is a broad term and a concrete marketing channel choice as well as its proper use is crucial. But if you understand how to make the best use of these channels, study fair attendance might just move down the priorities when setting next year's budget.
Also Interesting

A Post-PhD Career in Research: Jack of all Trades, Master of Some

The importance of writing as communication It is indeed true that researchers like us (post-docs, research fellows, senior researchers, and so on) working in academia or in public/private/non-profit institutes spend a lot of time at their desks: writing articles, among other things. We maybe Doctors of Philosophy, but in reality, we are Masters in Writing and a few other things. This is because the demands of a researcher's role requires us to be jacks of a lot of trades and masters in some.

Study Advice Article, Career Advice Article

How to balance your PhD and your social life

Treat your PhD like a regular job One of the challenges of adjusting to life as a PhD student is the lack of a firm schedule or a definite structure. Although there are options for structured PhD programs, especially in the US, many PhD programs do not have required coursework or set work times. This can make it hard to know when you should be working, and conversely, when you are allowed to take time off.

Should you prolong your predoc life?

If you go through curricula vitae of recent PhD graduates, you may find it's not uncommon to see that a PhD owns two master's degrees. As lots of MA/MSc in Economics programs are one-year programs, some students will pursue an MRes or MPhil in Economics afterwards. Others may opt for a degree in applied mathematics, statistics or another field with an intention to strengthen their quantitative and/or coding skills (summer school programs are another option to do this).