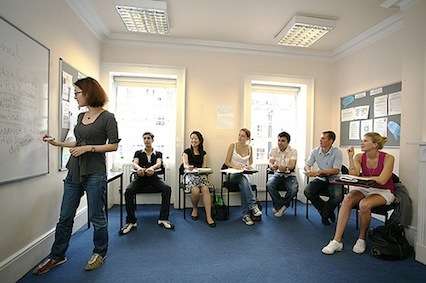 Which English Language Exams to Take for UK Universities and How to Study
Read a summary or generate practice questions based on this article with the new INOMICS AI toolhere.
In the first section of this advice area we briefly discussed the fact that any international students for whom English is not a native language will need to present proof of proficiency as part of their Master's course application. Proficiency tests measure the student's level of language comprehension and capability with the aim of offering a standardized rubric for calculating whether the individual is prepared for postgraduate study in the UK.
While there are countless English language exams on the market, the most commonly accepted tests include the Test of English as a Foreign Language (TOEFL), the Cambridge Certificate of Proficiency in English (CPE), the Certificate of Advanced English (CAE) and the International English Language Test System (IELTS) exam.
Regardless of which test you sit, you should review the individual components of the exam a few weeks or even months prior to test day. It is also helpful to read, write and speak in English on a regular basis for at least a few days prior to the exam in order to make the switch into English more fluid. For more on studying, take a look at the tips at the end of this section.
Below we will offer you more detailed information about each of the exams mentioned above.
The TOEFL is owned and operated by ETS Global, the same education management company that runs the GRE. While this test can be taken in numerous forms, the most current is the TOEFL iBT, or internet-based test. This format has progressively replaced the computer-based and paper-based tests.
The full exam takes approximately 3–5 hours and is divided into four sections, with a mandatory ten-minute break in the middle. The test is comprised of reading, listening, speaking and writing components. The topics used to test reading and listening tend to be academic in nature in order to test students' comprehension ability. The type of English spoken and written in this exam is primarily North American English.
The TOEFL iBT is scored on a scale of 0 to 120 points, with each of the four sections being granted between 0 and 30 points. Most postgraduate programmes require a minimum TOEFL score of at least 80 points, though the exact number varies by course.
The CPE is operated by Cambridge English Language Assessment, which is part of the University of Cambridge. This highly respected exam is accepted not only by UK universities, but also by global companies and other institutions around the world. This exam is based on British English.
Cambridge English Language Assessment offers a range of language exams, and the CPE is the highest level possible. The CPE is divided into four sections, including reading and use of English, writing, listening and speaking. The first two sections each last 1.5 hours, the listening section lasts about 40 minutes and the speaking section lasts 15 minutes per pair of candidates.
Scoring for the CPE follows the Common European Framework of Reference (CEFR), which ranges from A1 (beginner) to C2 (fully proficient). Students who sit the CPE exam are expected to score within the C1 to C2 range, and receive a certificate stating proof of exceptional English ability if they score a Grade A, B or C within the C2 level.
The Cambridge English: Advanced (CAE) exam is the second highest proficiency test that Cambridge English Language Assessment offers. This test is also accepted by a wide range of universities, institutions and companies around the globe. The CAE also tests comprehension of British English.
The CAE is split into five sections rather than four, including reading, writing, use of English, listening and speaking. The overall length of the exam is therefore slightly longer than the CPE, totalling nearly five hours.
The CAE is also scored along the CEFR framework, and students who sit this exam are expected to score between the B2 and C2 range. Each test taker will receive both a Statement of Results and a certificate upon completion of the exam, providing detailed proof of language skills. Most universities require students to show C1 level proficiency, though the exact grade can vary by institution or even specific course.
The International English Language Testing System (IELTS) is also recognized by universities, institutions and companies around the world. IELTS English proficiency exams are offered at designated testing centres in over 900 locations worldwide, with tests up to four times per month. The IELTS recognizes and utilizes both British and American English grammar, spelling and word choice.
IELTS offers two versions of its exam, Academic or General Training. Students interested in applying to courses at UK universities should sit the Academic exam. The test takes just under three hours and is divided into four sections: listening, reading, writing and speaking. Every test taker is given the same listening and speaking components, while the reading and writing components differ between the Academic and General Training exams.
The IELTS is hand marked by Cambridge English Language Assessment certified examiners. Test takers receive both a raw score and a band score, which are both based on the compiled mean of each section score. The band scale ranges from 1 to 9, reported in half point increments. Test takers who receive a 9 are deemed Expert Users.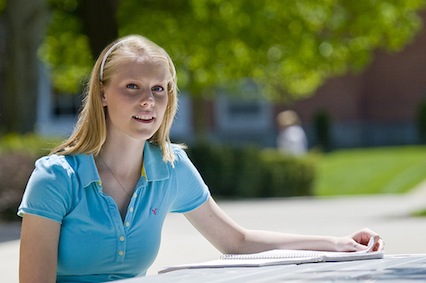 Studying for your exam
Each individual exam offers a range of customised study materials, including:
Work books
DVDs
Online tutorials
Written practice tests
Audio practice
It is very helpful to become familiar with the format of the test you will sit, so it is recommended that you study using materials specific to that exam. There are free sample questions on the official websites of nearly each exam, so it is also a good idea to take a look at the format and see which makes most sense for you, assuming that where you are applying accepts each of these top options.
In addition to using designated study materials, it is also helpful to simply use English on a regular basis in the weeks prior to taking the language exam. For example, you can:
Meet with a language tandem partner
Listen to or watch English news
Read newspapers and magazines
Watch movies and television
Moreover, asking a native speaker to look at writing samples and point out any major or repeated mistakes can help you focus on your weaknesses and improve your overall skills.
Photo credit: Kaplan International English
Photo credit: Ken Colwell
Also Interesting

How To Find The Right Exchange Program

Exchange programs allow students to study at a different institution as part of their degree. Typically, students will use this opportunity to study abroad at a foreign partner of their home institution, though exchange programs can sometimes take place in the same country. Regardless, these programs are a fantastic way for students to broaden their horizons, take specific courses at another institution, and study abroad without committing to living multiple years in another country.

Working in Germany: How to apply for a work visa

So, you studied abroad, got your economics degree in Germany, and you're ready to look for a job in the country. First of all, congratulations! You're on your way to becoming a full-fledged economist.

Studying in Germany: How to apply for a student visa

So you want to study abroad in Germany, the largest economy in Europe. It's a great country filled with many high-quality, internationally competitive universities. Plus, lovers of pretzels and sausages will never find a better place to be. Of course, if you're an international student, you'll probably need to get a visa before you can go.