Campus Reviews
Why Study at the University of Warwick, United Kingdom?
Read a summary or generate practice questions based on this article with the new INOMICS AI toolhere.
As a historic British university, the Warwick Campus was established in 1965 by the British government as an initiative to expand higher education.
The University of Warwick has a strong showing in the UK rankings, coming it at seventh in the country for research.
Programs available at University of Warwick
More than 25,000 students are currently enrolled in the four main faculties of Arts, Medicine, Science, and the Social Sciences. The choices for studying for a degree are almost, from more common degrees like Accounting and Computer Sciences, to more niche option, like joint degrees in Mathematics and Philosophy or Law with Social Sciences.
In the Department of Economics, undergraduate programs are offered in BSc Economics, BSc Economics and Industrial Organisation, and BSc/BA Economics, Politics and International Studies. At the masters level you'll find more specialist programs like MSc Economics, MSc Economics and International Financial Economics, MSc Behavioural and Economic Science, and MSc Finance and Economics.
➲ Subscribe to find your ideal Master's program in Europe
Those interested in pursuing a PhD but who don't necessarily have all the background knowledge required can join the department's 2+4 MRes (PhD) program which sets up two years of teaching at the masters level and leads into a four-year PhD research program.
➲ Subscribe to find your ideal PhD program in Europe
Research strengths at University of Warwick
Warwick is particularly famous for its extensive research. As much as hearing from professors in class is valuable, it is always helpful to put your skills into practice, and this can be done through research. This is true even for those studying at undergraduate level, which can seem intimidating, but Warwick's Research Partnerships can really help. And for those concerned that research would require too much of your budget, there are funding options like the possibility of securing a grant through the Undergraduate Research Scholarship Scheme (URSS).
For postgraduate students, Warwick has much to offer in terms of research as well. The Department of Economics has both research centers and research groups which bring together researchers from different fields such as multi-disciplinary projects involving both economics researchers and those from related disciplines such as applied mathematics, biology, philosophy and political science. Some of the speciality research topics in the department include development and history; econometrics and labour; experimental and behavioural economics; and macroeconomics and international economics.
Study abroad with the University of Warwick
For those interested in study aboard options, there's no better way to improve a research project than some intercultural exchange. The vast number of partner universities really opens up a lot of choices for students interested in spending а semester or two abroad. The Erasmus exchange is common across Europe, but in addition the University of Warwick even has its own campus in Venice. The summer school at Renmin University in Beijing or the Monash University in Australia are just some of the other options available.
Tuition fees at University of Warwick
As a UK university, tuition fees at University of Warwick are cheaper than the US but more expensive than most European universities. Undergraduates will pay £9,000 per year if they are from the UK or Europe, or between £21,000 and £27,000 per year if they are from overseas.
Masters students, both home and abroad, are looking at up to £25,000 per year. And postgraduate researchers can except to pay up to £25,000 per year for full-time attendance or £15,000 for part-time attendance.
Facilities at University of Warwick
The University of Warwick is known as the most digitally savvy UK university, offering modern campus facilities as well the innovative teaching techniques which allow students to learn at their own pace and in their own way, 24 hours a day. There are lots of different learning spaces for individual or group studying, as well as for teaching or research. Learning grids, for instance, are where many students go to work on group projects.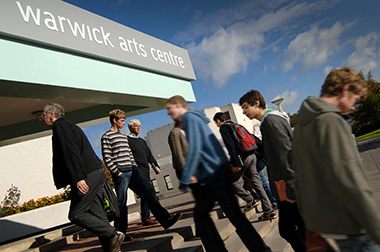 One of the big appeals on campus is art, and these activities are focused around the Warwick Arts centre. It offers lessons in almost everything, and houses many other exhibitions, masterclasses, and events. The Warwick Arts centre is currently the biggest UK venue of its kind outside of London, and it employs more than 250 Warwick students each year. The Arts centre not only hosts events, but also provides students with equipment, scholarships and any counselling if ever required.
Even if you want to be just a passive observer, Warwick students can get special offers and subscriptions for all events. The 730 Review is where you can find students reviewing music, theatre and dance and see what they are up to at the moment. The Butterworth Hall is a really impressive concert hall, whose stage has been graced by many stars over the years. Then you also have the Helen Martin Studio, which is better suited for smaller, more intimate performances.
Like most British universities, there are a plethora of entertainment and socialising options in addition to the Arts Center. The University of Warwick has more than 300 student-run societies to match every interest. From hobby-oriented courses like Tai-Chi society, to MORSE society, Pantomime, Mauritian society and Economics Summit - there really is something for everyone. Among the student societies, the student union also takes care of the physical well-being of students. Those who are looking to play sports at a serious university level can join any of the sports courses, or those looking for a more casual sports experience can join the Rock up & play events.
Cost of living in Warwick
Warwick is a desirable area to live in, so accommodation is not the cheapest. The University of Warwick does offer some on-campus accommodation for both undergraduates and postgraduates though. Some of the cheaper options are around £600 per month, while the more pricey options go up to £900 per month. Many of these are dorm-like options with shared kitchens, though if you prefer something with more independence the university can also help you find off-campus accommodation with more space to yourself.
Going out doesn't have to be so expensive though, as you can eat out at an affordable restaurant for £10 per person and expect to pay around £3 for a pint of beer.
The town and area of Warwick
Despite what the name suggests, the University of Warwick is not located in the town of Warwick. Rather, it is located in Warwickshire, between a few compelling country towns that share a rich history and an even richer cultural life. Closest, however, is the city of Coventry. Since Medieval times, Coventry has been a metropolitan centre for trade, industrial production, and, far more recently, was made the UK's city of culture.
Leamington Spa, also close by, is a bit smaller in size and has been dubbed the happiest place to live in Britain. Kenilworth and Warwick are two other lovely towns near the University of Warwick, both sure to impress you with their authentic aesthetic.
You will be living between a few beautiful British cities and towns that are really worth discovering. There is a great deal of history to explore in the area. Locally there is a live-action re-enactment of the Wars of the Roses at the Warwick castle. For a complete time-travelling experience, you must check out the Warwick Victorian Evening. Another attraction is the castle at Kenilworth and the Stoneleigh Abby - once Queen Victoria and Jane Austen's homes.
➲ Discover all study programs in the UK
Also Interesting

How To Find The Right Exchange Program

Exchange programs allow students to study at a different institution as part of their degree. Typically, students will use this opportunity to study abroad at a foreign partner of their home institution, though exchange programs can sometimes take place in the same country. Regardless, these programs are a fantastic way for students to broaden their horizons, take specific courses at another institution, and study abroad without committing to living multiple years in another country.

The GRE is changing: ETS to streamline the test in September 2023

The Graduate Record Examinations, more commonly known as the GRE, is one of the most important standardized tests in the world for admission to post-Baccalaureate programs. It's very often required by universities when considering admission into their Master's or even PhD programs.

Which Concentration Should You Choose For Your Master's Degree in Economics?

If you're planning to study economics at a Master's level, then you may have the opportunity to pursue a concentration, sometimes also referred to as a major. While rarer, some PhD programs may also offer concentrations, though many are already specialized degrees (or require you to have your own research agenda).