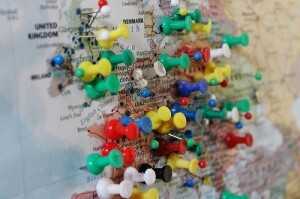 Work Visas for Foreign University Graduates in the EU
Read a summary or generate practice questions based on this article with the new INOMICS AI toolhere.
With student mobility continually on the rise, the number of foreign students earning degrees in Europe is ever increasing. Yet, the long-term visa opportunities for such graduates are not equal across the European Union. With immigration laws changing regularly, sometimes it can be difficult to know exactly what to expect in a given country. In this post, we offer you updated information about the types of work visas available to university graduates in the most popular European destination countries for foreign students: France, Germany, Spain and the United Kingdom.
It is important to remember, however, that your country of origin can also affect the type of visa for which you are eligible. Please consult your embassy and the government website of the country in which you are interested in working in order to find detailed information about visa options available to you.
In France, there are a few options for non-EU international students who have earned at least a Master's degree from an accredited institution. The visa most commonly granted to graduates is the APS (autorisation provisoire de séjour), which is valid for 12 months beyond the expiration date of the graduate's student residence permit. The APS allows the recent graduate to work in any position up to 60% of an official workweek. Graduates who find a job related to their program of study and with a salary of at least one and a half times the national minimum wage can then request a new full-time employment visa.
Recent university graduates can skip the APS visa and apply directly for a work permit if they are trained in one of 14 specified occupations, which include operators and engineers in fields such as woodworking, glassmaking, chemical and pharmaceutical manufacturing and information systems production.
In June 2012, the German government overhauled various laws regarding residence and work permits, including Article 16, which previously granted graduates of German universities a 12-month job-seeking visa. As of August 1st, 2012, any graduate of a German university hailing from a non-EU country is now entitled to an 18 month visa of this sort, which allows graduates the opportunity to stay in Germany and look for a job upon graduation. Furthermore, this visa also dictates that university graduates should be viewed as equal to German nationals, meaning that no proof needs to be given showing that they are more qualified for the position than German applicants, which is normally the case.
Once the 18-month period has passed, graduates of German universities are treated equally to other immigrants from their country of origin. This means that the graduate needs to apply for a regular work permit according to the type of job he or she has secured. Be it freelance, fixed-term or open-ended, the chances of university graduates being granted further work visas in Germany is quite high, as long as employment is found within 18 months after graduation.
There is no visa specifically designated for foreign graduates of Spanish universities. In general, any non-EU citizen interested in working in Spain must first have a job. The employer applies for a work and residence permit, and once this is granted then the individual can apply for a work visa. Unlike in many other EU countries, a permit and visa are not the same thing. The duration of a work visa is tied to the length of the applicant's job contract, and can thus vary widely. Be sure to contact the Spanish embassy in your country or take a look at the Spanish government website for detailed information.
Spain maintains many bilateral partnerships with diverse countries around the world, making the attainment of a residence and work permit somewhat easier for citizens of various countries, including many across Latin America. Be sure to consult your embassy and read about the laws regarding citizens from your country of origin before planning a move to Spain.
Until April 2012, the UK offered foreign university graduates an automatic 12-month work and job-seeking visa, but unfortunately this is no longer the case. Now, foreign graduates of UK universities have a few options, though they are far more restrictive than the previous visa scheme. Recent graduates of UK universities can apply for a Tier 2 visa if they have a concrete job offer, provided that their future employer is a licensed sponsorand the job salary meets the sector-specific criteria laid out by the UK government. These visas generally allow you to stay in the UK for between 3 and 5 years.
Alternately, recent graduates can leave the country and apply to return on a Tier 5 visa, often called the temporary worker visa. This visa also requires sponsorship and is only valid for between 12 and 24 months. Finally, a Tier 1 visa is available to writers, composers, artists, self-employed lawyers and "Highly Skilled Migrants" who prove their qualifications using the UK point-based system. However, switching from a student visa to a Tier 1 visa is difficult and often not possible. For detailed information about whether this option is available to you, please consult the UK government website.
If you're still unsure of exactly where you'd like to study or work, head to INOMICS to find hundreds of great educational and career opportunities in each of these countries.
Photo credit: Charles Clegg
Also Interesting

How To Find The Right Exchange Program

Exchange programs allow students to study at a different institution as part of their degree. Typically, students will use this opportunity to study abroad at a foreign partner of their home institution, though exchange programs can sometimes take place in the same country. Regardless, these programs are a fantastic way for students to broaden their horizons, take specific courses at another institution, and study abroad without committing to living multiple years in another country.

Studying in Germany: How to apply for a student visa

So you want to study abroad in Germany, the largest economy in Europe. It's a great country filled with many high-quality, internationally competitive universities. Plus, lovers of pretzels and sausages will never find a better place to be. Of course, if you're an international student, you'll probably need to get a visa before you can go.

Working in Germany: How to apply for a work visa

So, you studied abroad, got your economics degree in Germany, and you're ready to look for a job in the country. First of all, congratulations! You're on your way to becoming a full-fledged economist.