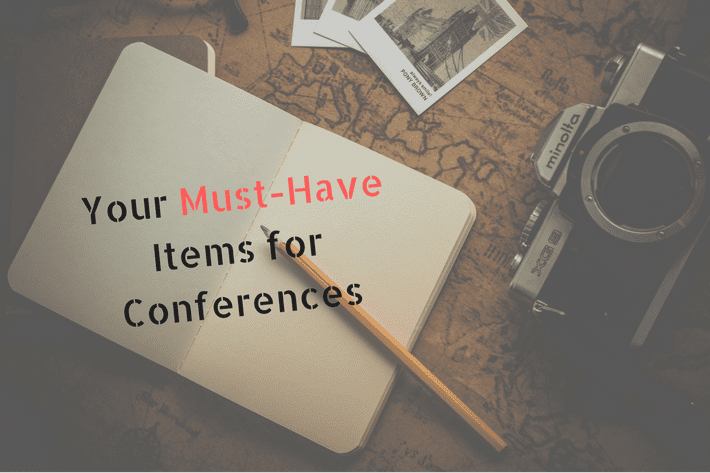 Your Must-Have Items for Conferences
Read a summary or generate practice questions based on this article with the new INOMICS AI toolhere.
When you're packing for a conference, there are some essentials to bring along that will make your life much easier. Check out our list of these items below and make sure you have them in your bag so your conference trip is as smooth as possible.
1. The conference program
You'll probably be given a program for the conference when you arrive to register, and it will include a list of the talks and poster presentations that will be held, abstracts for each, and information on some of the key event organisers. You might also find details of social events, workshops, or other related events which are happening over the conference. This program is incredibly useful, so keep it with you at all times. However, if you lose it, it's not the end of the world – there's usually an online version of the program available on the conference website too.
2. The conference timetable
In addition to the conference program, or sometimes included within it, you should find a timetable which lays out exactly when and where each talk or event is happening. With multiple overlapping sessions happening throughout the conference, the timetable will help you to plan which talks you want to see. Get a highlighter and mark your must-see events on the timetable so you can be sure not to miss them.
3. Your conference badge
You should receive a badge at registration too, which will show your name and university affiliation. This badge is important for several reasons – firstly, it allows you access to the conference events and spaces, and secondly, it lets everyone know who you are and helps them remember your name. Put your badge on a lanyard or clip it to your clothes and make sure you always have it with you.
4. Your laptop
Obviously it's useful to have a computer and phone with you, and most conferences will have free wi-fi so you can back up your notes or download any information that you need. Do bring along a laptop sleeve or padded bag to keep your computer in so that it won't get too banged about during travel.
5. A notepad and pens
A notebook? Why would you want paper when you have a laptop? Well, often you might need to scribble down a quick note while you're on the go, and it's a pain to have to pull out a computer and boot it up. Keep a small pad and a pen in your pocket to keep track of little titbits of information as you go about the conference.
6. A map of the city
Once again, when it comes to navigating around an unfamiliar city, then paper really is better than electronic. Find a fold-out map of the local area and mark on it your hotel and the conference location, to be sure that you can always find your way around.
7. A public transport map
Similarly, if you're planning to use local buses, trains, or trams, then it'll help to have a transport map that you can consult to know which interchanges to use and which stops to get off at.
8. A tourist guide book
Hopefully you'll have a bit of time off from the conference to explore the local area and see some of the sights. Even if you've already planned out your sight seeing trips before you leave, it can help to have a guide book with you to suggest restaurants or other places to eat while you're on the go.
9. Appropriate clothing and outerwear
We've previously written advice for you on what to wear for conferences, so you should have no problem picking out some appropriate outfits. Chuck some casual clothes in your bag too for travelling in, and do think about weather-appropriate outerwear, like a raincoat if it's likely to be wet wherever you are, or a thick warm coat if you know it's going to be cold.
10. A bottle of water
Finally, you'll be working hard and travelling a lot during a conference, so remember to stay hydrated. Keep a bottle of water with you and drink plenty of it to make sure that you stay fit and healthy during your trip.
Also Interesting

Studying in the USA: How to apply for a student visa

So you want to study abroad in the United States of America, the largest economy in the world. In keeping with its "melting pot" reputation, the US has been an education destination for many over the years, and is filled with many high-quality, internationally competitive universities. Of course, if you're an international student, you'll probably need to get a visa before you can go.

Working in the USA: How to apply for a work visa after graduation

So, you're studying for your economics degree in the United States of America. It's going well, and you're enjoying life in the USA, so much that you're thinking about staying longer and looking for a job in the US.

Top Master's Programs in Economics

Choosing your master's program is a big decision – with so many courses available, how can you find the right one for you? We're here to help by sharing a selection of great master's programs that you can find on INOMICS.