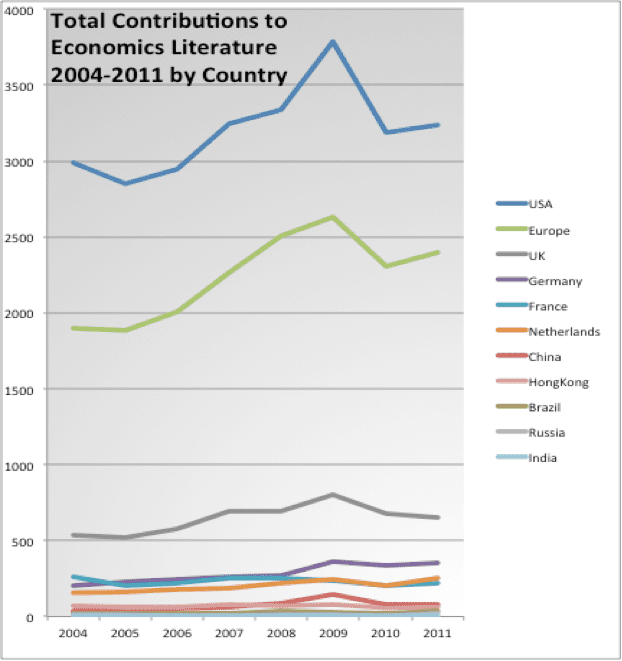 Growth of Econ Research in China
The Tilburg University Economics Ranking Sandbox
For anyone that doesn't know it, the Tilburg University Economics Ranking, which ranks economics departments based on contributions to articles published in any one of 62 (mostly English-language) economics-related journals, is well worth a look.
US Institutions still Dominant
As well as the headline ranking, anyone interested can use the sandbox ranking to define which years, countries or journals should be taken into account. Sorting the data by country and year, and based on contributions to all of the 62 journals sampled, the unsurprising dominance of US scholars in the field is confirmed pretty quickly.
US Overtaken in Economics Research Output!
More interesting is the convergence in the published contributions between scholars in the US and their counterparts elsewhere. In 2005 economists at US institutions accounted for 51.9% of contributions. By 2008 this had dropped to 47.9%, before recovering slightly to around 48.4% in 2010 and 2011.
In dropping below the 50% mark, the rest of the world can be said, with but a tip of the tongue in one's cheek, to have caught up in terms of annual contribution to the academic literature in economics. The increased output from scholars based in Europe, whose contributions accounted for almost 36% in 2011, up from less than 33% in 2004, accounts for much of this shift.
BRIC: Up?
Looking just at the BRIC countries, still minnows when placed in the context of the USA and Europe, the gradual advance in the share of contributions made to international journals, especially of China and Brazil, can be seen more clearly. Academics at Russian and Indian institutions on the other hand, seem to be struggling either to produce quality research, or at least to get published. Tempting job offers at American and European universities for top graduates from these countries might be a factor in this.
Rise of China
The academic rise of China is much discussed, with the PhD output across all subjects now surpassing the USA in terms of number of graduates (see this article in Nature from April 2011 for a nice overview).
In terms of contribution to international economics literature, Chinese institutions are still some way behind their American and European counterparts. Quite interesting, however, is the growth of output since 2004. Taking 2004 as a baseline, the output of academics at Chinese institutions, with 81 published contributions, represents over a 100% increase compared to the 37 contributions in 2004. The disparity between the US, Europe and the rest remains huge, however the numbers are interpreted. The insights offered by the Tilburg rankings, though, are worth a look, and in the coming years may start to show clearer trends if and when Chinese institutions, in particular, manage to increase their global reputation in the academic field of economics.
All data aggregated from the Tilburg University Research Rankings, based on authorship of articles and proceedings in 62 economics-relevant journals, according to the ISI Web of Knowledge v4.6.
Also Interesting

The Need to Decolonise Higher Education

History, it feels, is quickening pace. Pandemics, both old and new, are rocking the world, shaking its foundations. Systemic racism, an age-old disease, continues to facilitate violence on black bodies and undermine humanity, while a novel coronavirus has killed hundreds of thousands, disproportionately affected people of colour, and compounded the often racial inequalities that characterise our societies. Protestors now fill the streets, and across much of the anglophone world a tipping point has been reached. What will emerge from this moment is hard to say.

What is Supply-side Economics?

​Supply-side economics. Since its conception in the 1970s, debating its merits – or lack thereof – has been at the heart of political discourse, demarcating Republican from Democrat, Tory loyalist from Labour devotee, and informing not just an economic outlook, but a world view.

How the Coronavirus is Affecting Economics

15:00 8 June 2020 As some countries begin to loosen their lockdowns to varying degrees of success, many universities are still playing it on the safe side. The University of Surey, for example, has moved its CIMS summer school course online. This will be from the 7th to 12th of September 2020.