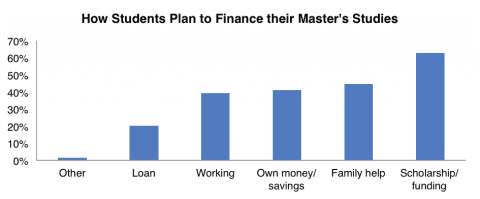 Scholarship Options Boost Student Interest in Your Master's Programs
It often happens that potential students show interest in a specific program by visiting the webpage, pre-subscribing for the next semester, or sending enquiries via email, however the number of completed applications is much lower than the number of people interested. We decided to research this issue and discovered the factors potential Master's students take into account when choosing a university and type of degree. What we found is that the possibility of receiving funding motivates potential applicants and develops added value for students.
Nowadays, the demand for graduate education is clear, but only a small percentage of interested students are able to access a graduate program due to financial barriers. After researching the problem, we discovered that more than 90% of potential Master's students feel ready to begin a degree, yet 40% of them face such financial difficulties that they abort their studies and focus on searching for a job.
How can university marketers cope with students' limited resources ? The answer is funding options. Currently we find thousand of programs advertised by universities that do not mention any type of financial help. Since students actively look for such opportunities, programs with explicit funding options are more attractive than programs without any advertised financial aid. Financial help comes in the form of scholarships, grants, prizes, donations and student jobs. From fully covered programs to student assistantships, including information about possible funding options is highly appreciated by students.
The graph above shows that scholarships and external funding options are most popular in terms of how students anticipate financing their studies. Not all students can count on family help or their own savings to pay for tuition and living costs. For this reason, offering clear information about scholarships in addition to loans, stipends and working options available at your university is highly valuable for students as they plan the next step in their career path.
We invite you to check tips on how to increase the number of applicants to your programs and how reviews can increase the engagement levels of students for your institution. Are you interested in learning more about student trends and preferences? You can contact us at info@inomics.com