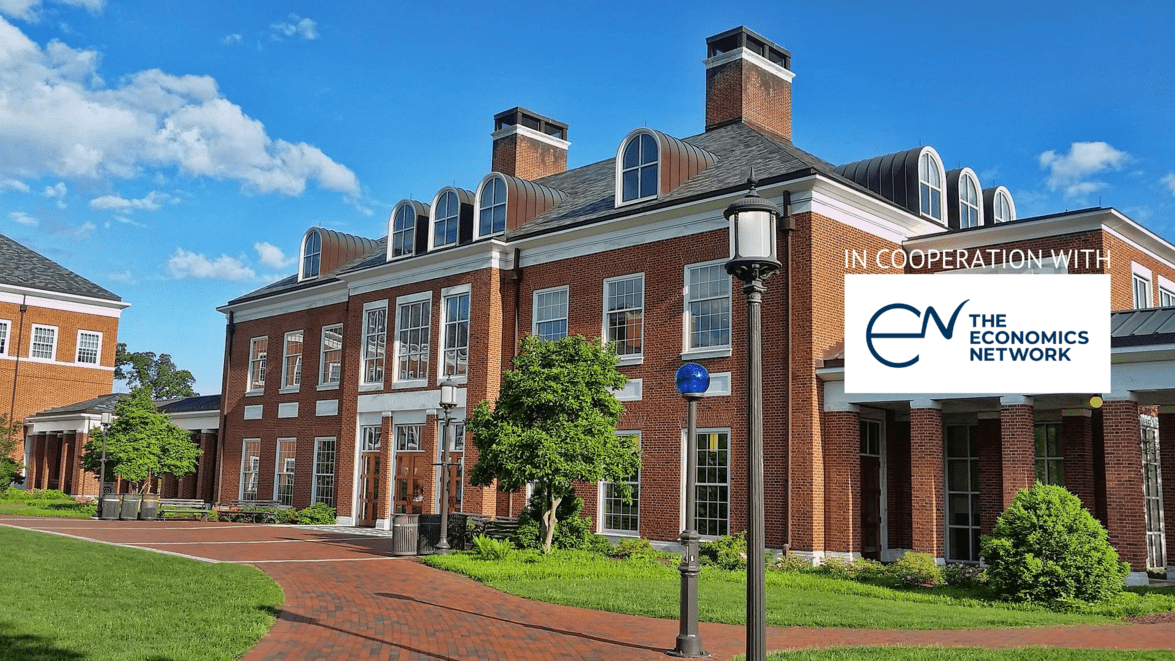 Careers in Teaching
Building a Teaching Career in Economics
Read a summary or generate practice questions based on this article with the new INOMICS AI toolhere.
This article was produced in cooperation with the Economics Network, the largest and longest-established academic organisation devoted to improving the teaching and learning of economics in higher education. Learn more about the Economics Network here.
When you enter the job market for teaching economics, the institutions that you are applying for may well have different characteristics. Therefore, you may need to tailor your application to the type of institution and the role specifications in the job advert.
A growing number of universities offer different career pathways into teaching roles, making it possible to pursue a career in academia tailored towards your specialism. This might be a traditional teaching and research role or a teaching and scholarship-focused role.
For a research and teaching role, universities will often place a great weight on your published and ongoing research, your potential for producing world-leading research, and how well your research fits into the overall balance of the department. Institutions will also look at your statement of teaching philosophy. Though, in some institutions, research potential may be given more weight in decision making.
However, for teaching-focused positions the balance of the role will be skewed towards teaching. So, institutions will be looking for evidence of your teaching philosophy and engagement in thinking about pedagogy, alongside your research. Some institutions will expect academics working in teaching and scholarship-related roles to continue with discipline-focused research, whereas others will place more emphasis on scholarship of teaching and learning, such as through evaluation and development of pedagogies.
It is likely that a teaching-focused career will require you to engage with a higher teaching load than a traditional research and teaching role. In some institutions, teaching-focused academics may teach twice as many hours as "research and teaching" academics.
Any application will need to be tailored to the role and institution to which you are applying.
Be passionate about teaching and pedagogy!
If you intend to start a teaching career in economics, it is important to have a passion for teaching and the ability to motivate and inspire students.
Teaching with passion means bringing knowledge into the classroom with enthusiasm, creating interaction with students, and sharing your own interests and research, where relevant, for discussion.
If you are passionate about education, a teaching career in economics can be highly rewarding. However, you will need to spend time on preparation and be wise enough to accept that you don't know everything.
At times, it could be tough, as you may be asked to teach material that will require you to familiarise yourself with a new topic that you have never come across before. You should also be aware that the breadth and depth of learning material is likely to vary as students advance their knowledge of the discipline in their degree (e.g., undergraduate versus postgraduate modules), and depending on the institutions you are working in.
Furthermore, be aware that innovative pedagogy and engagement with appropriate technology may be more crucial than ever before. Over the past couple of years, education has seen a fundamental structural change in the different ways to support student teaching and learning. This has been brought into further focus by the COVID-19 pandemic.
Blended learning and flipped classrooms are becoming increasingly normalised in the higher education environment, along with tools such as message boards and in-class learning aids. Alongside this, institutions are developing online course offerings. Thus, make sure you don't forget to mention your innovative practices during an interview as, in the current times, this is very much what employers are looking for.
Teaching-specific career pathways are relatively new across the sector, and whilst many institutions have teaching-focused roles, some of these may not be part of a career framework, limiting progression. However, in a growing number of institutions, teaching pathways can lead to a career ranging from teaching assistant to professor.
Pathways to Professor
The titles that individual institutions use for teaching roles can vary quite a lot across the sector. In some institutions, there may be a clear demarcation between traditional research and teaching "lecturers" and their teaching and scholarship equivalents (often using terms such as "teaching fellow"). But in others, this may be much less clear. We have tried to illustrate the equivalent levels throughout this article.
Teaching Fellow/Assistant
Many teaching-focused academics begin as a teaching assistant or teaching fellow. These roles are designed to support teaching, led by more senior academics within your department. For instance, they might include leading large- or small-group seminars, marking assignments and examinations, and helping to enhance the student experience.
Alongside these tasks, you will normally be expected to continue your own personal and professional development, which may involve engaging with research, developing your own pedagogies and/or teaching innovations, and attending departmental and institutional seminars and national/international conferences.
With this in mind, when writing your application and preparing for your interview, you may want to think about how you could help improve the student experience. Providing evidence of previous teaching experience in higher education could also help you succeed in getting the post.
Assistant Professor (teaching-focused)/Senior Teaching Fellow/Lecturer (teaching focused)
At Assistant Professor level, you are likely to begin to demonstrate leadership. You will usually be expected to lead individual modules, or you may be required to take a programme leadership role.
In addition, you may be asked to engage in student pastoral care (such as personal tutoring) and lead on developing activities that aim to provide additional academic support for students, and engage collegiately within the wider institution. These activities may be focused on applicants (e.g., open days and widening participation events/initiatives), current students (e.g., work on the development of key study skills within the degree programme), or post-university activities (e.g., support for alumni relations).
Alongside this, you will normally be expected to engage with scholarship, which may be discipline-related research, pedagogic research or other scholarly activities. The latter may include contributing to the identification of sources of funding and the process of applying for and securing funds for scholarly activities, as well as their dissemination.
Evidence of teaching excellence is crucial for these types of posts. Thus, accreditation (such as a fellowship from Advance HE in the UK) would be very helpful. You might want to consider working towards this qualification as soon as you start your academic career in a teaching-focused role. Candidates should also demonstrate a good understanding of the wider student experience, particularly in relation to welfare, student support, study skills, internships, and employability.
Associate Professor (teaching-focused)
Moving onto the role of Associate Professor (teaching-focused), your role will likely become more concentrated on academic leadership through programme directorships, mentoring of peers and colleagues, and more general leadership within your academic department and the wider university.
Engagement with external organisations within the discipline or other institutions is also likely to be valuable in these roles. This could involve joining a committee of a learned society, contributing towards quality assurance processes across the sector, serving as an external examiner, or engaging with an organisation such as the Economics Network.
Among other teaching responsibilities, you may be required to engage more with curriculum design and planning learning activities to support the implementation of new modules/degree programmes.
Similarly, as a course leader or equivalent, you may provide leadership in coordinating the work of others to ensure that courses are delivered effectively. You may also contribute to colleagues' professional and career development, acting as personal mentor and providing advice.
You should also have an in-depth understanding of your own specialism. A track record of publications in your area of expertise and/or pedagogic research would be desirable at this stage. You should show ability and major achievement in teaching, demonstrated by high quality instruction and a substantial teaching record.
Professor (teaching-focused)
Becoming a teaching-focused professor in economics involves demonstrating sustained impact, not just within your institution, but within the discipline more generally.
Just as with traditional research and teaching roles, a teaching-focused professor will be expected to provide leadership both within the university and beyond, within the discipline.
There is a wide variation in what your leadership role could look like. Some may take editorial roles with scholarly journals, others may have administrative leadership roles at their universities, and others may have leadership roles within the sector to shape economics teaching.
Moreover, teaching-focused professors will build upon their scholarship, and may produce subject-specific or pedagogic research of international quality to inform research-led teaching practice. They may also work collaboratively and collegially on academic, pastoral and other administrative duties within their department.
A career on a teaching pathway can be extremely rewarding. As you progress in your role, you may have the opportunity to shape university education of economics in your department and beyond.
---
This article was produced in cooperation with the Economics Network, the largest and longest-established academic organisation devoted to improving the teaching and learning of economics in higher education. Learn more about the Economics Network here.