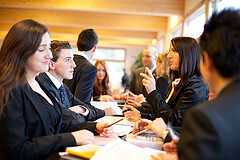 Best European Business Schools
If you are interested in pursuing further education in business related topics, it is probably time to make a final decision and complete your applications. Hand checking the best business schools for your postgraduate education is a good start to make the right choices for the upcoming year.
In previous posts we have offered the best political science departments worldwide, top economics departments in Europe, and the top mathematics departments worldwide. This time, as we are thinking about ways to help you choose the perfect institution for your postgraduate education, we present the best business schools in Europe.
Preparing a list of the best institutions for your studies is never easy, particularly in the case of disciplines such as business, where hundreds of organizations provide numerous rankings and classifications criteria. From private institutions to organizations focused on academia, the most common measure of rankings are the faculty publications in academic and practitioner journals, as well as the level of accreditation of the programs of the faculty. Other cases similar to the Forbes ranking are based on the return of investment achieved by graduates, according to surveys regarding topics such as pre- and post-M.B.A. compensation, career choice and location.
Belgium
Solvay Brussels School of Economics and ManagementBrussels
France
HEC ParisParis
InseadFontainebleau
Germany
Mannheim Business School Featured business schoolMannheim
HHL Leipzig Graduate School of ManagementLeipzig
Italy
SDA BocconiMilan
Netherlands
Rotterdam School of Management, Erasmus UniversityRotterdam
Scandinavia
Stockholm School of EconomicsStockholm, Sweden
BI Norwegian Business SchoolOslo, Norway
Aalto UniversityEsbo, Finnland
Copenhagen Business SchoolCopenhagen, Denmark
Spain
IE Business SchoolMadrid
EsadeBarcelona
IESEBarcelona
Switzerland
University of St GallenSt. Gallen
IMD Business SchoolLausanne
United Kingdom
Saïd Business School, University of OxfordOxford
Imperial College Business SchoolLondon
London Business SchoolLondon
Cambridge Judge Business SchoolCambridge
After revising different rankings with distinct approaches we came up with the list below, which offers multiple options concerning different institutions across the globe, with unique cultural backgrounds and teaching environments that are organized alphabetically by location. As there are many superb business schools and academic institutions, we decided to provide our readers with a Best 20 List of excellent options located in several countries around the world.
We hope this article helps you find the best business related program for your future academic and professional endeavors. If you need more information about available career paths after the completion of your business graduate degree, you can check the academic careers for MBA graduates. For a more comprehensive catalogue of business schools please feel free to check our extensive list here. If you are interested in MBA Programs and you have obtained a vast amount of professional experience and education we recommend you to check theTop 10 Execute MBA programs in Europe. If you aim to enroll in short term courses that will develop your skills in the business fields we invite you to check the top business and management summer schools.
Image Credit: LesRoches
Also Interesting

10 Most Affordable Countries in Europe to Do Your Economics PhD

Fortunately, the UK and the US aren't the only two places in the world with universities great for studying economics, and particularly in Europe, higher education hasn't yet been turned into corporate business, meaning not only are degrees cheap, some are completely free. And paying less (or even nothing) doesn't translate into a lesser experience. To the contrary, many of countries on this list can make legitimate claims to housing some of the most prestigious higher learning institutions in the world.

Decisions, Decisions, Decisions

Pros and Cons of Being A College Professor

If you're thinking about which direction to take your research career, one possibility is the professor route, teaching and researching in a university context. This is one of the most desirable jobs among young academics, and something that people often strive for. But what are the pros and cons of working as a college professor?

Recognising What Matters Most

The UK COVID-19 Recovery and the Case for Community Wealth Building

'The greatest science policy failure for a generation' is how the editor of The Lancet, Richard Horton, described the UK's COVID response last June. It was a widely shared sentiment – made credible by the UK having one of the highest death rates in the western world. Fast forward to the present, and the government has finally claimed a 'much needed win' – a big one, too.