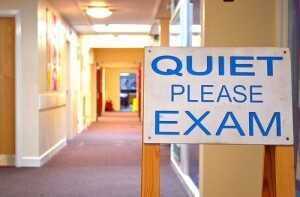 English Proficiency Exams: Which to Take and How to Prepare
If you are considering applying to a study program taught in English, whether in an English speaking country or elsewhere, you will almost certainly be required to send proof of English proficiency as part of your application. Moreover, if you are interested in applying to jobs that require English proficiency, having a language certificate will make your application process much smoother.
Yet, the sheer number of exams out there can be overwhelming. In this post, we'll offer you advice about which exams are most widely accepted, and which make sense for you. We'll also give you tips on how and what to study in order to receive a top score. If you're still searching for the right program or job, head to INOMICS and search through hundreds of listings updated daily.
The Top Exams
The TOEFL is owned and operated by ETS Global, the same education management company that runs the GRE. While this test can be taken in numerous forms, the most current is the TOEFL iBT, or internet-based test. This format has progressively replaced the computer-based and paper-based tests.
The full exam takes approximately 3–5 hours and is divided into four sections. The test is comprised of reading, listening, speaking and writing components. The topics used to test reading and listening tend to be academic in nature in order to test students' comprehension ability. The type of English spoken and written in this exam is primarily North American English.
The TOEFL iBT is scored on a scale of 0 to 120 points, with each of the four sections being granted between 0 and 30 points. Most postgraduate programs require a minimum TOEFL score of at least 80 points, though the exact number varies by course.
The CPE is operated by Cambridge English Language Assessment, which is part of the University of Cambridge. This highly respected exam is accepted not only by UK universities, but also by global companies and other institutions around the world. This exam is based on British English.
Cambridge English Language Assessment offers a range of language exams, and the CPE is the highest level possible. The CPE is divided into four sections, including reading and use of English, writing, listening and speaking. The first two sections each last 1.5 hours, the listening section lasts about 40 minutes and the speaking section lasts 15 minutes per pair of candidates.
Scoring for the CPE follows the Common European Framework of Reference (CEFR), which ranges from A1 (beginner) to C2 (fully proficient). Students who sit the CPE exam are expected to score within the C1 to C2 range, and receive a certificate stating proof of exceptional English ability if they score a Grade A, B or C within the C2 level.
The Cambridge English: Advanced (CAE) exam is the second highest proficiency test that Cambridge English Language Assessment offers. This test is also accepted by a wide range of universities, institutions and companies around the globe. The CAE also tests comprehension of British English.
The CAE is split into five sections rather than four, including reading, writing, use of English, listening and speaking. The overall length of the exam is therefore slightly longer than the CPE, totalling nearly five hours.
The CAE is also scored along the CEFR framework, and students who sit this exam are expected to score between the B2 and C2 range. Each test taker will receive both a Statement of Results and a certificate upon completion of the exam, providing detailed proof of language skills. Most universities require students to show C1 level proficiency, though the exact grade can vary by institution or even specific course.
The International English Language Testing System (IELTS) is also recognized by universities, institutions and companies around the world. IELTS English proficiency exams are offered at designated testing centres in over 900 locations worldwide, with tests up to four times per month. The IELTS recognizes and utilizes both British and American English grammar, spelling and word choice.
IELTS offers two versions of its exam, Academic or General Training. Students interested in applying to courses at UK universities should sit the Academic exam. The test takes just under three hours and is divided into four sections: listening, reading, writing and speaking. Every test taker is given the same listening and speaking components, while the reading and writing components differ between the Academic and General Training exams.
The IELTS is hand marked by Cambridge English Language Assessment certified examiners. Test takers receive both a raw score and a band score, which are both based on the compiled mean of each section score. The band scale ranges from 1 to 9, reported in half point increments. Test takers who receive a 9 are deemed Expert Users.
Studying for English Language Exams
Each individual exam offers a range of customized study materials, including:
Work books
DVDs
Online tutorials
Written practice tests
Audio practice
It is very helpful to become familiar with the format of the test you will take, so it is recommended that you study using materials specific to that exam. There are free sample questions on the official websites of nearly each exam, so it is also a good idea to take a look at the format and see which makes most sense for you, assuming that where you are applying accepts each of these top options.
In addition to using designated study materials, it is also helpful to simply use English on a regular basis in the weeks prior to taking the language exam. For example, you can:
Meet with a language tandem partner
Listen to or watch English news
Read newspapers and magazines
Watch movies and television
Moreover, asking a native speaker to look at writing samples and point out any major or repeated mistakes can help you focus on your weaknesses and improve your overall skills.
Photo credit: Blue Square Thing
Also Interesting

Survey: Is "To Whom It May Concern" Acceptable on a Cover Letter?

If you've ever researched how to write a cover letter, you probably know that career experts from all over the internet agree you should never address your cover letter with a generic introduction like "To Whom It May Concern."

From University Campus to Remote Education: How Steep is the Learning Curve?

Universities around the world are currently experiencing a crash course in online education. The coronavirus pandemic has shaken the sector in a big way, leaving professors and students struggling to complete the academic year off campus and having to prepare for the next one under very uncertain circumstances.

The Need to Decolonise Higher Education

History, it feels, is quickening pace. Pandemics, both old and new, are rocking the world, shaking its foundations. Systemic racism, an age-old disease, continues to facilitate violence on black bodies and undermine humanity, while a novel coronavirus has killed hundreds of thousands, disproportionately affected people of colour, and compounded the often racial inequalities that characterise our societies. Protestors now fill the streets, and across much of the anglophone world a tipping point has been reached. What will emerge from this moment is hard to say.