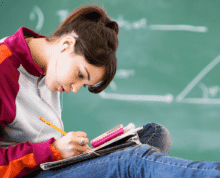 How Students Look for and Choose Masters Courses
Less than a decade ago student relied on word of mouth and the information available in their universities when choosing a Masters Program. Today, internet-based searching is the foremost source of advice when it comes to exploring opportunities for postgraduate education. Students who are interested in studying abroad in particular turn to search engines and course-listing platforms in their search, and often make their decisions based on the information presented online. Using our own and published data about online behavior, it is possible to identify the key trends in how people search for study programs. Understanding these trends is vital for universities to stay competitive in the global educational market.
Timing. The INOMICS Course Search is active all year round, as academic calendars and applica- tion deadlines vary by country and study program. However, regardless of regional differences, the interest in Masters programs, in particular, tends to peak in May and September.
Course Aggregation Platforms. According to Google, most students search for listings of masters courses, rather than directly for specific courses or subject areas. As such, the presence of masters courses on platforms like INOMICS is an important way for students to find them.
First-hand Student Experience. After identifying a country and programs of interest, students look for first-hand experiences before taking a more informed decision. As it is not always possible to contact alumni personally, they will search for available experiences online. Testimonials and videos with real students featured in them are without a doubt a powerful means of filling this information gap.
Quality of Information. Comprehensive and well-presented information online can become a key factor for prospective students in their decision to opt for a study program. This includes coverage of all relevant information like modules, entry requirements, student profiles, application details, fees and financial arrangements, internships, future career opportunities and support for international students.
Language. Many universities in non English-Speaking countries struggle to provide the necessary information for international students in English. Even if knowledge of the local language is vital for studies, pages in English are important for a university and its programs to be found online.