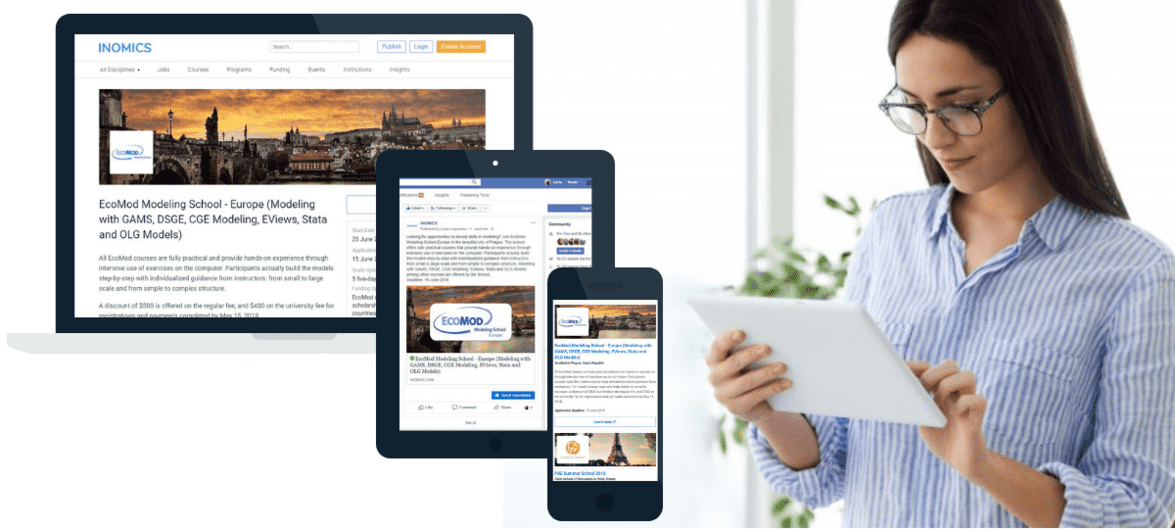 Inside 11AN
How to publish an Announcement
This is the first in the series of articles, "Inside 11AN", where we highlight top Insights about the 11 Academia Networks websites for our customers, including explanations and statistics pertaining to INOMICS, NewEngineer.com, Conference Monkey and our other niche websites. We'll also mention some tips and tricks to maximise the websites' logic and technical setup. We hope that this helps you to boost your recruitment and advertising campaigns with us and receive the best possible results. In this article we'll share with you, the Announcement publication process and our top 10 tips and tricks for posting an announcement, on our network of websites:
How to post an Announcement with us
To post your announcement, please follow the steps below:
Create a free account. You can find the "Create Account" on the top right corner of our websites
Login to your account
Click on "Publish" on the top right hand corner of the website
Choose the Announcement level and promotion type that you want
Enter all the Announcement details. We recommend that you have all the details ready beforehand, in a word document.
Publish your announcement. See tips and tricks below
Top 10 Tips & Tricks for Posting an Announcement
1) Schedule your announcement to be published in the future to have extra time for revision before publication
As general rule, in the posting form once you press the "Save" button your announcement will go live on the website. If you would like to have a little extra time to edit your announcement and get it approved by your team, we recommend scheduling it to go online at a convenient time in the future.
While uploading the content of your announcement, your will find a field which allows you to choose the publishing date of your announcement, where you can set it to go live in a couple of days or even hours.
2) Classify your announcement using the best matching disciplines and type of opportunity to reach the right audience
On 11 Academia Networks we have 5 main categories of opportunities that you can promote: jobs, courses, study programs, funding options and events. Additionally, you can choose between 11 disciplines in economics and social sciences, and up to 50 more disciplines, which are promoted in cooperation with our new niche platforms.
Our users are profiled according to their discipline and career stage. Therefore, the reach of your announcement depends on how well you classify it. For example, if you are offering a summer school in digital business and economics, the classification under courses (summer school) and disciplines (economics, business and digitization) will guarantee exposure correctly on INOMICS.
3) Upload an effective description of your offer
The description of your offer should be concise and clear. In the description, you have a space in which to explain your job, study, event or funding offer or opportunity at your institution, or, you can explicitly invite readers to participate in your upcoming event.
It is important to deliver enough information to our users so that there is just enough to catch their attention and motivate them, but not to overwhelm them with an unnecessarily long text. Further details can always be found on your website by clicking through, if our users are interested. Focus on what you are offering, important dates like the application deadlines and start dates, why they should apply, and what you expect in applicants.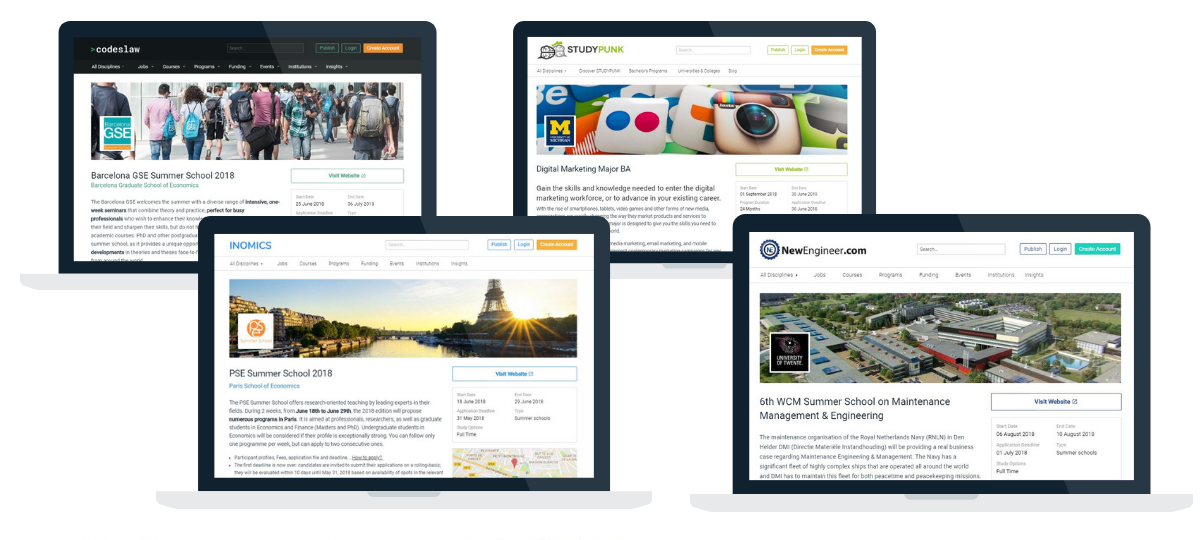 4) A header image enhances the appearance and attractiveness of your announcement - exploit its potential!
If you book a featured or premium announcement, you have the possibility to upload a header image. Header images are very prominent on your announcement page and in the listing/search result pages, so they offer an excellent space to include an eye-catching campus picture which leaves our users with a positive impression of your institution.
Other customers use the header images to include branding information such as a slogan of the institution or mission of the program they are promoting.
5) Upload a quality logo; this will be the image of your institution in different locations of the website
The logo uploaded in your announcement is later used in the listing and search result pages, for the creation of mini banners, listing in our email alert and display in social media. In order to appear styled and visible, we recommend that you upload square logos with a minimum width of 300 pixels. In this way you ensure that the brand of your institution is carried neatly and legibly.
6) Use the image gallery in your announcement to showcase your campus, facilities and team spirit
If you book a standard, featured or premium announcement, you have the possibility to build a carousel of images into your page. This is an opportunity to display your campus, research and study facilities, team pictures and events, and other marketing pictures that you have available.
Depending on the level of announcement, up to 10 pictures are allowed on the page. The maximum size of the pictures should be 2MB. Best performing pictures are rectangular, with a size of a 2:1 ratio.
7) Keep the title of your announcement short and relevant
The title of your announcement will be displayed in different places on the website, therefore its relevance and length will help you to attract more users to your announcement.
Long titles are cut after 80 characters in our search results, as well as in additional advertisements such as those in email alerts and mini-banners on the website. A maximum length of 80 characters including spaces is recommended to avoid distortions in the title of the announcement.
8) Include tracking links to better measure the results from your campaign
The results of your campaign can be measured in terms of brand exposure, traffic delivered to your site and number of applicants. In order to make life easier and measure the effectiveness of your campaign quickly and easily, we recommend that you include tracking links.
With a tracking link you can find the traffic delivered by INOMICS directly in your Google Analytics report. You can set up a campaign name, medium and source for us, so that you can easily track the number of sessions, users, and behaviour directly on your website. On the following link you can create a tracking URL to be used on your announcements: Campaign URL Builder
9) Include concrete calls to action (CTAs) in your announcement
As we mentioned before, the main goal of your announcement is to motivate our users to enquire more about your opportunity and ultimately, apply. By suggesting concrete actions in the description of your announcement you will help catch readers' attention and drive them to your website or specific landing page.
Each Announcement includes by default the possibility to include an "Apply Now" button and a "Visit Website" link, however you can add more actions in the description of your announcement. Suggested CTAs include: download a brochure, send an email to admissions, call a telephone number, visit the website, etc.
10) Add relevant tags to your announcement
On INOMICS each piece of content includes tags. Tags are used to recommend relevant content to users and to identify content with a specific topic. Including accurate and concise tags will help you to make your announcement more relevant and visible to the right audience. Include tags related to the topics and disciplines of your offer, or add tags related to locations, relevant research areas or requirements for your desired applicants.
If you need assistance posting your announcement, please feel free to contact us at info@11academianetworks.com. We are also happy to set up, format and post your page online for you as part of our posting assistance service - you just need to provide us with a URL, a word or PDF document with the content of your announcement and we will create a preview announcement for you. This posting assistance costs an additional €75+vat per announcement.
Also Interesting

How to Plan Your Career Path

Building Your Career in Economics: From Study Choices to the Economics Job Market

Economists work in a variety of industries including business, health, government, and education, and their role mostly involves research and providing reports and recommendations based on data collection, analysis, and interpretation. In the United States, local and federal government agencies are the largest employers of economics graduates. It is essential that students plan their education based on where they are interested in entering the workforce.

The Most Useful Apps for Economics Students

INOMICS takes part in the Apple affiliate program. This article contains affiliate links, which means we may earn money through any qualifying purchases made after you click through. However, this is not a sponsored post.

Top YouTube Channels to Learn Econometrics and Economics

So, are you looking for resources to learn economics online? INOMICS has got you covered, whatever your reason. We've published various articles that aim to help our readers make the most of online resources already out there.