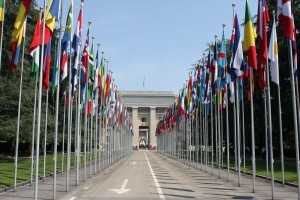 Jobs in International Organizations: Top 30 Around the Globe
Whether you are a recent graduate or are simply looking for the next step in your career path, a job in an international organization is a smart choice. If you've focused on economics or finance, the world of international organizations is a particularly good fit – development banks, international research panels and trade organizations all offer highly respected positions for young professionals with qualifications in such disciplines. If you have a degree in other fields, for instance political science or mathematics, working for an international organization is also a great option.
In this post, we're highlighting 30 of the top international organizations operating around the world, including both regional and global organizations. This list is organized alphabetically and acts as an introduction to the field. Many international organizations collaborate with both non-profits and governments in order to achieve their aims. For more information on opportunities specifically in those arenas, take a look at our recent posts onjobs for economists in the government and working in health and welfare and environment and sustainable development NGOs.
If you have worked at any of these organizations, please leave a brief review by clicking the relevant link below!
Name of Organization
Location of Headquarters
Asian Development BankManila, Phillipines
African Development BankTunis-Belvedère, Tunisia
Asia-Pacific Economic CooperationSingapore
Association of Southeast Asian NationsJakarta, Indonesia
Bank for International SettlementsBasel, Switzerland
European Atomic Energy CommunityBrussels, Belgium
European Patent OrganisationMunich, Germany
European University InstituteSan Domenico di Fiesole, Italy
Inter-American Development BankWashington, D.C., United States
Intergovernmental Panel on Climate ChangeGeneva, Switzerland
International Atomic Energy AgencyVienna, Austria
International Bank for Reconstruction and DevelopmentWashington, D.C., United States
International Centre for Migration Policy DevelopmentVienna, Austria
International Development AssociationWashington, D.C., United States
International Development Law OrganizationRome, Italy
International Monetary FundWashington, D.C., United States
International Organization for MigrationGeneva, Switzerland
International Renewable Energy AgencyAbu Dhabi, United Arab Emirates
International Thermonuclear Experimental ReactorSt. Paul-lez-Durance, France
Nordic Development FundHelsinki, Finland
Nordic Investment BankHelsinki, Finland
North Atlantic Treaty OrganizationBrussels, Belgium
OPEC Fund for International DevelopmentVienna, Austria
Organisation for Economic Co-operation and DevelopmentParis, France
Organization for Security and Co-operation in EuropeVienna, Austria
Secretariat of the Pacific CommunityNoumea, New Caledonia
United Nations Economic and Social CouncilNew York, United States
United Nations Security CouncilNew York, United States
United Nations UniversityTokyo, Japan
World Trade OrganizationGeneva, Switzerland
To browse hundreds of job, program and conference listings across disciplines, head to INOMICS.
Photo credit: Wikimedia