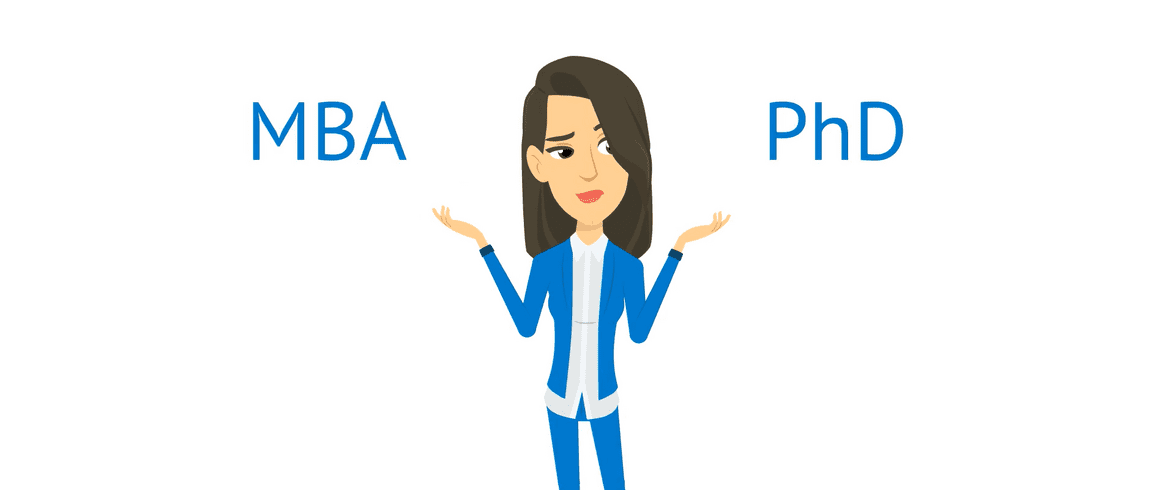 Study Advice
MBA vs PhD in Economics
Read a summary or generate practice questions based on this article with the new INOMICS AI toolhere.
Every year thousands of economics students decide to continue education, either straight away after graduation or after a year or two of "real world" work experience. Often at this point comes the question: should I pursue a PhD or enroll in a Master of Business Administration program?
MBA and PhD programs have the potential to transform your career. A PhD allows you to become a professor and pursue a lifetime of research while an MBA can open up job opportunities at the top of business and drastically increase your salary expectations. No wonder it's a difficult decision for many people.
INOMICS as the leading career website for economists wants to help you make the right decision. Therefore, we are going to run through the key factors in this decision: career direction, requirements and cost. For a quick overview check out our video on just this topic!
Requirements
Most Master of Business Administration programs require that you have at least two years of work experience. PhD programs meanwhile normally require that you have already attained a master's degree or have an exceptional bachelor transcript.
Obviously, your academic past will shape your choice between a doctorate and an MBA. A good tip is to read some actual MBA and PhD program overviews and their requirements. Transform a theoretical question into a practical choice. You can find hundreds or the latest MBA and PhD course right here on the INOMICS website.
Suggested Opportunities
Career Direction
The key question is what ultimate career direction do you want to go in? Ask yourself this question, would you like to end up working in academia or as a researcher? If the answer is yes, then you should start by looking at PhDs. A doctorate is a pre-requisite for nearly all academic jobs. If no, then an MBA or another career training opportunity will be the better choice.
Taking a PhD can be a demanding process. It takes years of hard work with little immediate financial reward. You need to love doing research and have a genuine interest in what you are studying. If you are looking at a PhD purely in terms of future salary maximisation then best look elsewhere. There are a number of pros and cons to a career in research.
But there is more to life than amassing every last dollar, right? Harder to quantify factors such as job satisfaction and independence are often cited as pros of taking an academic route. Also, bear in mind your preference can change overtime. There are job opportunities outside of academia where having a PhD is a plus. Our advice is simply that if your end goal is to work outside academia then a PhD is typically not the best route to take.
MBA programs are designed specifically to teach you about how businesses work and set you up to thrive at the top level of business. They are focused on practical skills and knowledge and often involve group work to mimic the cooperation required by many businesses. On a reputable MBA program, the networking with other students and alumni can often be more important for opening up new and well-paid career paths than the teaching itself. If your goal is to work at the top end of the business world then an MBA is the better choice.
Cost
MBA programs are normally very expensive, however. Unlike most PhD programs where funding is often provided, there are few scholarships or funding options available for MBA's aside from expensive private loans. An MBA should be viewed as an investment. How risky that investment is depends on the quality of the MBA program. Check out the quality of the school and the career prospects of graduates before proceeding.
Both MBA and PhD programs involve a degree of risk. Either financial, in time or both. Remember, you might be able to reach your career goal without committing years of your life and potentially loads of cash on an MBA or PhD. There are always additional courses to improve your prospects in a career in economics. Make sure you consider other routes before committing to either a PhD or MBA. If you plan to start your PhD application this autumn, download our free guide "How to successfully apply to a PhD in Economics"

Also Interesting

A gentle introduction to LaTeX for economists

Economists often run into situations where they need to type out mathematical formulae or draw up a graph, especially for research papers. But, anyone who's attempted to do so knows that math symbols and complicated graphs are very difficult to produce using typical word processor options. So, what's a humble econometrician to do?

Studying in the USA: How to apply for a student visa

So you want to study abroad in the United States of America, the largest economy in the world. In keeping with its "melting pot" reputation, the US has been an education destination for many over the years, and is filled with many high-quality, internationally competitive universities. Of course, if you're an international student, you'll probably need to get a visa before you can go.

Insights into Central Banking Careers with Dr. Gómez-Pineda

Dr. Javier G. Gómez-Pineda, our interview guest for the 2023 INOMICS Handbook, graciously agreed to return for a second interview. This time, the INOMICS team prepared some career-related questions for the central banker. With his answers, Dr. Gómez-Pineda shares his wisdom about central banking and economist careers in general with you, our readers.