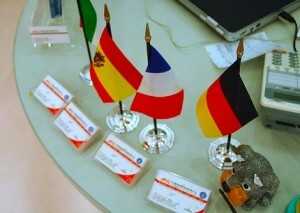 Proficiency Exams in French, German and Spanish: Top Language Certificates
Read a summary or generate practice questions based on this article with the new INOMICS AI toolhere.
If you are interested in working or studying in a French, German or Spanish speaking country, you will almost certainly need to provide proof of language skills. While exact requirements differ between institutions, there are certain exams that are more widely accepted than others. Following up on our recent post on English proficiency tests, in this post we will offer you an overview of the most respected language exams from around the globe for French, German and Spanish.
The European Language Certificate (TELC) tests are the most widely recognized of all language exams, partially because they adhere to a clear and uniform structure. Regardless of which language you are being tested on, TELC scores are graded along the Common European Framework of Reference (CEFR), which ranges from A1 through C2, as you can see in the table below. In general, a minimum of B2 standing is required to study at university, while B1 is the minimum to begin work in a foreign language.
A1
A2
B1
B2
C1
C2
Beginner
Elementary
Intermediate
Upper Intermediate
Advanced
Proficient
French
The DELF exam is offered at various levels along the CEFR scale. The test generally lasts about three hours and is divided into four sections: reading comprehension, listening comprehension, speaking and writing. The DELF can be taken at testing centers around the world.
If you receive a score of B2 or above, this will qualify you for entrance into French universities.
The DALF is similar in nature to the DELF, though the level of French used throughout the exam is higher. Additionally, an oral presentation must be prepared during the speaking component. It can also be taken at centers around the world.
The DALF is aimed at individuals in the C1 to C2 range. If you pass the DALF, you will receive a certificate stating proficiency within this range, which will allow for entrance into French universities and show a level of fluency sufficient for most jobs.
German
The Test DaF is offered at testing centers around the world. It is standardized and consists of four sections: reading comprehension, listening comprehension, academic writing and oral expression.
While the Test DaF roughly corresponds to the B2 to C1 level, it is scored along its own rubric and expressed in three levels, TDN 3, TDN 4 and TDN 5. Some German universities admit students with a score of TDN 3, and all universities recognize the score of TDN 4 or higher.
This exam is roughly at a B1 level and is thus not generally recognized as sufficient for university studies. Many employers do accept the ZD, however, as evidence of sufficient German for certain positions. This test can be taken at centers all over the world; most commonly offered through the Goethe Institute.
Spanish
The DELE exam is the official qualification offered through the Instituto Cervantes on behalf of the Ministry of Education, Culture and Sport in Spain. This comprehensive language test recognizes all the diverse variants of Spanish and is graded along the CEFR structure. DELE certificates are granted at each of the CEFR levels, though B2 is generally required for university entrance.
If you are looking for a study program or job in a French, German or Spanish speaking country, take a look at the thousands of listings updated daily on INOMICS.
Photo credit: ANL