Free e-Guide for Recruiters
Recruitment during Covid-19
Pandemics the scale of Covid-19 inevitably shake the world. Many institutions are now working hard to adapt their activities to the current restrictions, among them, the mechanics for future recruitment. We have compiled here, some key points to refine your recruitment strategy and offer tips on how to (at least mostly) fulfill recruitment quotas in 2020 and 2021. Download now your guide to receiving exclusive advice in the areas of job recruitment, student recruitment, and conference promotion.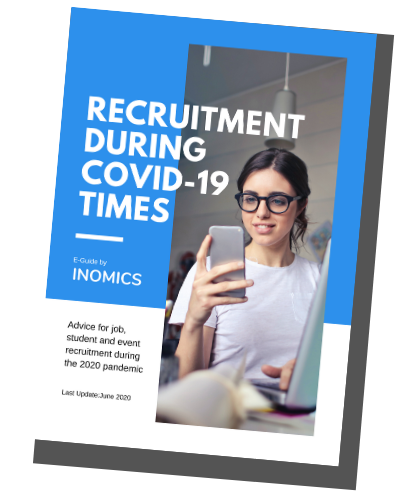 The e-guide "RECRUITMENT DURING COVID-19" includes:
➲ The new scenario of job recruiting during the Covid-19 outbreak
➲ How to continue with job recruitment plans during the pandemic
➲ Risks and challenges for student recruitment during the 2020 pandemic
➲ Tips for recruiting students during Covid-19 times
➲ Event management and organization during the coronavirus outbreak
---
INOMICS uses the information you provide below to subscribe to our monthly customer newsletter. The newsletter includes relevant content, products and services that will help you boost your recruitment. You can unsubscribe from any communication from INOMICS at any time. Our newsletter information is managed and powered by Mailchimp. By subscribing and downloading the e-Guide you agree to our privacy policy.
If you are already subscribed to our newsletter, check our latest issue in your inbox! The download link is there!
Also Interesting

Top Free Online Courses in Statistics and Data Analysis

There are now more online learning options than ever, including courses which are - thank you Internet - absolutely free. Whether you want to prepare for your upcoming university course, need to pick up some extra skills to help with your job, or you are just interested in a subject and want to learn more, there will be an online course out there that can help you achieve your goals.

Digital Resources for Teaching and Learning Econometrics

Improving Fundamentals of Econometrics with Online Practice Tests

A new initiative from Hamburg University, Universität Potsdam, and the Berlin School of Economics is helping economics students get ahead in the fundamentals of econometrics. The online tool mcEmpirics offers econometrics practice tests for students and is now being rolled out for whole economics departments with new campus-licenses.

The Top Macroeconomics Books

If you're currently in the throes of an undergrad degree in economics, or even if you're just a layman looking to brush up on your macroeconomic knowledge, it's essential you have the right literature to help you keep up to date. There are plenty of textbooks out there which purport to be the best way to get to grips with the discipline, but some are, naturally, better than others. On top of that, there are plenty of more popular economics books which deal with a specific topic in more detail.