Free e-Guide for Recruiters
Recruitment during Covid-19
Read a summary or generate practice questions based on this article with the new INOMICS AI toolhere.
Pandemics the scale of Covid-19 inevitably shake the world. Many institutions are now working hard to adapt their activities to the current restrictions, among them, the mechanics for future recruitment. We have compiled here, some key points to refine your recruitment strategy and offer tips on how to (at least mostly) fulfill recruitment quotas in 2020 and 2021. Download now your guide to receiving exclusive advice in the areas of job recruitment, student recruitment, and conference promotion.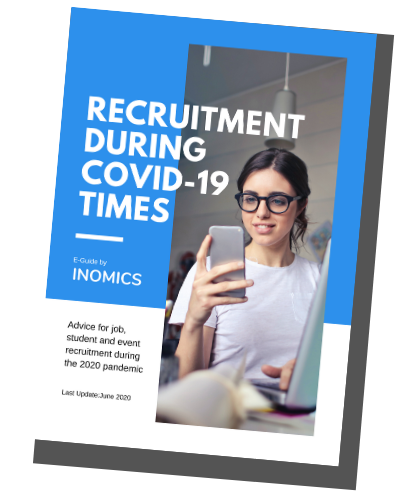 The e-guide "RECRUITMENT DURING COVID-19" includes:
➲ The new scenario of job recruiting during the Covid-19 outbreak
➲ How to continue with job recruitment plans during the pandemic
➲ Risks and challenges for student recruitment during the 2020 pandemic
➲ Tips for recruiting students during Covid-19 times
➲ Event management and organization during the coronavirus outbreak
---
INOMICS uses the information you provide below to subscribe to our monthly customer newsletter. The newsletter includes relevant content, products and services that will help you boost your recruitment. You can unsubscribe from any communication from INOMICS at any time. Our newsletter information is managed and powered by Mailchimp. By subscribing and downloading the e-Guide you agree to our privacy policy.
If you are already subscribed to our newsletter, check our latest issue in your inbox! The download link is there!