Free e-Guide for Recruiters
Recruitment during Covid-19
Pandemics the scale of Covid-19 inevitably shake the world. Many institutions are now working hard to adapt their activities to the current restrictions, among them, the mechanics for future recruitment. We have compiled here, some key points to refine your recruitment strategy and offer tips on how to (at least mostly) fulfill recruitment quotas in 2020 and 2021. Download now your guide to receiving exclusive advice in the areas of job recruitment, student recruitment, and conference promotion.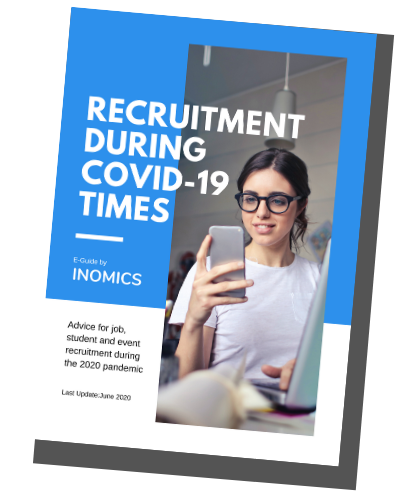 The e-guide "RECRUITMENT DURING COVID-19" includes:
➲ The new scenario of job recruiting during the Covid-19 outbreak
➲ How to continue with job recruitment plans during the pandemic
➲ Risks and challenges for student recruitment during the 2020 pandemic
➲ Tips for recruiting students during Covid-19 times
➲ Event management and organization during the coronavirus outbreak
---
INOMICS uses the information you provide below to subscribe to our monthly customer newsletter. The newsletter includes relevant content, products and services that will help you boost your recruitment. You can unsubscribe from any communication from INOMICS at any time. Our newsletter information is managed and powered by Mailchimp. By subscribing and downloading the e-Guide you agree to our privacy policy.
If you are already subscribed to our newsletter, check our latest issue in your inbox! The download link is there!
Also Interesting

The Lives and Livelihoods Fund

Four years ago, the world adopted an ambitious set of Sustainable Development Goals (SDGs) designed 'to end poverty, protect the planet and ensure that all people enjoy peace and prosperity by 2030'. Despite rising life expectancy and the eradication of many endemic diseases, more than 400 million people in the member states of the Islamic Development Bank (IsDB) still live in absolute poverty, subsisting on less than US$1.90 per day. It is, perhaps, these countries that face the greatest challenges in fulfilling the SDGs.

How COVID-19 Strengthens the Case for a Green New Deal

In the midst of the destruction it's wrought, the lives and livelihoods it's taken, and freedom it's limited, COVID-19 has given us one thing that may yet prove positive - the opportunity to reflect. Under lockdown, we've been compelled to consider our pre-COVID lives, the aspects we valued, the parts we endured, and how things could be changed. Separation from reality has renewed our perspective. And it's come at a convenient time, for a choice hangs in the air.

A Discriminatory Pandemic

The Racial Inequalities of COVID-19

Dubbed 'the great equalizer' at its outset, COVID-19 has often been described as picking its victims at random. Blind to race, ethnicity, and gender, it sees just a human body, a host that enables it to do what all pathogens are programmed to do: spread. While this, from a biological perspective, may be true, the disease's sweep of the globe has been anything but equalising. Data from both the US and UK - who along with Brazil compete for the honour of worst pandemic response - show that in terms of cases and deaths, minorities are hugely overrepresented.