Free e-Guide for Recruiters
Recruitment during Covid-19
Pandemics the scale of Covid-19 inevitably shake the world. Many institutions are now working hard to adapt their activities to the current restrictions, among them, the mechanics for future recruitment. We have compiled here, some key points to refine your recruitment strategy and offer tips on how to (at least mostly) fulfill recruitment quotas in 2020 and 2021. Download now your guide to receiving exclusive advice in the areas of job recruitment, student recruitment, and conference promotion.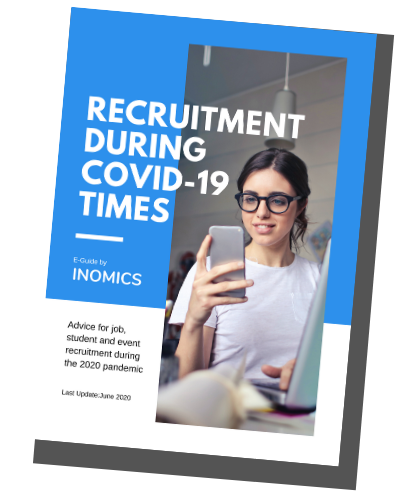 The e-guide "RECRUITMENT DURING COVID-19" includes:
➲ The new scenario of job recruiting during the Covid-19 outbreak
➲ How to continue with job recruitment plans during the pandemic
➲ Risks and challenges for student recruitment during the 2020 pandemic
➲ Tips for recruiting students during Covid-19 times
➲ Event management and organization during the coronavirus outbreak
---
INOMICS uses the information you provide below to subscribe to our monthly customer newsletter. The newsletter includes relevant content, products and services that will help you boost your recruitment. You can unsubscribe from any communication from INOMICS at any time. Our newsletter information is managed and powered by Mailchimp. By subscribing and downloading the e-Guide you agree to our privacy policy.
If you are already subscribed to our newsletter, check our latest issue in your inbox! The download link is there!
Also Interesting

Academic Cover Letter Samples

When applying for a academic position as a researcher, lecturer or for a fellowship, a cover letter is usually required to accompany your CV. Stating your particular interest in the role, and showing how your experience enables you to excel at the job, is the aim of a successful cover letter. They can be one of the most important parts of your application, giving the recipient an idea of who you are and what your relevant expertise is. Essentially, it's the first impression an institution will have of you, so it's important to get it right.

10 Tips to Make Your Classes More Engaging for Students

With vaccine rollouts now gathering pace, returning to classrooms and lecture halls will soon be a reality – indeed, in some places it already is. And with the return, will come the old challenges, most notably, when giving a lecture or holding a seminar, how best to keep students engaged? It will no longer be possible to achieve 'class control' through muting somebody's Zoom account; more traditional means will, again, be needed. With that in mind, here are INOMICS' top 10 tips to keep students present and attentive when you're teaching.

12 Characteristics of Successful Economics Students

What does it take to succeed as a economics student? What qualities do you need to thrive at university, to enjoy your studies, and, then, once it's all done and dusted, to go and get yourself a good job?