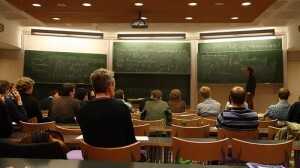 Top Mathematics Departments Worldwide
In previous posts we've offered you lists of Top Political Science Departments Worldwide and Top Economics Departments in Spain, Latin America and Europe. In this post, we're shifting our focus from the social sciences to highlight the best math departments around the globe.
Rather than simply copying a list from QS or other global rankings, however, we've made a handpicked list of math departments from four continents – North America, Europe, Asia and Oceana. Each of these departments falls within the top 100 worldwide according to diverse ranking systems. In the list below, you'll find each institution grouped according to geography. If the university you are looking for is not on this list, head to INOMICS, where you'll find hundreds of other top departments from diverse disciplines.
North America
Cambridge, Massachusetts
Massachusetts Institute of Technology
Cambridge, Massachusetts
New York, New York
Stanford, California
Toronto, Ontario
Montréal, Quebec
Europe
Cambridge, United Kingdom
Oxford, United Kingdom
Dublin, Ireland
Autonomous University of Madrid
Madrid, Spain
Pierre and Marie Curie University
Paris, France
Zurich, Switzerland
Zurich, Switzerland
Leuven, Belgium
Bonn, Germany
Asia
Kyoto, Japan
Tokyo, Japan
Oceania
Australian National University
Canberra, Australia
Melbourne, Australia
Auckland, New Zealand
Photo source: Ed Brambley
Also Interesting

Top Master's and PhD Programs in Economics 2021/2022

Check out our selection below: University of Luxembourg, Kirchberg, Luxembourg Programs available:

Why you should be using a multi-channel marketing approach

Multi-channel marketing campaigns allow institutions to increase conversion rates by interacting with potential candidates (students, professors and researchers) at different stages of their decision process, using the best channel for that stage. For example, a candidate who has already visited your institution website is more likely to respond positively to a direct email campaign, while a young candidate who has not yet heard of your university/centre/company is more responsive to meeting representatives at a recruitment fair.

Jobs for Economists in the Government: The Right Career to Consider?

When discussing jobs in the government, the type of work that comes to mind is most likely influenced by your particular background. In countries in which large segments of the economy are nationalized, it's possible to become a civil servant in nearly any field. In other places, your options might be more limited. Regardless of where you're from, or where you'd like to work, however, every government employs economists, and it's easy to argue that they're needed now more than ever - though in the weird times of the pandemic, finding a government job may be more complicated.