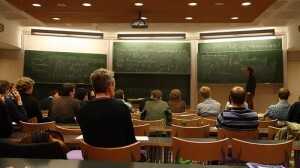 Top Mathematics Departments Worldwide
In previous posts we've offered you lists of Top Political Science Departments Worldwide and Top Economics Departments in Spain, Latin America and Europe. In this post, we're shifting our focus from the social sciences to highlight the best math departments around the globe.
Rather than simply copying a list from QS or other global rankings, however, we've made a handpicked list of math departments from four continents – North America, Europe, Asia and Oceana. Each of these departments falls within the top 100 worldwide according to diverse ranking systems. In the list below, you'll find each institution grouped according to geography. If the university you are looking for is not on this list, head to INOMICS, where you'll find hundreds of other top departments from diverse disciplines.
North America
Cambridge, Massachusetts
Massachusetts Institute of Technology
Cambridge, Massachusetts
New York, New York
Stanford, California
Toronto, Ontario
Montréal, Quebec
Europe
Cambridge, United Kingdom
Oxford, United Kingdom
Dublin, Ireland
Autonomous University of Madrid
Madrid, Spain
Pierre and Marie Curie University
Paris, France
Zurich, Switzerland
Zurich, Switzerland
Leuven, Belgium
Bonn, Germany
Asia
Kyoto, Japan
Tokyo, Japan
Oceania
Australian National University
Canberra, Australia
Melbourne, Australia
Auckland, New Zealand
Photo source: Ed Brambley
Also Interesting

MBA or Specialized Master's Degree: Which One is Best for You?

There are several key differences between an MBA and M.S. degree. The one you choose depends on your career goals, experience, finances and more. Focus MBA programs are more all-encompassing. They are meant for students looking to gain functional knowledge across all aspects of business. A specialized master's program is exactly that — it focuses on a specific area of business and provides a deep and precise knowledge of that subject.

The Need to Decolonise Higher Education

History, it feels, is quickening pace. Pandemics, both old and new, are rocking the world, shaking its foundations. Systemic racism, an age-old disease, continues to facilitate violence on black bodies and undermine humanity, while a novel coronavirus has killed hundreds of thousands, disproportionately affected people of colour, and compounded the often racial inequalities that characterise our societies. Protestors now fill the streets, and across much of the anglophone world a tipping point has been reached. What will emerge from this moment is hard to say.

How the Coronavirus is Affecting Economics

15:00 8 June 2020 As some countries begin to loosen their lockdowns to varying degrees of success, many universities are still playing it on the safe side. The University of Surey, for example, has moved its CIMS summer school course online. This will be from the 7th to 12th of September 2020.