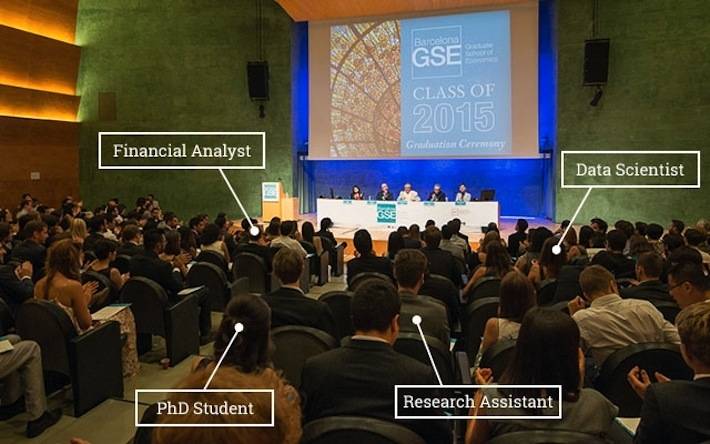 What Can You Do With a Master's in Economics?
If you're thinking about doing a master's degree in economics, or you're already studying for one, then you're sure to be interested in the job prospects for economics students. What kind of job can you get with a master's in economics, and in what kind of organisations do graduates end up working? We covered this issue last year, but now we've got new data on the employment of economics students for this year, so we're sharing an updated perspective. Read on to find out more about the kinds of careers which are open to those who have studied a master's in economics.
The big divide: Academia or Industry?
The options for career paths after the master's can be divided in two arenas: roles within academia, and roles in industry or the public sector. There are advantages and disadvantages of each – in industry, for example, the pay tends to be better, whilst jobs in academia are more focused on pure research. But what is the typical divide between these two options among those who have completed a master's in economics? As a case study, we can look at the data from the Barcelona Graduate School of Economics, who released a report on the destination jobs of their economics master's class of 2015. They found that 72% of graduates who had been placed entered or returned to jobs in industry, while 28% of graduates entered a PhD or other post-graduate program.
Academic positions for economics graduates
Compared to the data from last year (the Barcelona GSE class of 2014), there are more graduates entering industry – last year 68% went into industry, and 32% pursued further study. Generally, in tough economic times, graduates can feel attracted by the security and solid pay of industry jobs, while being put off by the insecurity of academic careers. One interesting finding, however, points to the successful path to a PhD – of those moving into doctoral programs, around half of Barcelona 2015 graduates went into international programs, in the United States, the United Kingdom, or other international institutions. The ability and willingness to move to a new location can help graduates to find PhD positions in highly regarded institutions. You can see more about the career prospects of PhDs, including the average salary for PhD students in various locations around the world, in our INOMICS 2015 Salary Report.
Where Class of 2015 grads are pursuing doctoral study
24 graduates joined one of two PhDs organized with Barcelona GSE
Graduate Programme in Economics, Finance, and Management - GPEFM (UPF and BGSE)
International Doctorate in Economic Analysis - IDEA (UAB and BGSE)
5 graduates joined programs at universities in the United States
Columbia University
Indiana University
Stanford University
University of Rochester
University of Virginia
4 graduates joined programs in the United Kingdom
London School of Economics
University of Leeds
University of Leicester
University of Warwick
12 graduates joined programs at other institutions around the world such as:
Ifo Institute for Economic Research
Sao Paulo School of Economics (FGV)
Singapore Management University
University of Zurich
Credit: Barcelona GSE
Industry positions for economics graduates
For those economics master's graduates who choose to go into industry or the public sector, what kinds of institutions do they end up working in? Two of the most popular employers, according to the Barcelona GSE survey, are consulting firms and the financial services industry. Around a quarter of graduates end up in each of these industries (26% in consulting firms and 25% in financial services; up from 21% in consulting firms and 23% in financial services last year). A further 19% of graduates took up non-PhD jobs in research or academic institutions – in roles like research assistant or data scientist.
Other options for the employment of economics graduates were working for the government or public sector (9% of this years' graduates), international organisations and non-profits (10%), and other industries like the media or aviation (11%). Notably, there was a large drop in the number of graduates entering roles in international organisations and non-profits, down from 18% last year. Jobs in non-profits can be both very competitive and poorly paid, so some graduates will be put off from entering such roles, especially in times of economic recession.
Professional placements by industry
Examples of employers hiring Barcelona GSE graduates in the Class of 2015
Most common job titles were: Research Assistant, Trainee, Analyst, Consultant, Associate, and Data Scientist.
Credit: Barcelona GSE
Some of the top locations for employment were Brussels, Madrid, Berlin, and Washington, DC, in addition to Barcelona, once again showing the value of graduates being willing to move to a new location after completing their master's degree.
We hope that this information has helped you see some of the career options which are open to you if you pursue a master's degree in economics!
For lots more information for economics and students, including career advice and job openings, check out these articles:
>> Combining Teaching and Working in Industry​
>> Tips for Academics on How to Deal with Short-Term Contracts and Job Insecurity
>> Working for the Government: Pros & Cons
>> Working as a Researcher in a Company vs University: Social Sciences
Also Interesting

MBA or Specialized Master's Degree: Which One is Best for You?

There are several key differences between an MBA and M.S. degree. The one you choose depends on your career goals, experience, finances and more. Focus MBA programs are more all-encompassing. They are meant for students looking to gain functional knowledge across all aspects of business. A specialized master's program is exactly that — it focuses on a specific area of business and provides a deep and precise knowledge of that subject.

How the Coronavirus is Affecting Economics

15:00 8 June 2020 As some countries begin to loosen their lockdowns to varying degrees of success, many universities are still playing it on the safe side. The University of Surey, for example, has moved its CIMS summer school course online. This will be from the 7th to 12th of September 2020.

How COVID-19 Strengthens the Case for a Green New Deal

In the midst of the destruction it's wrought, the lives and livelihoods it's taken, and freedom it's limited, COVID-19 has given us one thing that may yet prove positive - the opportunity to reflect. Under lockdown, we've been compelled to consider our pre-COVID lives, the aspects we valued, the parts we endured, and how things could be changed. Separation from reality has renewed our perspective. And it's come at a convenient time, for a choice hangs in the air.