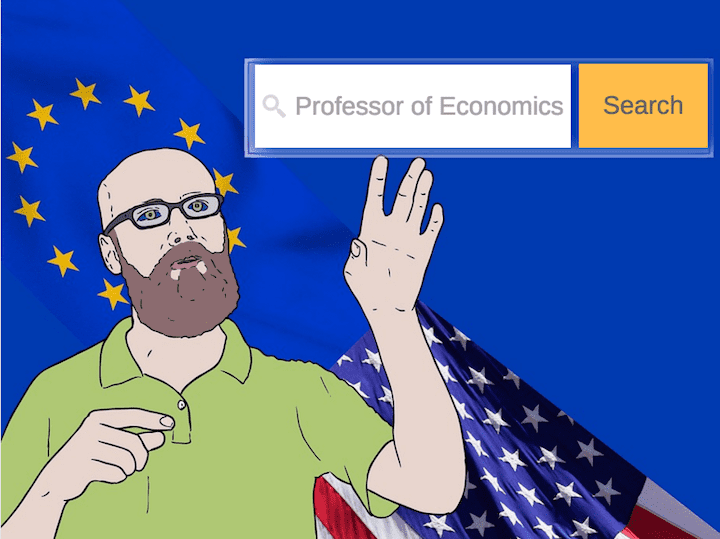 Where To Pursue an Academic Career as an Economist: USA vs Europe
Read a summary or generate practice questions based on this article with the new INOMICS AI toolhere.
If you're an economist and you're starting to plan out your career options, then you have a big decision to make: where should you pursue your career? The two biggest locations for the academic job market are the USA and Europe. Today we're comparing both of them so you could see which would be the best place for you to work.
Reputation and Career Possibilities
Many of the most highly regarded institutions in the academic world are based in the USA. If you are looking to work in the very best institutions in your field, these may well be in the USA. This is not to say that there are not world-leading institutions in Europe, but that there are a greater concentration of the most highly regarded universities in the USA. There are also stronger links between institutions within the USA than between those in the USA and those within Europe, so if you have landed a job in a prestigious USA institution then it will be easier for you to get another job in the USA than if you were applying from Europe. In pure prestige terms, the USA is broadly regarded as the best place to be for your academic career.
Compensation and Financial Considerations
It is generally regarded that salaries in the USA are higher than in Europe. Our INOMICS Salary Report 2016 included a survey of salaries of academics working in economics and related disciplines (such as finance, accounting, statistics, business, and marketing), the vast majority of whom had a PhD or higher degree. It showed that economists in both academia and in the private sector had higher average salaries in Northern America than they did in Western Europe or Asia. To learn more about worldwide salary by gender and region, please visit this page to download the full report for free.
In fact, when looking at academia, average salaries in North America for academics we nearly twice the worldwide average - $141,704 being the average of survey respondents in North America, compared to an average of $79,138 worldwide. The largest divergence of salaries between North American and Western Europe comes in the more senior levels, with salaries for PhD candidates and teaching assistants being similar between the two regions, but salaries for associate professors and full professors being much higher in the USA.
Quality of Life
Naturally, the quality of life that you can expect of your location will have a huge impact on your overall happiness. The factors which are most important for quality of life will differ for each person, but you might want to consider issues such as: the quality and affordability of housing which will be available to you, the transport links and the ease with which you can travel to new places or visit friends and family back home, and the levels of inequality and crime in the society you are in. You should also look at the specific cities you might move to, and consider what amenities and facilities are available in them.
In a very broad generalisation, quality of life tends to be higher in Europe, and in Scandinavia particularly. European countries tend to have more social support such as unemployment benefits, public transport systems, and state-supported healthcare, which makes the overall quality of life better. However, there is high quality of life available in the USA, but it is more expensive. As salaries in the USA are much higher, this enables you to pay for costs such as health insurance and longer-distance travelling.
Working Conditions
Significant difference exist in work cultures between USA and Europe. Europe tends to have shorter work weeks and more holidays, with more time off overall and an emphasis on work-life balance. In Germany, for example, 28 days of holiday per year are typical, while 10 days per year are more common in the USA. Once again, however, this is balanced out by salaries in the USA being much higher. If you like to travel, if you have a family with whom you wish to spend time, or if you like to have time for hobbies and other activities outside of work, then an institution in Europe is likely to be a better fit for you.

Information in the graph is based on the INOMICS Salary Report 2016. The report reflects job market and salary trends for economists, ranging from those just starting their Master's to those working as senior professors or researchers in academia and the private sector.
Key findings include:
✓ Professors consider research publications more relevant for their employability than teaching skills.
✓ The gender pay-gap for economics professors at North American universities seems to have narrowed to the point of non-existence. If anything, female academics seem to earn slightly more than their male counterparts.
✓ Salary is not a primary motivator, although it has a demotivating effect if too low.
✓ A higher salary is considered as more important in some regions, for example in Asia, especially among people working outside of academia.
Also Interesting

How To Find The Right Exchange Program

Exchange programs allow students to study at a different institution as part of their degree. Typically, students will use this opportunity to study abroad at a foreign partner of their home institution, though exchange programs can sometimes take place in the same country. Regardless, these programs are a fantastic way for students to broaden their horizons, take specific courses at another institution, and study abroad without committing to living multiple years in another country.

Working in Germany: How to apply for a work visa

So, you studied abroad, got your economics degree in Germany, and you're ready to look for a job in the country. First of all, congratulations! You're on your way to becoming a full-fledged economist.

Studying in Germany: How to apply for a student visa

So you want to study abroad in Germany, the largest economy in Europe. It's a great country filled with many high-quality, internationally competitive universities. Plus, lovers of pretzels and sausages will never find a better place to be. Of course, if you're an international student, you'll probably need to get a visa before you can go.