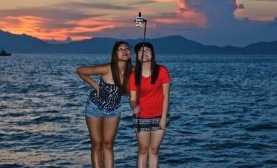 10 Ways to Use a Selfie Stick in Academia
Win a selfie stick by sharing your experience here!
"Selfie" was declared a word of the year in 2013 as a result of a seventeen thousand per cent increase in usage. But selfies have, arguably, shifted from being the product of a purely narcissistic act to that of a normalised cultural phenomenon – even celebrities and politicians indulge in the not-so-occasional self-portrait.
Although some more cynical commentators might assign the act of taking selfies to some form of disorder (obsessive selfie-taking was even on the verge of receiving an official name in psychiatry – the hoax is only part of the story), we tend to forget that selfies have always been there. For a historical selfie, check out this self-portrait taken by a Russian Grand Duchess Anastasia in 1913, for example.
As a tribute to our selfie stick and iPad competition we have put together a list of ways you could use a selfie in academia, regardless of whether you are a student or a professor. If you have more ideas, please share them with us in the comments!
At a conference – great conferences are a source of great memories and taking a selfie with the other delegates or a prominent speaker can help you keep these memories safe for the future! A selfie can also serve as a pictorial announcement about the kinds of events you go to and contribute to your professional image online.
In a lecture hall – if you are a professor there is no better way to connect with an audience of Y-generation students than taking a selfie with your class and sharing it on your own twitter account. If you are a student, use it as evidence for your parents that you really do get out of bed for your morning lectures!
Night before an exam – what can demonstrate your hard work better than posting a selfie in late-night study mode, surrounded by books and piles of notes? Just make sure that your professor is following your account so that they notice the effort!
Make it a study case – selfies have become a serious topic of academic research and a rapid expansion of the Selfies Research Network is evidence of this. There have been several significant cultural and behavioral findings generated through the study of selfies.
With (not) your girlfriend/boyfriend – some people believe that an academic career can be a serious impediment to personal happiness – prove them wrong!
On a study trip – after all, tourists are the main "users" of selfie sticks. Besides, academic life takes you places, and that's worth sharing, no?
At graduation – a selfie with a hat in it will result in a stable flow of congratulatory wishes to your inbox, and you won't even need to write a word about it!
On campus – nothing can express your love towards your alma mater like bestowing upon it the honor of being pictured in a selfie with you.
With your favourite professor/student – networking has the power to bring you further – and nothing can cement your relationships better than a nicely taken selfie!
With your own work/dissertation in the background – there is a lot of evidence that self-promotion can have a tremendous positive effect on your career, even in academia. Check out this article for some advice on how to do it.
If after reading this post you are urgently in need of a selfie stick – do take part in our competition, which will be running until December16th, and bag yourself a chance to win a selfie stick or an iPad mini! All you need to do is rate your current or past university on INOMICS – even if you are not a student any more, and especially if you are not yet a dedicated selfie-taker!
Photo Credit: james j8246
Also Interesting

The 'Recipe With No Ingredients' in Macroeconomics Textbooks

Almost fifty years ago William Nordhaus and James Tobin, both professors at Yale University and later Nobel Prize laureates in economics, wrote an article with which they intervened in the debate aroused by the well known Report to the Club of Rome, The Limits to Growth (Meadows et al, 1972)1. Among other things, they wrote: "The prevailing standard model of growth […] is basically a two-factor model in which production depends only on labor and reproducible capital.

Into the Economist's Mind

The INOMICS Questionnaire: Fratzscher vs Miguel

Marcel Fratzscher: What is your favorite place on earth? Edward Miguel: It may be a little cliche, but my favorite physical location is the Big Island of Hawaii, on the Kona side. It's where my family (my wife and two kids) and I have traveled regularly over the past decade or so for our family holidays, so it's a place that holds many of our favorite memories and warm feelings. It is also a stunning landscape -- with mountains, lava and black volcanic rock all set against the Pacific. I dream about it often!

The Value of Nature's Services to Modern Economies

These factors of production from nature hold the core of all economies' potential output, which therefore makes our economy dependent on the life-support systems of our planet. Even businesses seemingly removed from raw materials - like software-as-a-service companies - depend on power generated from natural sources.